You are now in the main content area
Instructions for using Adobe Creative Cloud (CC) in the labs
All Adobe products require a valid Adobe account. When launching Adobe products, you will be required to login before you can use the software. The account you login with does not require to have a license.
Some of the departments have provided Adobe CC licenses to their students. If you are one of those students, your department should have communicated this with you already.
There are two account types:
Adobe ID: Personal account. Created by you. Login with your personal credentials. It does not have to be @torontomu.ca account.
Federated ID: Company or School Account. Provided by your department. Login with your TMU email and my.torontomu password.
It is possible to have two accounts under the same TMU email. If you have both 'Personal Account' (Adobe ID), and 'Company or School Account' (Federated ID) provided by your school under the same TMU email, you will get prompted which account to login with.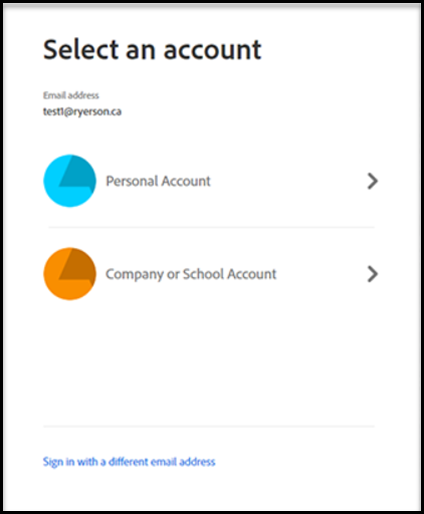 Adobe products in CCS labs are already licensed. It is irrelevant which account you use to login with when using Adobe in CCS labs.
However, make note which account you are using as the passwords for each account might be different.
If you don't have a personal Adobe ID, you can create one here: https://account.adobe.com (external link) Click on "Get an Adobe ID" link.
Note:
Adobe IDs are personal accounts, not maintained or managed by Toronto Metropolitan University.
For instructions on how to create your personal account, visit:
https://helpx.adobe.com/ca/manage-account/using/create-update-adobe-id.html (external link) , and click on "Create your free Adobe ID".
Contact your department to find out if your course comes with Adobe licenses.