You are now in the main content area
Researching rare diseases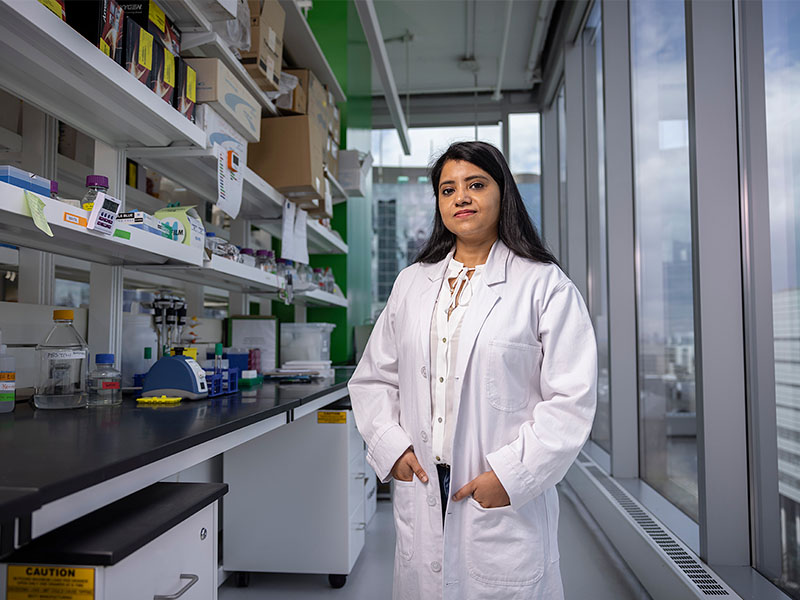 What inspires your research?

Researching rare genetic diseases is important because although they affect a fewer number of people, they have the potential to affect a loved one. If that person belongs to your family, it upsets your world. So creating awareness helps attract more funding to develop drugs that may help these patients.

How has your TMU experience been?

The best thing about TMU is that it is a very vibrant community. I love how TMU promotes and supports collaborative research; it was a big attraction for me. I've been involved in multiple collaborative projects, which have helped me evolve as a research professional. It has cutting-edge facilities and is definitely one of the best places to learn and grow your career.
"I love how TMU promotes and supports collaborative research."
How is TMU preparing you to be career-ready?

Toronto Metropolitan University has a very active career development and co-op program. I was fortunate to be part of the Industry Insights and Navigating Networks program, where I shadowed an industry professional for three months. It was very enlightening and rewarding because it opened up so many future possibilities for my career.

I've also attended many workshops and webinars at TMU, which have helped me polish my skills and provided insights into both academic and industry careers. Because of that, I feel like I'm ready to take the next step and progress in my career.

What advice do you have for graduate students?

Keep persevering. There will be highs and lows. Do not get bogged down by the lows and continue to work towards your goal. Also, be vigilant about career opportunities outside of academia so you don't feel limited. You could find your calling elsewhere and have a very fulfilling career.