Leaders reveal barriers, challenges and successes for small business in advancing equity, diversity and inclusion
Rechie Valdez, Minister of Small Business, was a special guest at the event, which brought together founders, entrepreneurs and business organizations
October 12, 2023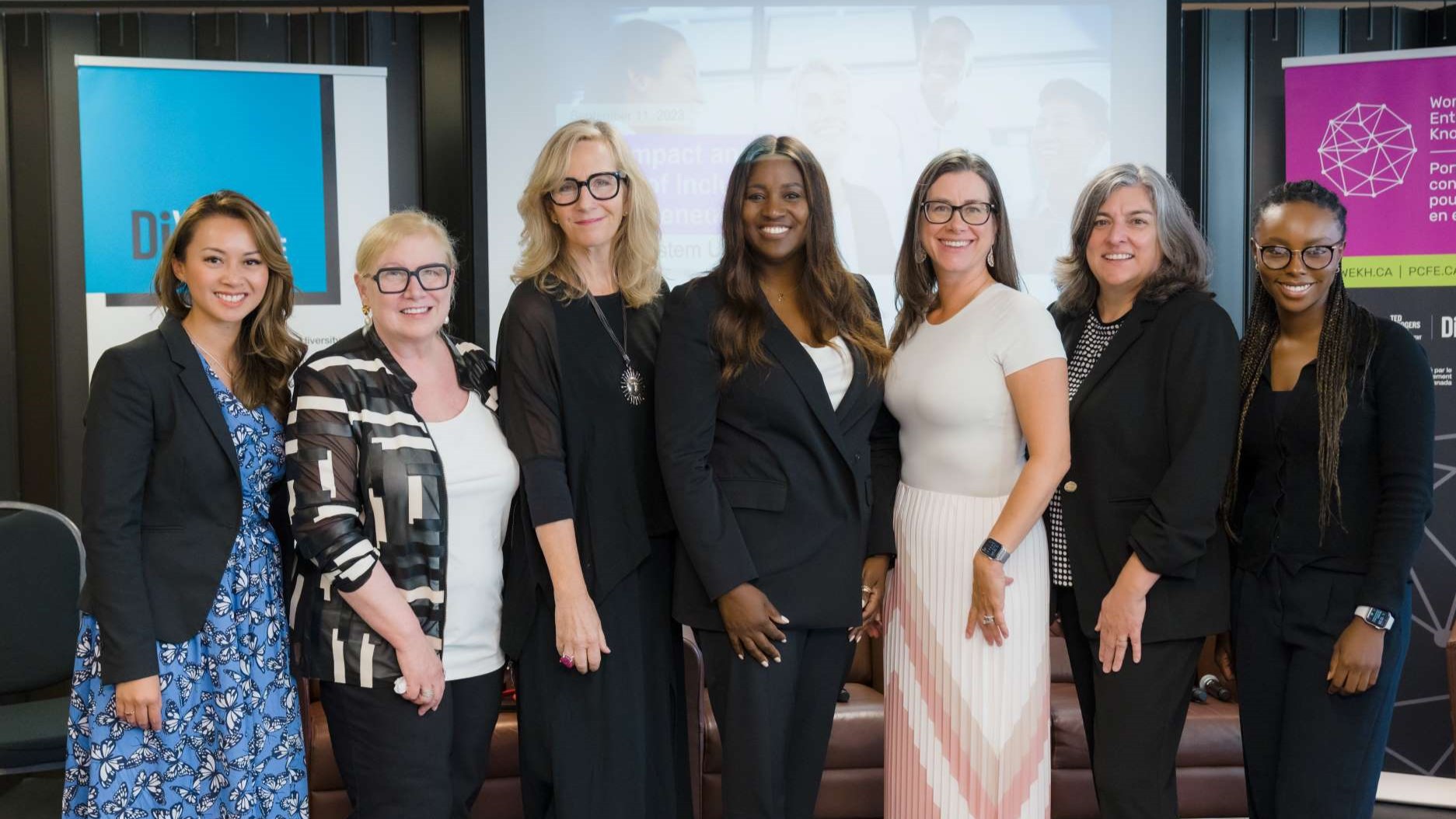 On Sept. 11, 2023, the Diversity Institute (DI) brought together leaders in government and entrepreneurship to discuss the barriers, challenges and successes of advancing equity, diversity and inclusion (EDI) in small business. The Honourable Rechie Valdez, Minister of Small Business, was the featured guest speaker among a lineup of women leaders.
More than 100 people attended the in-person event, which was also live-streamed in English and French to more than 120 people.
Cynthia Holmes, dean of the Ted Rogers School of Management (TRSM) opened the event by highlighting the work of DI, a research institute situated within TRSM, which, as the largest undergraduate business school in Canada, has 13,000 students. "This Diversity Institute is a treasure to the Ted Rogers School of Management," Holmes said. "Under Wendy's leadership, the Diversity Institute explores questions about how diversity is a cornerstone Canadian value and a key source of our competitive advantage. The Ted Rogers school is a hub of excellence, and the Diversity Institute embodies this," she said.
Wendy Cukier, the academic director and founder of DI, elaborated on some of DI's work. "It has been accelerated because of the commitments made by the Government of Canada in recent years, to taking a whole of government approach to advance equity, diversity and inclusion, not just in entrepreneurship, but right across the government."
Cukier then introduced Valdez. Sworn into cabinet on July 30, 2023, Valdez is the first Filipino Canadian elected as a member of Parliament and appointed to cabinet, an entrepreneur and a "valiant community advocate," Cukier said.
Valdez shared how baking her daughter's first birthday cake was the inspiration that began her journey into small business ownership after a career in corporate banking. For five years she ran a baking business called Chietopia. Valdez said that if she were to start now, she could go further than she did due to the opportunities, resources and support that exist today.
Rethinking old systems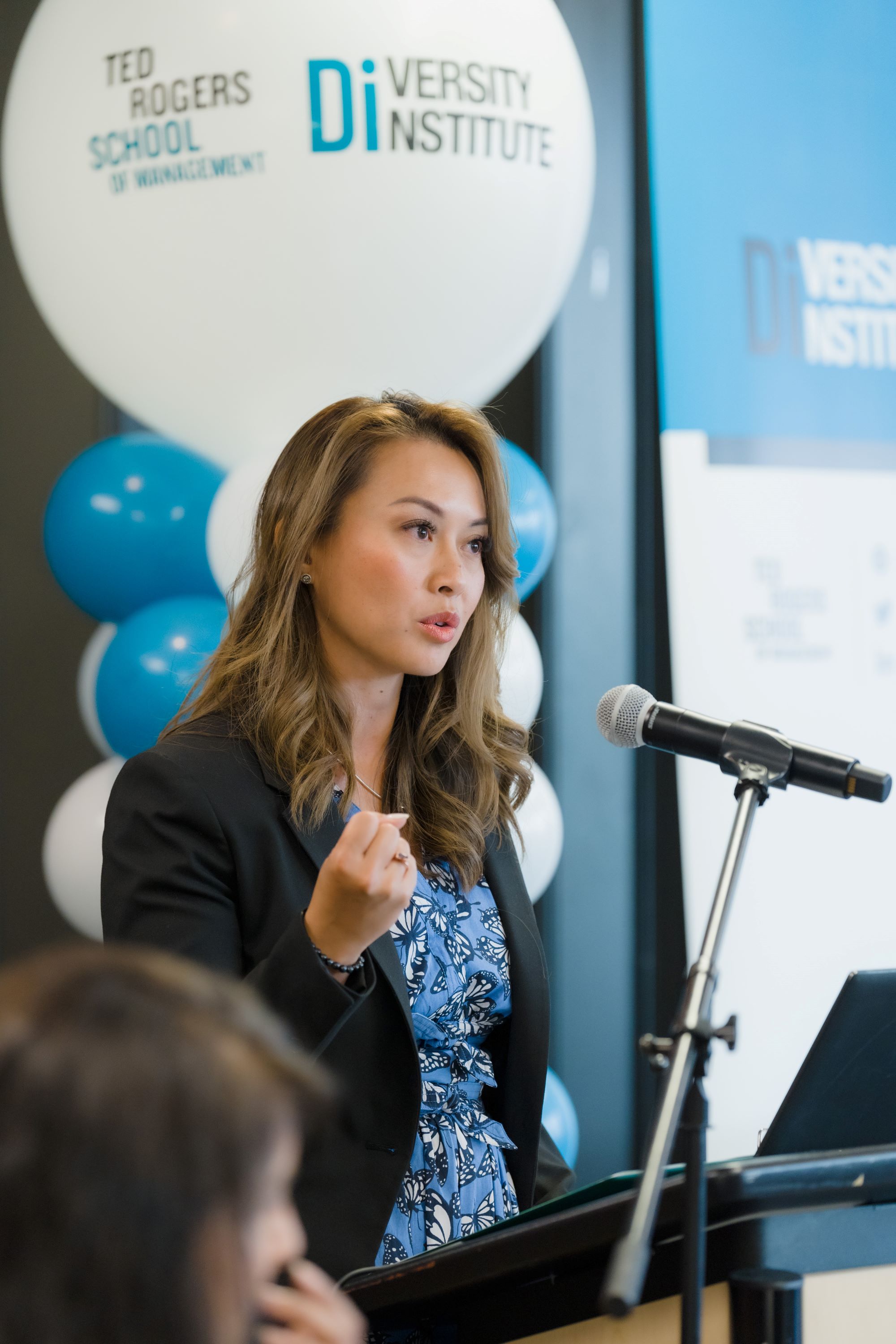 "Most importantly," she added, "I feel like I would be less hustling on an island by myself, but more so being part of a larger country with a resilient, interconnected, like-minded group of women."
During the panel on inclusive entrepreneurship that followed, Vicki Saunders, founder and CEO of Coralus (external link) (formerly SheEO), pointed out the importance of unlearning our conditioning and using creativity to solve problems. She encouraged everyone to use their imagination to rethink things that aren't working and come up with innovative solutions to advancing EDI in entrepreneurship. "All of this was designed by humans so we can change it," she said.
Tabatha Bull, president and CEO of the Canadian Council for Aboriginal Business (external link) (CCAB), spoke about some of the issues that Indigenous entrepreneurs face, like barriers to accessing financing. "There's a long history in our country of really excluding Indigenous entrepreneurs and excluding economies from being built within Indigenous communities," she said. "We all have a role to play to ensure that we can help to rebuild those economies."
Bull pointed to the Supply Change Program created by the CCAB, which allows companies to establish a contact that Indigenous entrepreneurs can reach. The goal of the program is to help Indigenous entrepreneurs grow their clientele, network and business.
The role of research
Cukier said historically a lot of programs were designed for incorporated companies with employees, but 90% of women entrepreneurs do not have incorporated businesses and a very large percentage of Indigenous businesses are not incorporated, pointing to research (external link) that shows more support is needed. "Rethinking, reframing, reconsidering becomes very important," she said.

Cukier spoke about the federal government's 50 – 30 Challenge (external link) , in which DI is an ecosystem partner, a voluntary code that promotes the creation of diverse leadership teams, as one way to advance EDI. The challenge encourages organizations to achieve gender parity (50% women and/or non-binary people) and significant representation (30%) of members from other equity-deserving groups on Canadian boards and/or in senior management.
Kyla Bolden, CEO and founder of Wiz Kid Learning (external link) , said funding was crucial to the growth of Wiz Kid. As a Coralus venture, she said the funding helped her company level up to the point where they were able to raise more than $1 million in venture capital funding. "It's something that I don't see happening enough," she said.
"It's an unequal playing field when you prove your business out and then you don't have money to then take it on to the next level," she said.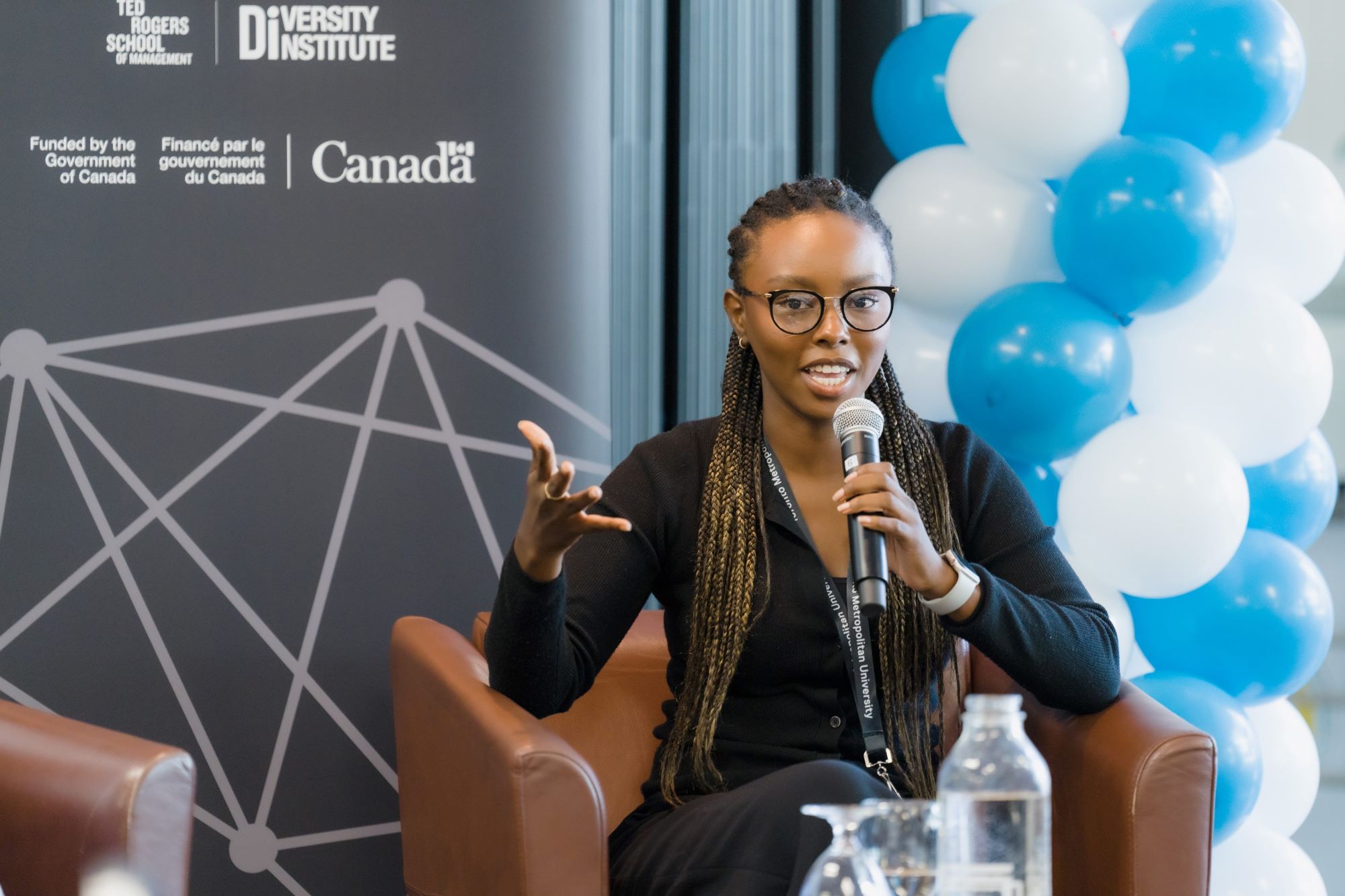 Spencer said that despite the challenges (external link) she is very hopeful. She emphasized the importance of shining a light on the issues and having conversations about solutions. "It's critical because it enables individuals who are facing that challenge to say, I too, can overcome it."
As the panel ended and guests prepared to connect with each other, Cukier asked Minister Valdez for her takeaways from the day's discussion. Valdez said it was an excellent learning opportunity to absorb "golden nuggets" of information. "It's been very insightful for me, especially being new to my role. So, thank you all for sharing," she said.