RSJ professors receive Google News grant for journalism research
January 31, 2021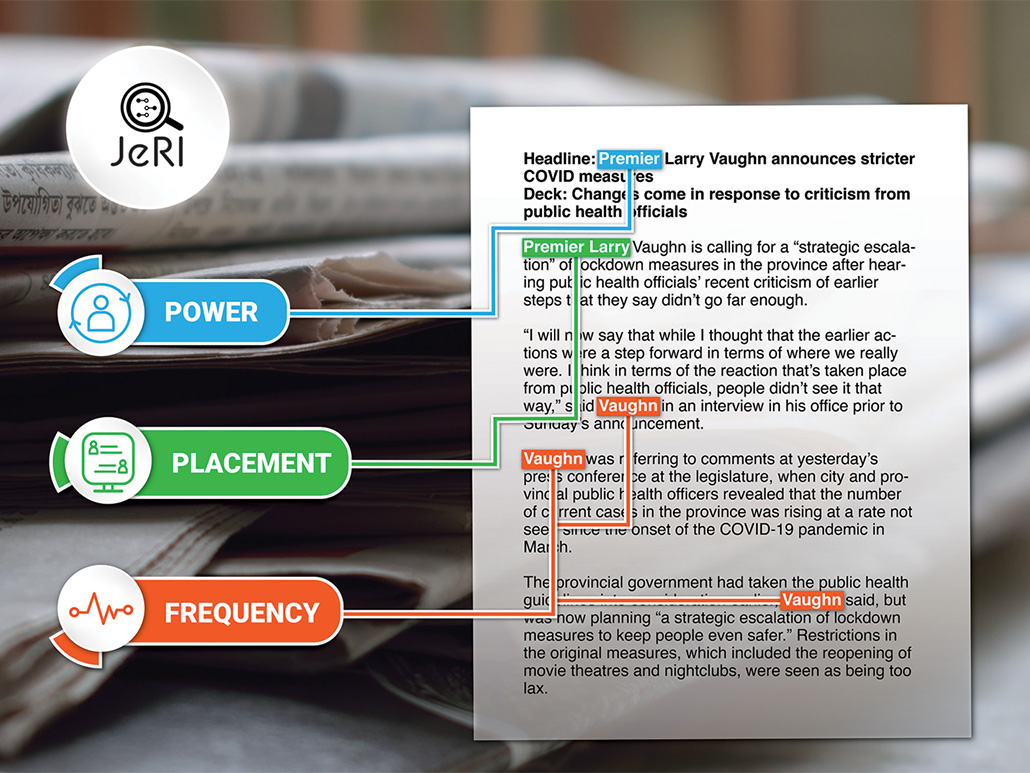 Gavin Adamson, Asmaa Malik, and Karyn Pugliese, professors at the Ryerson School of Journalism, will be receiving funding, external link from the Google News Initiative's North American Innovation Challenge for a project promoting diversity in the newsroom.
The project, called the Journalism Representation Index (JeRI), external link, will be using named-entity recognition to categorize and weigh the types of sources quoted and represented in stories. JeRI is meant to help newsrooms understand the cumulative impact of the choices they make when it comes to sources in stories.
Adamson said he wanted to take a quantitative approach where sources could be identified and counted. Adamson was excited when Google News announced it would be providing JeRI with money.
"Frankly, I can't imagine us getting the project finished... in this complete way without this money," he said. "It's a huge relief, and we were ecstatic."
Google News will be providing JeRI with US $150,000. This will be added to the funding they have received from other successful grants, including funding from Ryerson.
Most of their money from Google News will be going to a computer developer. Students will be hired as research assistants, and money will also be spent on marketing and software.
Malik said she knew it would be great teaming up with Adamson.
"Gavin had been looking at news coverage of mental health and was interested in an AI approach," said Malik. "I was looking into representation of marginalized communities in media coverage as well. So, we decided to join forces."
She said she hopes JeRI will incentivize newsrooms to diversify their sources, especially when it comes to hierarchy and power.
JeRI identifies journalism sources as named entities. The algorithm sorts named entities into categories such as citizens, politicians, activists, experts, and celebrities. An aggregate index is produced based on categories and prominence.
The team is using the Winnipeg Free Press as their target market, examining stories related to the Indigenous population. They hope a social sciences approach will be particularly helpful in identifying sourcing for reporting on Indigenous-related issues.
Adamson said people prefer to rely on authority figures for their stories because of old conventions. People have not thought about changing these approaches. He claimed these conventions need to change or be monitored if news coverage is going to improve.
He said JeRI is aiming to build readers' trust in the news being published.
"We have to tell a complete story and not represent a community in a way that stigmatizes them or in a way that misrepresents them," he said. "You need everyone at the table giving their side of the story."