Journalism institutions implementing new ways to teach non-Black students how to report on Black issues
June 14, 2020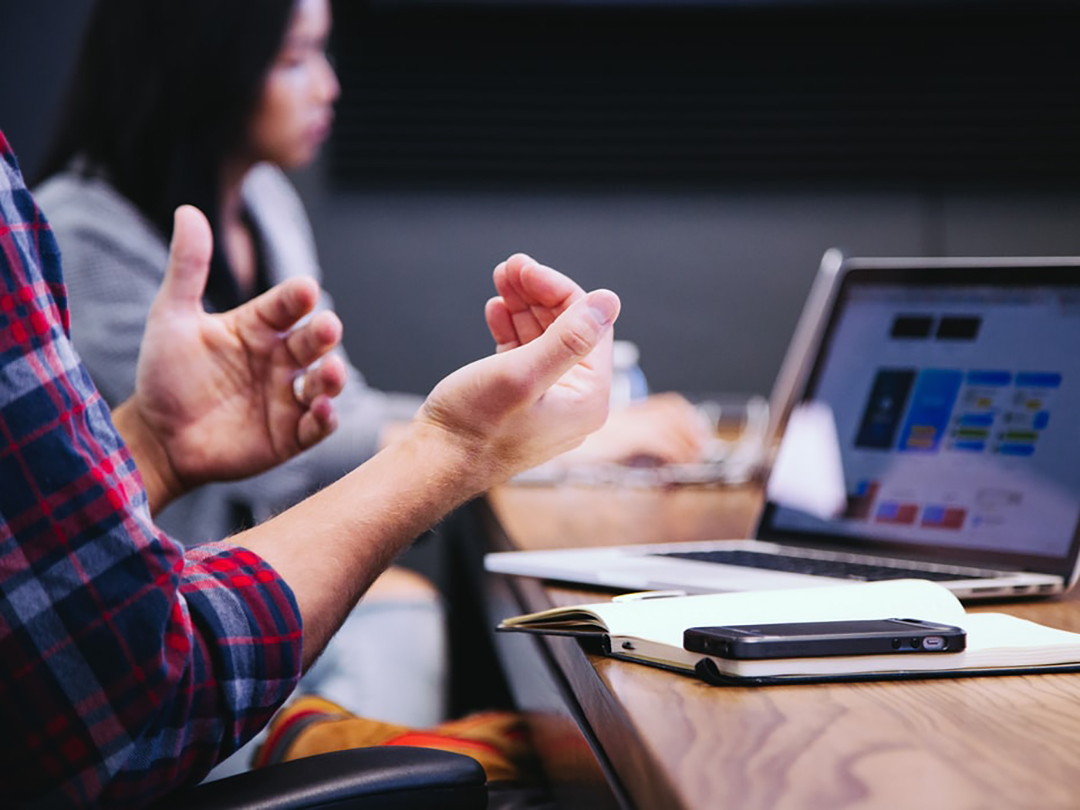 In the wake of the movement against anti-Black racism taking place around the world, Canadian journalism institutions are working to implement better ways for non-Black students to efficiently report on these current and so far inevitable issues.
Journalism is more important than ever and the industry needs to prioritize the coverage of systemic racism and discrimination against the Black community. This includes the racist acts of violence committed by civilians witnessed around Canada, as well as police brutality. It is the duty of journalists to report on stories that deserve attention and especially, under these circumstances, have voices of those seeking and demanding justice, heard.
Ottawa-based CBC national reporter, David Thurton (RSJ '12), said non-Black reporters need to learn how to prioritize the voices of those who are marginalized, getting their quotes into the first few paragraphs.
"When we're covering issues that affect people of colour or groups that have been historically represented, [we need to make sure] that we're featuring their voices as prominently in the story as possible," said Thurton.
Reporting about racism should not be the only topic Black journalists should report on. For a long time, many individuals in the Black community including writers, have felt burdened to be the ones to report on racial injustices. Others have expressed how draining it is to continuously explain their issues without help from others.
Kit Stone, a Black multimedia journalist and digital content creator based in the Bay Area, wrote an opinion piece about how white editors in the newsroom, external link shouldn't leave it up to Black writers to cover topics about their community, especially when it comes to racial issues. She says white editors should be comfortable assigning white writers to write stories about Black people. The "they" Stone refers to in this excerpt, are white journalists in the newsroom.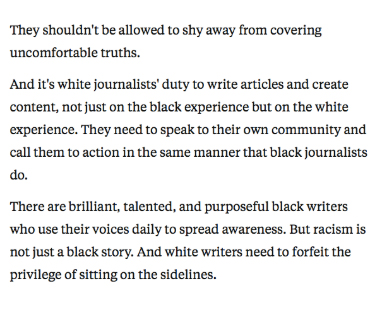 The ways Canadian journalism schools will teach non-Black students to report
The future of journalism lies in the hands of upcoming journalists. It's the responsibility of instructors to teach them how to properly report on every matter, including the coverage of Black communities.
Terra Tailleur, an associate professor in the journalism program at the University of King's College, said she's working on improving the Signal News Workshop class, an intensive reporting course that students in the final year of their undergrad take for six weeks. Tailleur's goal is to teach her students how to report on issues within the Black community, in a manner that will be respectful and proper. She also hopes to be of help for her non-Black students. "As I plan my courses, part of this is how do we cover Halifax properly and respectfully and that includes many communities [and] the Black community," said Tailleur. "Also, how can I help my non-Black students do this in a way they feel supported, that they feel that they're actually making a difference and they're doing this properly." Tailleur said to be a better professor for her students, she will need to educate herself on the history of Black people in Canada, particularly in Nova Scotia since her students will be covering issues in the Halifax community. This way, she hopes to teach this course in a satisfactory manner. "I'm a white prof and I just have to acknowledge that there will be some things that I just can't do and I need help with," said Tailleur. "This is where I try to think, 'okay well, how can I do this job properly?' And it starts with knowing the history."
At Carleton University's journalism school, associate professor Randy Boswell, editor and publisher of Capital Current, a special summer journalism program with 20 students from both undergrad and Master of Journalism programs, is mentoring the reporting on current stories related to the Black community. Boswell said the program was initially intended for students to focus on the coverage of COVID-19. Instead, with the anti-racism rallies happening around Canada following the murder of George Floyd in Minneapolis and the death of Regis Korchinski-Paquet in Toronto, students took it upon themselves to begin reporting on the racial injustices involving the Black community, in ways that follow journalistic guidelines. "We've been thinking about and discussing the best ways - with a high degree of sensitivity and full acknowledgement of the concerns about media coverage expressed by Black Lives Matter and others representing BIPOC (Black, Indigenous, People of Colour) advocacy groups, to cover what's happening," said Boswell.
Boswell said the masthead included students of colour, they have been engaged and sensitized to the issues occurring around the world. In the process, the students have been respectful and thoughtful about how to report on the movement. The editor recalls the reporters covering an anti-racism rally on June 5, in Ottawa. Rally organizers were concerned that some individuals' images were taken without their permission, "out of justifiable fear that they may suffer safety risks and other repercussions," said Boswell. Boswell recalls for one of the group's first stories, the interview subjects were protesters, a Black man and a Black woman. They requested to remain anonymous, and "we captured the voices of these protesters while respecting their wishes to withhold their full names," said Boswell.
Ryerson School of Journalism's undergraduate program director, Lisa Taylor, said non-Black journalism students need to educate themselves about the history of anti-Black racism from the current day and the past. "We have to look at the history of anti-Black racism to understand where we are right here, right now," said Taylor. "We have to look at everything from the way Black students are streamed in the public school system, to the degree to which Black students seem to attract an unreasonable amount of suspension...there's a whole social political context that we have to get all of our students to immerse themselves in." In order for students to be knowledgeable for these subjects, Taylor said while instructors will be responsible for their curriculum, she will ensure that these issues are included in the first and second years of the program.
In addition, Taylor said students should be encouraged to learn beyond the classroom to better understand the Black community. "Beyond coursework, [we should] encourage students to follow the actual work product, as well as the social media presence of Black journalists in Canada," said Taylor. For non-Black journalists to be better reporters, Taylor said students need to also consume and understand the work of Black Canadian journalists. "Looking to see what [Black] journalists are reportingon and how they're reporting on these matters," said Taylor. "And to really take their cues… I think just understanding how they work, the stories they tell and how they tell them, will be vitally important."
Taylor, wants to make it clear that as journalists move forward, it shouldn't be assumed that these stories are best told by journalists who are not Black. "We never want to send the message that stories about anti-Black racism are best told by journalists who aren't Black," said Taylor. "If newsrooms keep on saying 'Oh wow, the new white kid in the newsroom is great at this' and Black journalists are prevented telling these stories, then we have a problem."
Ways Black journalists are encouraging non-Black journalists to report
Canadian columnist Victoria Mochama said non-Black journalists should stop treating the reporting of Black people as a separate beat, since Black communities also encounter what the world deals with. "Black people are not separate from the current economy, Black people are not separate from the current pandemic, Black people are also experiencing climate change," said Mochama. "Stop thinking of Black issues as separate, but unique."
Mochama also suggests that non-Black journalists spend time in places that are predominantly Black, in order to strictly listen and not be reporters. She said distrust of the media can grow when journalists treat long-standing stories line one breaking news story after another. "With Black communities it's very important to understand that so much of what Black people are experiencing across Canada and the United States, is an ongoing emergency," said Mochama. "So [when] white reporters and non-Black journalists show up in these places as if it's a car crash… [it] deepens that skepticism and mistrust… it's essential to gain the trust of the community, because that's who will tell you the stories."
Thurton said students should take courses that will teach them how to properly report on racialized and underrepresented communities. For students who attend institutions that do not have courses similar to that available for them, he said they should advocate to have those classes. "A lot of journalism schools now are offering courses about how to cover racialized communities… if your school does not have that course you should be advocating that beyond the curriculum," said Thurton. "As much as possible when those courses are available, make sure you take those courses."
Ironically moments before my interview with Thurton, I alongside my good friends and former classmates Breanna Xavier-Carter, Rosemary Akpan and Sara Jabakhanji, created a petition on June 9 to implement a Black-Canadian reporting course at Ryerson's journalism school. The RSJ decided to include a new reporting course to its fall offerings called "Reporting on Race: The Black community in the Media."
Thurton also suggests that non-Black journalists should consider reaching out to Black journalists to help them better write their stories and should ask questions for clarification purposes. "When you start writing those stories, share your draft with a Black journalist and then get them to weigh on it," said Thurton. "The same way that we would run our article by someone who in our newsrooms… has that expertise in whatever we write it on. We should do the same when we cover the Black community."