You are now in the main content area
Unpacking the need to create a more inclusive lunch experience at school

Unpacking the need to create a more inclusive lunch experience at school


Imagine it is lunchtime at your school and you are getting ready to eat, when someone makes a critical comment about your food's appearance, smell or that it is different.

Research by Toronto Metropolitan University professional communication professor Yukari Seko found that mealtime at schools in the Greater Toronto Area can be fraught for students who find themselves at the centre of unwanted attention due to the contents of their lunch boxes. She is furthering conversations about how more culturally inclusive discussions about topics like healthy eating could benefit everyone.
Professor Seko's Lunchbox Shaming Research Project is partly inspired by her own observations from sending her son to school with Japanese-style lunches. She is digging into the experiences of students from Asian backgrounds during their midday meals. Youth reported receiving negative comments from their peers or attracting other critical attention as a result of bringing food from their family's culinary culture, instead of more "normal" western lunch items like sandwiches or pasta.
"Many of the participants shared heartbreaking stories with us," said professor Seko about the youth aged 17 to 25 from the Chinese, Indian and Filipino communities interviewed as part of her project and who reflected on their school lunch experiences. Researchers heard stories of food shaming that drove some of the participants to take actions like hiding their lunch or even throwing away the meal. Similar patterns of negative experience were noted across all three groups, and professor Seko points out that Chinese, Indian and Filipino immigrants make up about 40 per cent of the immigrants who settled in Toronto between 2011 and 2016.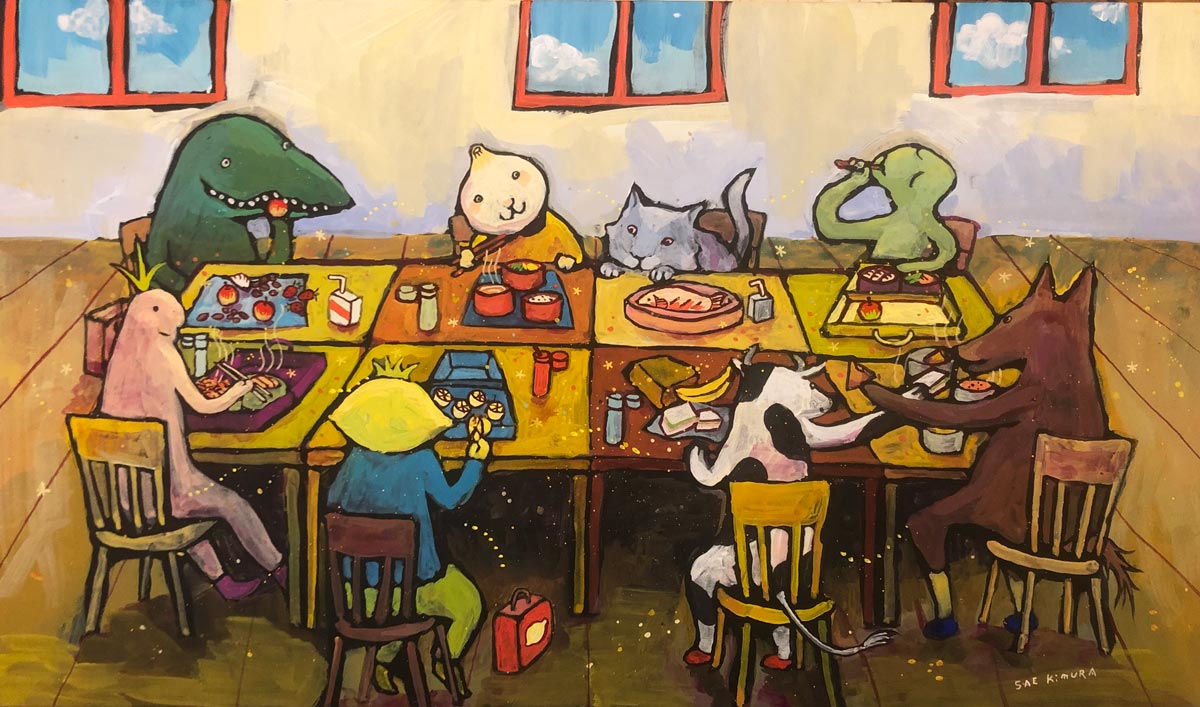 ARTIST: SAE KIMURA
An earlier pilot phase of the project examined the experiences of young students with Japanese ancestry through arts-based research and by conducting focus groups with their mothers. "We found that the Japanese-style lunch box is a conduit of passing the culinary tradition down to the next generation," said professor Seko. However, she found the experiences of the kids at schools to be what she calls a "food culture mismatch" between the home and institutional eating environments.
That mismatch occurs in a number of ways, she explains. Many kinds of Asian food are best served warm, and many school lunch setups do not accommodate that. There are some cultural traditions – like in Japanese culture – where all the food served should be eaten, she says, but the time allotted for lunch doesn't allow for students to finish their meal, leaving them feeling rushed. Then there is the scrutiny and negative feedback from other students about the food itself.
As part of professor Seko's pilot project research, she recommends a more culturally inclusive approach to conversations around healthy eating, rather than formal guides written through a western lens. Such an approach would help children and families explore their food identities. Instead of banning commentary in school to avoid offense, she suggests educators can help expose children to different food cultures and learn to negotiate social and emotional boundaries. Exercises can be as simple as encouraging children to unpack their lunch boxes together and explore how their lunches are made. Findings were recently published in both the journal Canadian Food Studies (external link) and as a case in the open textbook Food Studies (external link) .
Professor Seko's project will continue with a second phase of arts-informed research with children aged eight to 12 years old and their parents in summer 2022. She hopes to potentially expand the project, including co-creating curriculum to facilitate discussions at schools about food.
Learn more about The Lunchbox Shaming Research Project. (opens in new window)


Educators can help expose children to different food cultures and learn to negotiate social and emotional boundaries.




This research project is supported by a Social Sciences and Humanities Research Council of Canada Insight Development Grant.