Undergraduate Students Collaborate on 2022 Winter Station Installation
March 02, 2022
What kind of experiences at DAS did you draw upon for this project?
Alex and Justin:
We've been able to respond to this competition's theme with something creative and innovative, and at the same time bring a level of practicality to the design and maintain a project schedule and budget. This kind of interdisciplinary approach is informed by our design studios, structures courses, and even our project management classes at DAS. We have a technical foundation that really helped us succeed from a conceptual, structural, and feasible standpoint.
We're so grateful for all the faculty members and workshop technicians that supported us, from the design phase to the prefabrication and the onsite construction phases of the project. The whole process was collaborative, we had a lot of interesting perspectives that we were able to integrate into our design.
What inspired the design concept and its final form?
Alex and Ariel:
The theme this year was resilience. Our design team was interested in innovative ways we could utilize summer objects in the wintertime - specifically towels and marine rope. We already wanted to reimagine the beachfront and lifeguard stations during the winter months, so we furthered this idea - taking inspiration from what was learned in Toronto Met's summer camp program - and experimented with concrete-saturated towels as a cladding material. We were able to create some interesting shapes with variable openings. Once we put this together, we realized the opportunity to craft a dynamic experience where different apertures could control, harness, and emphasize certain aspects of surrounding natural forces. Bigger openings allowed for views out toward the water, while smaller openings encouraged snow to build up and mitigated wind. There is also an opportunity to control the amount of daylight that enters the pavilion. In many ways S'Winter acts as a shelter for the community where harsh winter conditions can be experienced.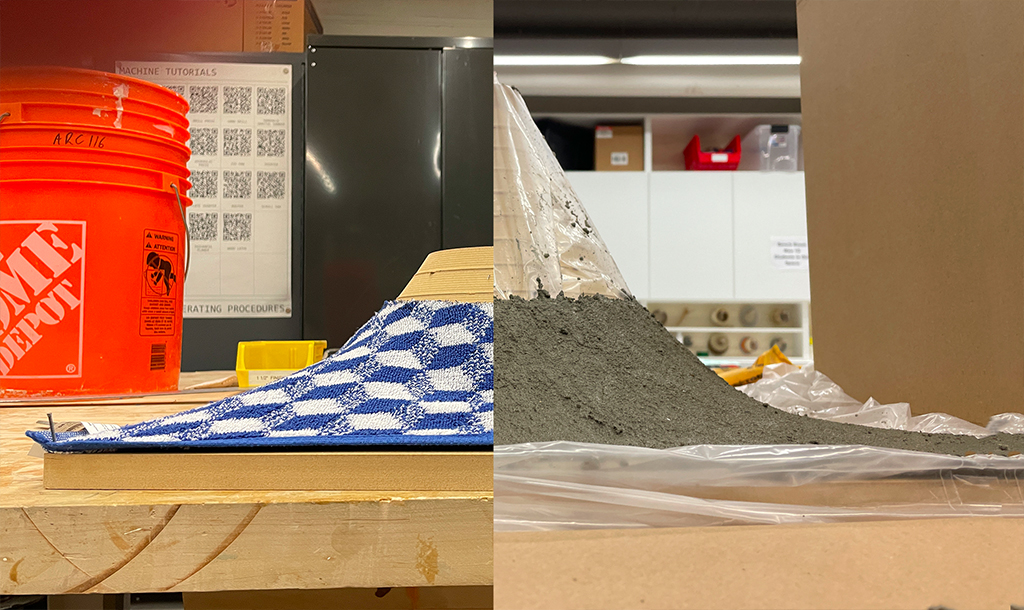 Can you speak to the importance of entering into competitions which are collaborative and involve design-builds?
Evan:
I think entering design-build competitions is fundamental to developing relevant skills in the field of design and construction. This experience provided me with the opportunity to work with others in a physical and collaborative environment. Collaboration is so important in the architectural field, both in terms of learning to work as part of a team as well as building on architectural skills by exchanging ideas with colleagues. Working on a project from beginning to end means we get to understand how our concepts manifest themselves in the built environment. This process is critical; it's given students insight into the construction and labour needed to test our ideas out in the real world. We also gain a hands-on approach and understanding of fabrication. CNC machines, saws, and other construction tools are used. We can engage with our design in a raw, material way.
What did it feel like to have your design materialize in the real world?
Evan:
The process of seeing a project evolve from beginning to end brings a sense of joy and fulfillment to me. Collaboration is a part of that: we gained invaluable hands-on experience in the design and construction process. Putting long hours into both the design and fabrication process really pays off when it all comes together in the final build. Watching the community experience our design, whether it's kids looking through the casted panels, or families walking under the pavilion, is unreal and so rewarding: it's been an unforgettable experience!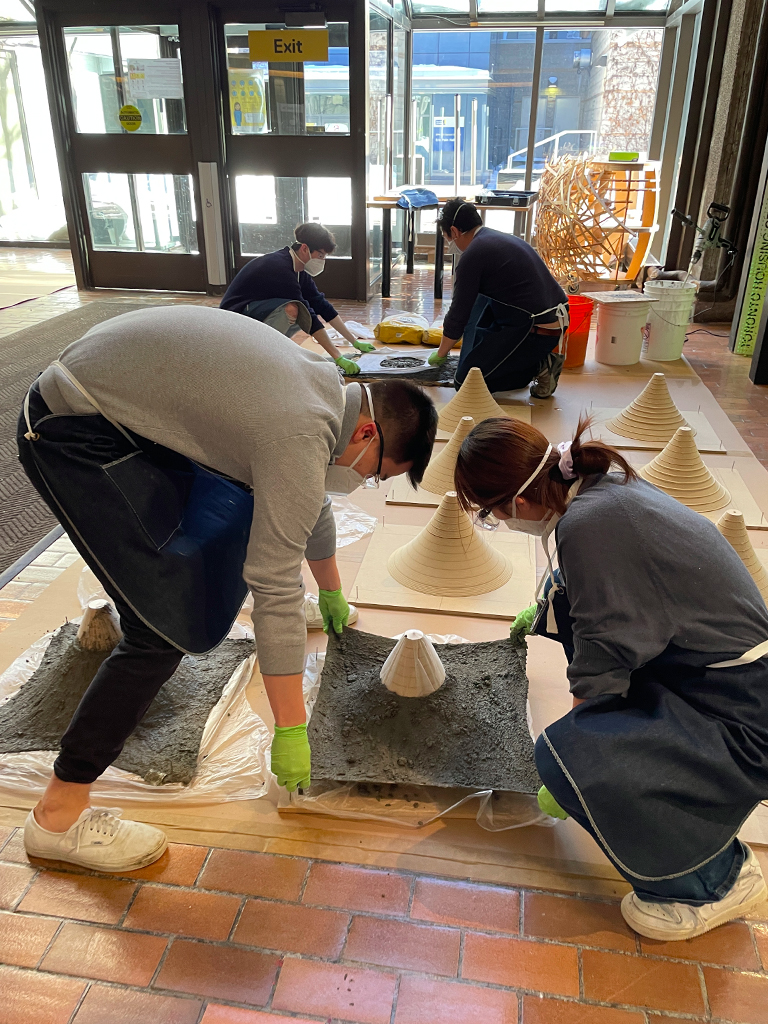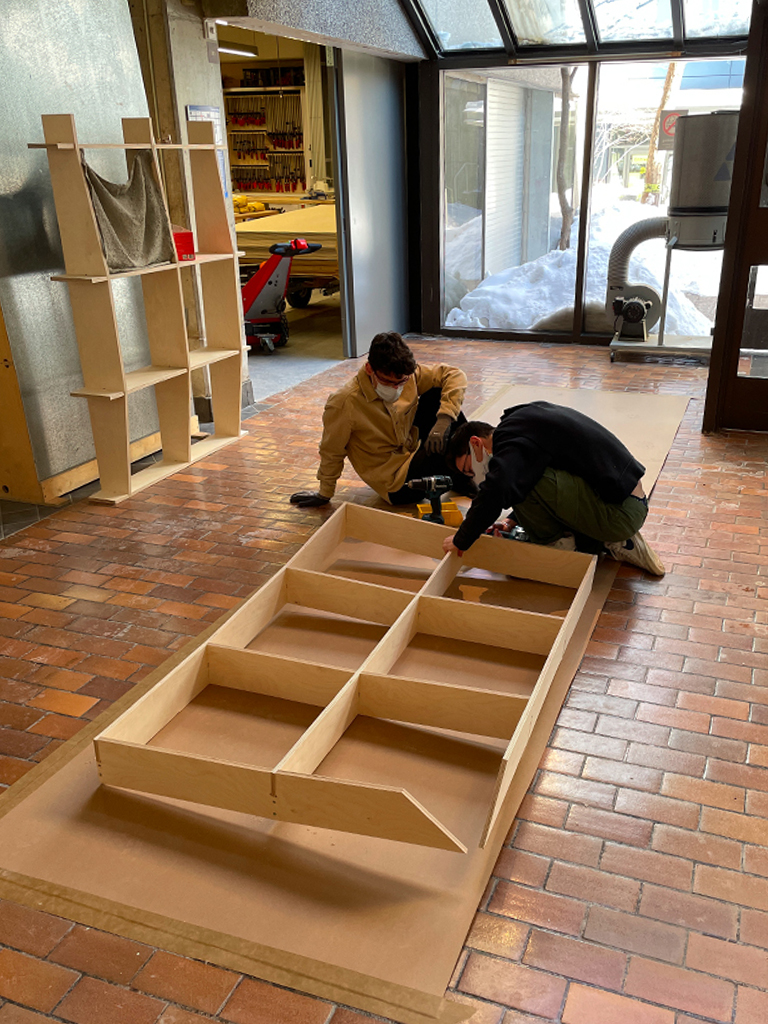 How did your knowledge of fabrication inform the design of the structure? What was the design ideation process like knowing you would be building this in real life?

Kelvin and Ariel:
We knew we wanted to create a structure that would be best optimised for assembling quickly on a cold beachfront. We used an Aa egg-crate plywood structure because CNC-cut members could simply be fitted into one another and then screwed together. The experimental nature of the concrete textile pavilion called for a high degree of design to fabrication iteration. With over 130 different elements of cladding, lots of thought had to go into designing elements for flexibility.