NSERC Synergy Award for Innovation recognizes Ryerson researcher for outstanding achievements in warranty industry partnership
November 10, 2020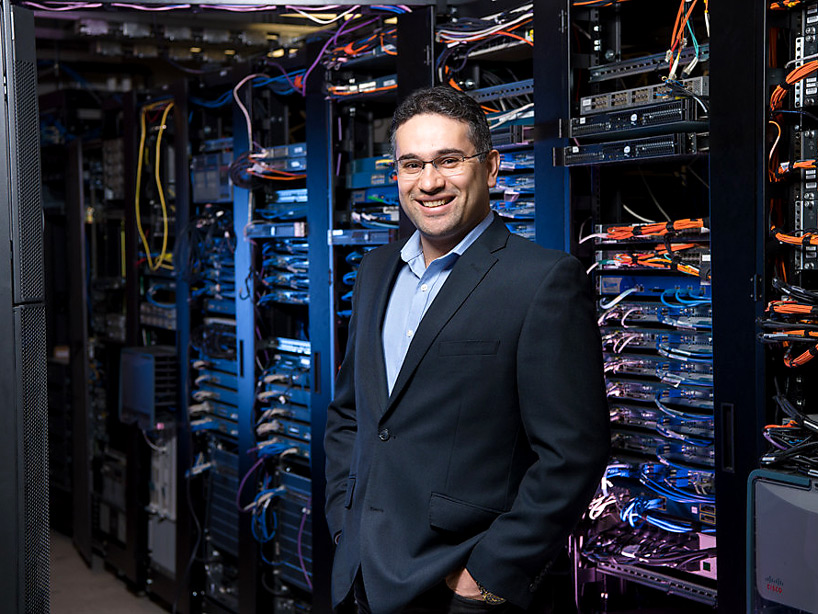 Ryerson professor Ebrahim Bagheri has won a prestigious award from the Natural Sciences and Engineering Research Council of Canada (NSERC) in recognition of his pioneering technology development carried out in collaboration with the warranty industry.
Professor Bagheri, of the Department of Electrical, Computer, and Biomedical Engineering, was chosen for the $200,000 Synergy Award for Innovation in acknowledgment of his long-standing NSERC-supported partnership with Warranty Life, a British Columbia-based company. He will use the funds from the award to support new research that will explore the potential for advanced social media analytics to help combat online misinformation.
Over a period of more than eight years, professor Bagheri and his team have developed artificial intelligence (AI) technology that collects social media data about customers' experiences of products, such as smartphones and laptops, and then uses this data to inform the customized delivery of warranties and customer protection plans. Building on this work, professor's Bagheri's new project will develop ways of using social media data to help companies to predict misinformation campaigns against new products. This work will be separate from the collaboration with Warranty Life.
"I'm very thankful to NSERC for recognizing all the work that we've put into this collaboration," said professor Bagheri. "We've been working with Warranty Life since 2010 and have completed several NSERC-funded projects going through the whole life cycle that NSERC envisions for university engagement with the industry, so it's a pleasure to be recognized for the work we've done in this partnership."
Developing a unique approach to social media analytics
Professor Bagheri says that the way Warranty Life uses social media data to inform warranties and protection plans is unique. Elsewhere in the industry, companies create policies by manually inputting data from sales and surveys into their systems. But this process is time-consuming and is not cost effective.
"The idea Warranty Life had was, 'How can you leverage streams of behavioural data, such as those generated on social networks, to make proactive decisions ahead of time?'" said professor Bagheri.
"So, if there's a new product to be launched, like a new smartphone or a gaming console, would it be possible to draw conclusions from past experiences with similar products and all the chatter that happened online about them to predict how people will react to the new product? And, ideally, what would be the best protection plan to offer customers to give them peace of mind and the best coverage they need?"
Several major companies are now using the technology developed in the partnership between professor Bagheri and Warranty Life. The collaboration has resulted in valuable intellectual property and led to four patent applications and invention disclosures. The partnership has also created student training and research opportunities. So far, 32 highly qualified personnel, including postdoctoral fellows, graduate students and research assistants, have been trained.
"This award is an outstanding achievement and I congratulate professor Bagheri for the exceptional research that has earned this recognition," said Steven N. Liss, vice-president, research and innovation at Ryerson. "Over many years, he has built an enviable partnership with Warranty Life that epitomizes the ability of Ryerson researchers to anticipate the needs of emerging sectors and to develop new technologies and services to meet industry demand."
Combating online misinformation
Professor Bagheri says that it is becoming increasingly urgent to develop systematic methods of combating online misinformation. To help fight this, his new project aims to provide companies with a way of anticipating the types of misinformation they will face before a product or service is launched, instead of simply debunking false claims after they have been spread.
"Recently, I've been becoming more interested in looking at misinformation, particularly in ways in which it is distributed across the social network," he said. "The aspect that I'm very interested in, and distinguishes itself from earlier work, is predicting misinformation, as opposed to identifying misinformation that has already happened in the past.
Professor Bagheri holds both a Tier II Canada Research Chair in Software and Semantic Computing and an NSERC/Warranty Life Industrial Research Chair in Social Media Analytics.
Read more about professor Ebrahim Bagheri's research with Warranty Life (opens in new window)