Researchers gather at Ryerson for Migration 2030 conference
International experts joined Ryerson faculty members to discuss the migration issues of the next decade.
March 30, 2020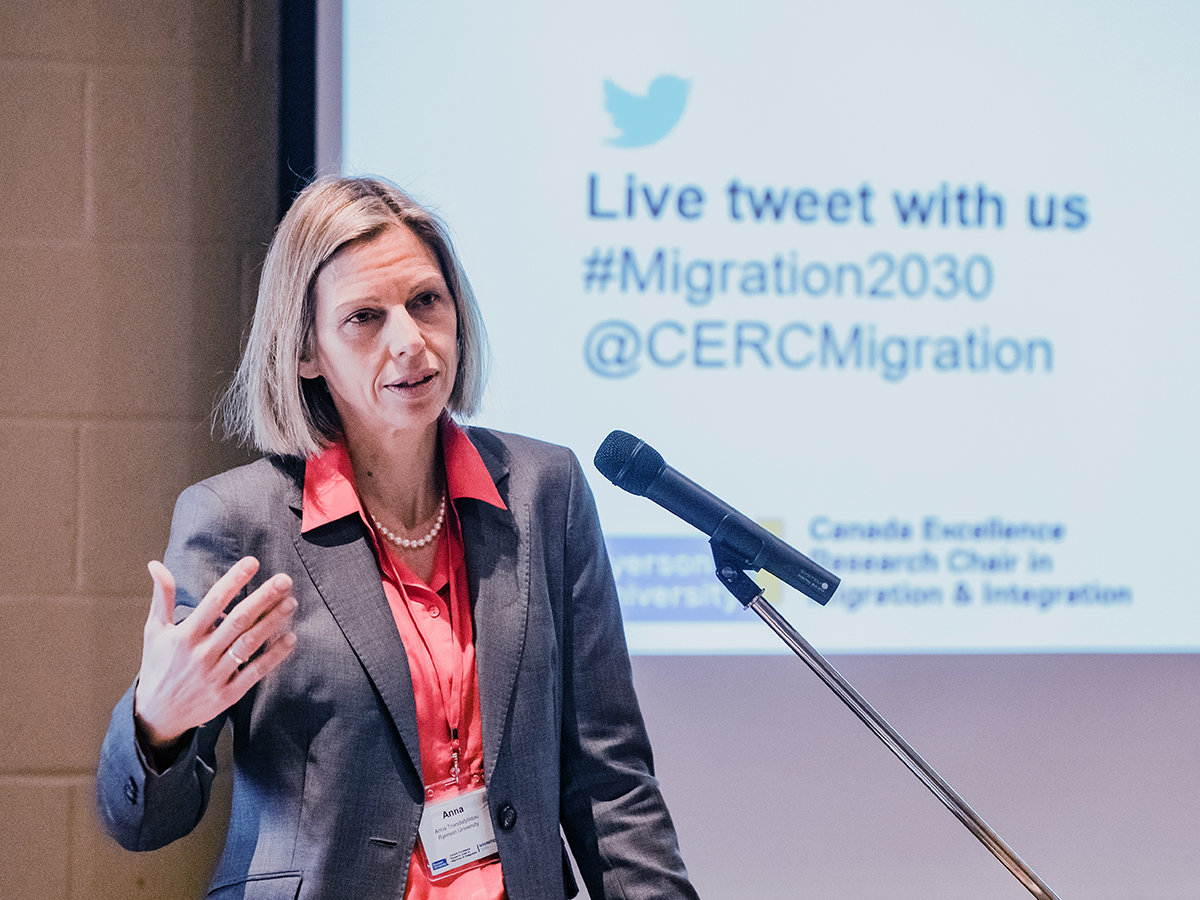 Researchers from around the world gathered at Ryerson University on February 20 and 21, 2020, for the conference, Migration 2030: Challenges and Opportunities for Canada and the World. Over two days, international and Canadian experts joined Ryerson faculty and graduate students in an exploration of the critical issues of the decade ahead.
Migration 2030 was hosted by professor Anna Triandafyllidou, Ryerson's Canada Excellence Research Chair (CERC) in Migration and Integration. Through her seven-year CERC program, professor Triandafyllidou is leading a major investigation into a wide array of issues associated with global migration, including international governance, integration policies and multiculturalism. The program will provide a vital link between Canadian and international experts to address the future challenges facing Canada and the world.
Opening the conference, Naomi Adelson, associate vice-president, research and innovation at Ryerson, said professor Triandafyllidou's CERC research program would greatly enhance knowledge of migration and settlement.
"Canada continues to take the opportunity to advance its leadership role in developing innovative research and research engagement initiatives that will impact policy and practices in these significant areas," she said. "As a university at the centre of Canada's most diverse city, Ryerson is proud to be at the forefront of this work."
In her opening remarks, professor Triandafyllidou explained that a key aim of the program was to bring together researchers from around the world so they could share knowledge and learn from each other.
"There is no silver bullet in any area of migration," said professor Triandafyllidou. "We need to work together to better integrate knowledge… [and] to understand more about local and regional realities."
International perspectives on migration
Starting off the conference, professor Joseph Teye from the University of Ghana argued that by understanding the migration of people among West African countries, we can better understand the migration flows from Africa to Europe. Professor Irudaya Rajan, from the Centre for Development Studies in India, explained that emigration needs a new narrative. He said that while India has the largest diaspora population in the world, that population has contributed significantly to the development of the country, and now the government is investing in re-integration and skills training for return migrants.
Marie McAuliffe, head of the Migration Policy Research Division at the International Organization for Migration, outlined the history and current state of global migration governance and the importance of international cooperation. According to McAuliffe, research and data analysis were needed to help achieve UN objectives set out in its Global Compact for Safe, Orderly and Regular Migration.
From within Canada, professor Dan Hiebert of the University of British Columbia explained that because settlement and integration is concentrated in cities, Canada is a two-speed society. Immigration as a force for economic growth "basically decides which gear we are in."
McGill University professor Jill Hanley argued that Quebec's immigration policies have seemingly contradictory effects – reducing migrants in the face of labour shortages on the one hand, yet increasing skills and language training for migrant workers on the other. Professor Monica Boyd, from the University of Toronto, highlighted gender inequality between migrants in the labour market as evidenced by a high representation of women entering the workforce as care workers.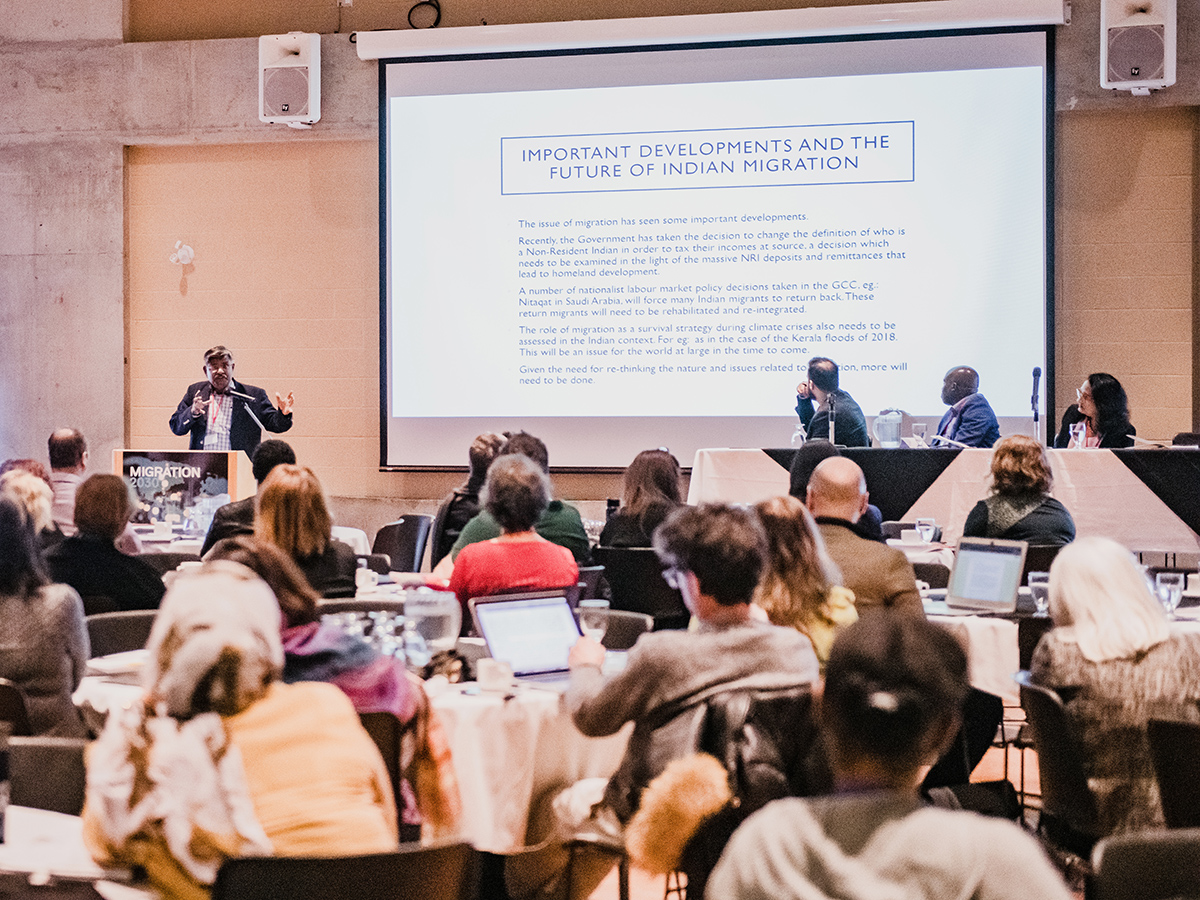 New Ryerson research
Other speakers discussed issues at a local level, including professor Zhixi Zhuang of Ryerson's School of Urban and Regional Planning, who presented her research on integration and how immigrant communities are building thriving neighbourhoods in suburbs within the Greater Toronto Area (GTA).
"Conventional suburbs are often thought of as place-less and at odds with diversity," she said. "But the emerging ethnic landscapes are challenging the status quo. Immigrant communities are reshaping suburban spaces with new identities and new meanings."
Professor Zhuang concluded that place-making is an important part of immigrants securing a sense of belonging and identity. She recommended that cities should recognize the changing nature of suburbs as community hubs and prepare for further demographic shifts by adjusting their community engagement practices to ensure they are culturally sensitive and involve community members in order to provide appropriate services.
In the final session of the conference, two Ryerson faculty members discussed innovative new methods of using data analytics to research migrant integration. Professor Bilal Farooq of the Department of Civil Engineering talked about how his methods for using virtual reality to examine the ways people move and use transport in urban areas could be applied to immigration research. By placing participants in immersive virtual environments, professor Farooq said researchers could analyze people's neighbourhood choices and preferences.
Stein Monteiro, a research fellow in the CERC program, argued that researchers interested in how successful international students are at integrating into a more permanent status could gain insightful data from various graduate surveys as well as administrative student records like the Education and Labour Market Longitudinal Linkage Platform. According to Monteiro, the number of international students in Canada grew by 68 per cent between 2014 and 2018, with 20 to 27 per cent becoming permanent residents after graduation. He suggested there were many avenues of possible research, such as tracking students from their education into the labour market or their long-term outcomes and integration.
Other topics covered by the conference included the increasing number of countries turning to temporary migration to satisfy labour-market needs, gendered perspectives of migration and migration policies of countries outside Europe and North America.
The CERC program is supported by a $10-million Tri-Agency grant from the Social Sciences and Humanities Research Council (SSHRC), the Natural Sciences and Engineering Research Council of Canada (NSERC) and the Canadian Institutes of Health Research (CIHR).
Learn more about the Canada Excellence Research Chair in Migration and Integration.
Read the presentations and abstracts from the Migration 2030 conference.