You are now in the main content area
Race, Migration and Policing
Date

November 05, 2020

Time

12:00 PM EST - 1:30 PM EST

Open To

All

Contact

Graham Hudson; graham.hudson@ryerson.ca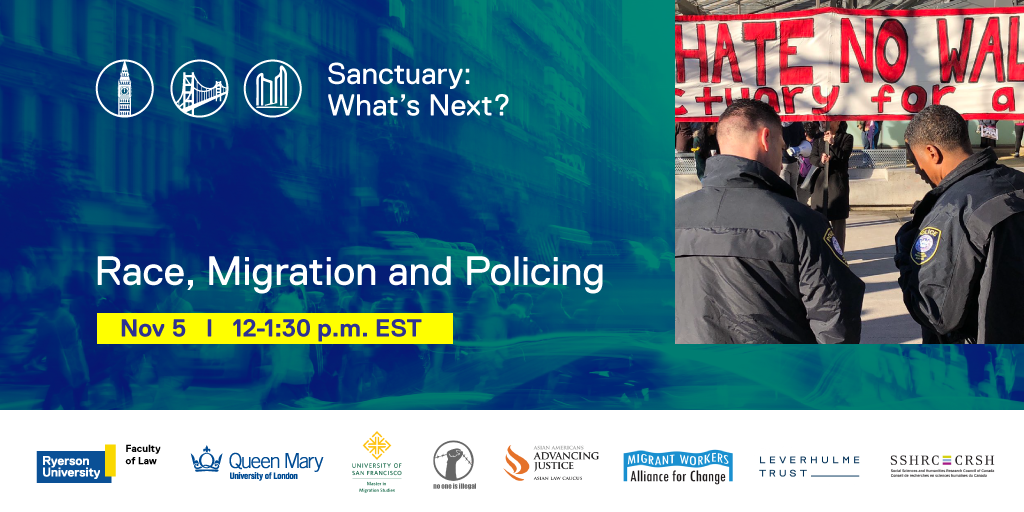 Chair:
Kikélola Roach, Ryerson University, Canada
Speakers:
Prasanna Balasundaram , University of Toronto, Canada
Liz Fekete, Institute of Race Relations, UK
Bill Ong Hing, University of San Francisco, USA
Andrea J. Ritchie, Barnard Center for Research on Women, USA
This event is the first in the Sanctuary: What next? series and centres on race, migration and policing. It will ask the following questions:
1) Police racism and violence against Black, Indigenous and People of Colour are currently part of mainstream conversations. Harsh anti-immigration policies and practices have also had impacts on mainstream discourses.
*What is important for us to know about how these two conversations are connected? How can connecting these two issues help support meaningful and/or radical change in the policing of migrants?
2) Local police frequently collaborate with immigration authorities, and share information with local public institutions like schools, shelters, and mental and physical health authorities.
*How do these partnerships affect access to criminal justice and other public institutions by migrants without status or with precarious status? How is access further reduced due to race, sex, gender, and other markers of social difference?
3) There are currently strong movements to abolish police, as well as to abolish immigration enforcement bodies, like ICE and the CBSA. There are also calls for local police to pass and effectively implement "Don't Ask, Don't Tell" policies.
* What policies or demands should we be making to reduce the local policing of migrants?
About the series:
Sanctuary: What next? series which is a pioneering online seminar series taking place in November 2020. The overall aim is to take stock of and reinvigorate urban strategies of resistance to national and sub-national anti-migrant policies. Speakers include activists, advocates, NGOs, frontline workers and municipal government officials across pioneering sanctuary cities in the USA, Canada, and Europe.
The series will provide a platform to draw connections between the political economy of cities, the security practices at the heart of contemporary racial and colonial capitalism and the migration apparatus. In paying close attention to the messaging, practices, and tactics enacted by these organisers, there is much to learn about both the nature of the contemporary capitalist security state as well as how it might be possible to contest it.
Biographies
Kikélola Roach
Kiké Roach is the Unifor Sam Gindin Chair in Social Justice and Democracy at Ryerson University, Canada. She has served as an Executive Member of the National Conference of Black Lawyers, the National Action Committee on the Status of Women, the Women's Coalition for Employment Equity, and Mpenzi: Black Women's International Film and Video Festival. As a civil rights lawyer, she has advocated for accountability and reform in policing for many years, representing community organizations. She was a regular commentator on current and legal affairs for CTV News and is co-author of the book ``Politically Speaking``. She has addressed audiences across Canada and in the United States on issues of anti-racism, feminism, and progressive change.
Prasanna Balasundaram
Prasanna Balasundaram supervises the Refugee and Immigration division at Downtown Legal Services, University of Toronto, Canada. His work focuses on complex immigration and refugee matters, particularly those involving inadmissibility, exclusion and constitutional issues. Prasanna also has an interest in advancing legal aid based clinical legal education.
Liz Fekete
Liz Fekete is the Director of the Institute of Race Relations, UK, and head of its European Research Programme. She has worked at the IRR since 1982. She writes and speaks extensively on aspects of contemporary racism and fascism, refugee rights, EU counter-radicalisation and anti-terrorism policies and Islamophobia across Europe, and is author of A suitable enemy: racism, migration and Islamophobia in Europe (Pluto press, 2009) and Europe's Fault Lines: racism and the rise of the Right (Verso, 2018) . Liz was part of the CARF Collective, and an expert witness at the Basso Permanent People's Tribunal on asylum and the World Tribunal on Iraq. She is currently an associate of the International State Crime Initiative at Queen Mary University of London, and the Border Crossing Observatory at Monash University, Australia.
Bill Ong Hing
Bill Ong Hing is the Dean's Circle Scholar, University of San Francisco and Director of the Immigration and Deportation Defense Clinic. He is author of numerous academic and practice-oriented publications on immigration policy and race relations, including, most recently, American Presidents, Deportation and Human Rights Violations (Cambridge Univ. Press 2019); He was also co-counsel in the precedent-setting U.S. Supreme Court asylum case, INS v. Cardoza–Fonseca (1987), and represented the State Bar of California in In Re Sergio Garcia (2014), in granting a law license to an undocumented law graduate. Hing is the founder of the Immigrant Legal Resource Center in San Francisco and continues to volunteer as general counsel for this organization.
Andrea J. Ritchie
Andrea J. Ritchie is a Black lesbian immigrant police misconduct attorney and organizer whose writing, litigation, and advocacy has focused on policing and criminalization of women and LGBT people of color for the past two decades. She is currently Researcher in Residence on Race, Gender, Sexuality and Criminalization at the Barnard Center for Research on Women, where she recently launched the Interrupting Criminalization: Research in Action initiative. She is the author of seven books including, Invisible No More: Police Violence Against Black Women and Women of Color (Beacon Press 2017). She is a nationally recognized expert and commentator on policing issues, and works with groups across the United States to support campaigns to end profiling, police violence criminalization, mass incarceration, and deportation. She has testified before the President's Task Force on 21st Century Policing, the White House Council on Women and Girls, the Prison Rape Elimination Commission, and a number of United Nations treaty bodies. She is a member of the Movement for Black Lives Policy Table, and was a founding member of the Steering Committee of New York City's Communities United for Police Reform, a city-wide campaign to challenge discriminatory, unlawful and abusive policing practices in New York City led by grassroots community groups, legal organizations, policy advocates and researchers from all five boroughs.
The organising team:
Sanctuary: What's Next? An International Forum For, With and By Undocumented Migrants is convened by Dr Rachel Humphris (Queen Mary University of London), Graham Hudson (Ryerson University) and Kathy Coll (University of San Francisco). It is part of the project 'Welcoming Cities? Understanding Sanctuary in Securitized States' funded by The Leverhulme Trust, UK.
The series has been organised in partnership with:
Angela Chan, external link, Asian Law Caucus
Kathleen Coll, external link, University of San Francisco
Graham Hudson, Ryerson University Toronto
Rachel Humphris,, external link Queen Mary, University of London
Syed Hussan,, external link Migrant Workers Alliance for Change, @hussansk, external link
Peter Mancina,, external link University of Oxford
Mac Scott,, external link Carranza LLP