You are now in the main content area
We empower students to learn their craft, find their voice and tell impactful stories through image.
As the oldest and most highly-regarded school of its kind in Canada, Image Arts is an internationally-renowned destination for the study, production, and exhibition of film and photography. Students learn by doing through applied courses that provide access to industry-grade facilities and equipment. By studying in Toronto, the centre of media arts production in Canada, Image Arts students are exposed to a vibrant arts and culture scene and given a wealth of professional opportunities.
Undergraduate
What You'll Learn
Film Technology
Screenwriting
Cinematography
Film Production
Business of film
Film History & Criticism
What You'll Learn
Commercial, creative and editorial photography
Media art
Emerging imaging technologies (VR, AR and 3D Modeling)
Lighting
Advertising
Curation
Documentary storytelling
Professional practice
The Integrated Digital (ID) Option is specialization stream that focusses on digital media. It's open to all Film and Photography students, and those wishing to enrol do so in their third year.
What You'll Learn
Motion Graphics
3D Modelling/Animation
Photography/Photogrammetry
Experimental Video
Multi-Channel and Non-Linear Video
Creative Coding
Projection Mapping
Video Game Design
Virtual Reality & Augmented Reality
3D Printing
Interactive Exhibition Design
Visual Effects (VFX)

Graduate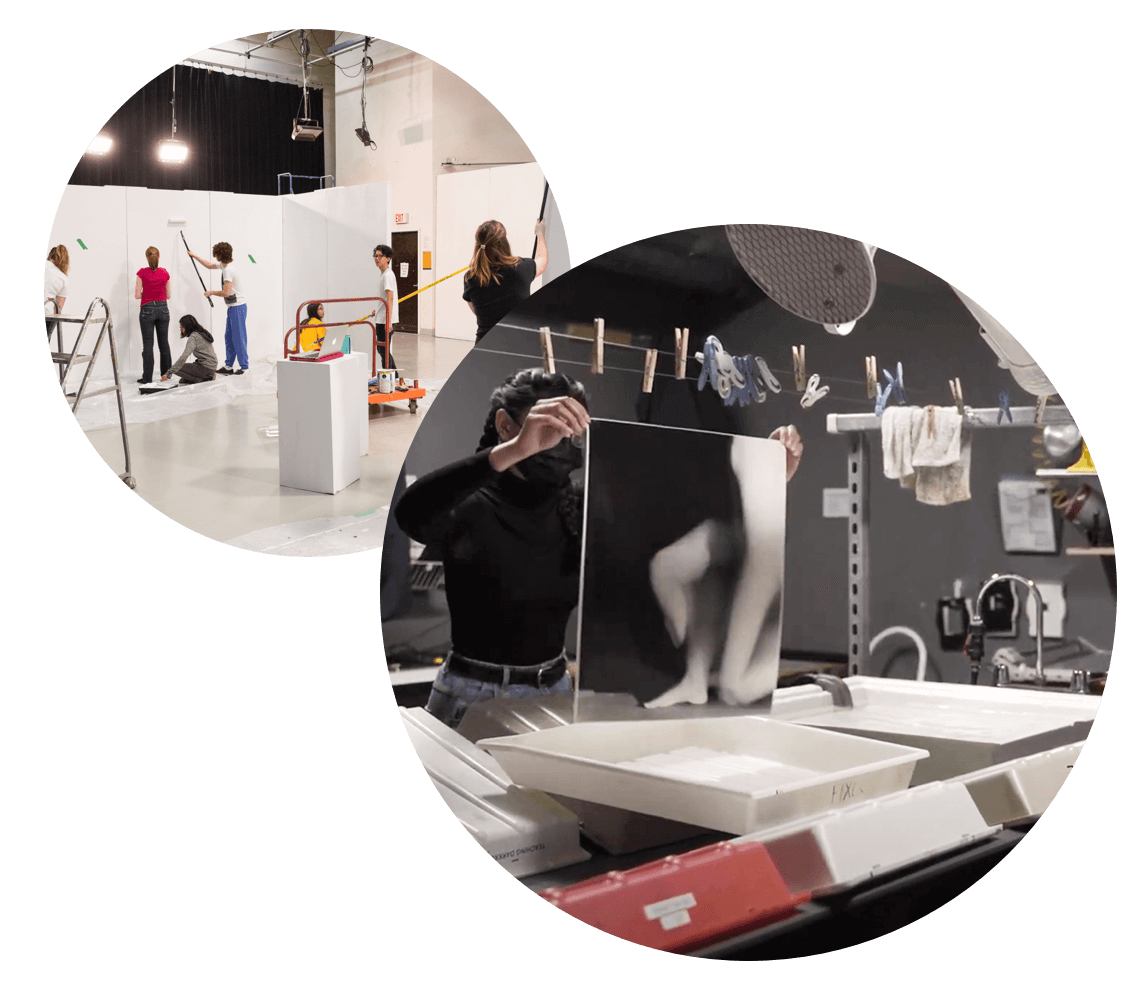 Why are our grads successful?
They're taught and mentored by a diverse faculty of academics and media makers
They take on internships with high profile industry professionals looking for upcoming talent
They graduate having already built a robust portfolio and professional network

Make & create with professional grade equipment
Share your work & stand out


Gallery exhibits, festivals and live events give students the opportunity to collaborate, build confidence and have their voices heard.
An annual, student-run festival that premieres the thesis films made by students
A year-end exhibition showcasing student work and featuring a curated selection of photography, installation, moving image and digital arts.
A visual art and culture publication that is curated, designed, and produced by a team of 4th-year students

Curators
Educators
Art directors
Digital content creators
Filmmakers
Photographers
Videographers
Event managers
Magazine editors
Creative entrepreneurs
You belong at
The Creative School
As an Image Arts student, you'll be part of The Creative School, a dynamic faculty offering 27 degree programs in media, design and creative industries. Through global experiences and transdisciplinary opportunities, our students emerge as some of the most in demand and employable graduates anywhere.