Renewable energy projects are powering – and empowering – Indigenous communities across Canada
February 12, 2021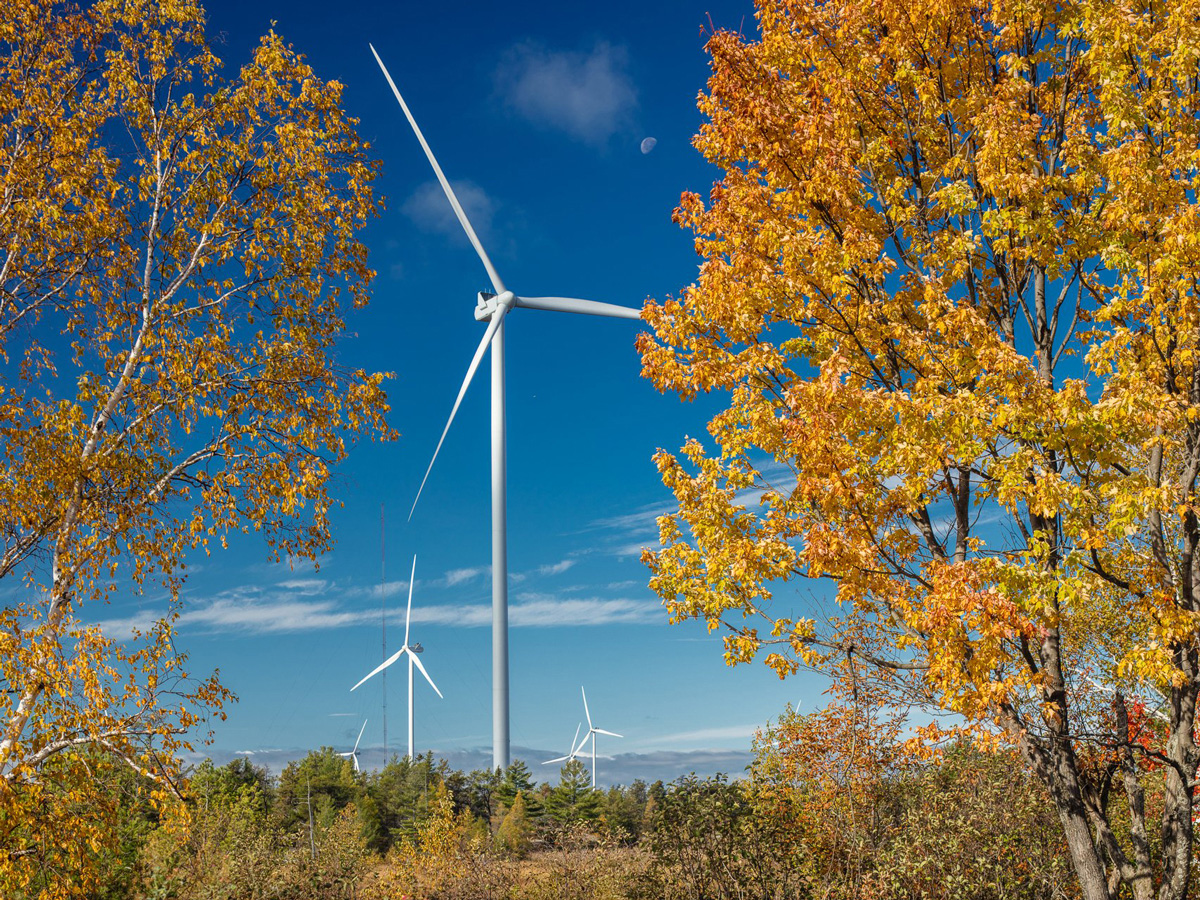 As the largest owner of clean energy assets other than Crown and private utilities in Canada, Indigenous peoples across the country are blazing the trail for rural and off-grid communities alike. According to recent findings, external link, opens in new window by Indigenous Clean Energy (ICE), Indigenous communities are utilizing hydro, solar, wind and storage at a rapidly growing rate, with at least 2,100 renewable projects currently operational or in the final stages of development. The number of major projects has grown by almost 30 per cent since 2017.
"Indigenous communities, in my opinion, are more likely to pursue clean energy projects mostly because of that overlap of Indigenous ways of life," says Mihskakwan James Harper, an engineer and Indigenous youth advocator from Sturgeon Lake Cree Nation in Treaty 8, Alberta. "It's also a symbolic gesture – not just economically, but even energetically – that within a community, we can sustain our own selves and our own livelihoods without dependence on the Canadian state, utility or big industry."
Although Indigenous clean energy projects are taking off, it hasn't always been that way, and still isn't, in many remote communities across the country. According to the Pembina Institute and WWF Canada's PDF fileTrue Cost of Fuel in the Arctic, external link, opens in new window report more than 170 remote Indigenous communities across Canada still rely almost completely on diesel power plants for electricity. Barriers, external link, opens in new window such as distrust for private companies, insufficient government funding mechanisms or supporting policies, inadequate community engagement, or a lack of transparency and shared objectives can impede the progress of off-grid clean energy initiatives.
Leading the way are precedent-setting projects such as the wind farm on Henvey Inlet First Nation land, which show that the right collaborations between industry partners and Indigenous communities can and do succeed. Henvey Inlet First Nation in the Robinson Huron Treaty Territory is home to the largest single-phase wind, external link, opens in new window project in Ontario and approximately 180 residents that live on the reserve. With Pattern Canada as their partner, the project generates enough clean, renewable energy to power about 100,000 Ontario homes and is a source of more than 20 permanent jobs. The wind farm started operating in 2019 and is expected to generate more than $10 million in annual income for the community.
"We thought it was a really great idea to get into wind energy," says Jennifer Pereira, an Anishinabe and Henvey Inlet First Nation resident, who got involved with construction and community consulting during the inception and construction phase of the wind farm. "Because our asset was land and essentially we were sitting in the driver's seat, we were able to select a partner that suited us. It wasn't like these things were built in our traditional territory where our community would have had to get consulted and engaged – it was initiated by us."
Beyond Henvey Inlet First Nation, Pereira hopes to see more First Nations communities finding ways to reduce their dependence on fossil fuels.
"I'm just hoping a lot more First Nations are able to get into clean energy, especially the ones that are powered by diesel," says Pereira, who works as an Indigenous community liasion. "It would just be incredible if everyone could have clean [and renewable] energy for their communities."

Harper believes one thing that's needed to achieve this goal are more Indigenous clean energy experts and engineers combined with the building of meaningful relationships between companies and Indigenous communities.
"A lot of Indigenous nations also recognize that they could do the legal work, they could do the administrative work, they can do the financing but one of the areas that they're still telling me about is that there's not enough technical people out there," he says. "Usually big engineering firms and non-Indigenous people are doing that kind of work, and that's OK. Now it becomes a question of how do we partner in an equitable and fair fashion?"
ICE's Catalysts, external link, opens in new window program helps to tackle this problem by connecting clean energy advocates from First Nations, Inuit and Métis communities to a network of Indigenous and non-Indigenous industry mentors. Pratap Revuru, a Catalysts mentor who is the director of microgrid solutions and strategic partnerships at Schneider Electric as well as an honorary fellow at the Centre for Urban Energy, has been mentoring with ICE for over two years, helping emerging Indigenous leaders understand and plan for the available technologies they can use to help their communities generate energy off-the-grid.
"The grid – the distribution system and the transmission line system – is actually in the south of Canada," explains Revuru. "If you go a bit more north, there isn't a grid. They are pretty much depending on off-grid technology. They have their own generation and they need to manage everything. It means they don't have reliable and continuous power, and that's one of the hurdles that they have."
Revuru insists that programs like Catalysts benefit emerging leaders by giving them expert knowledge and also provides important insights into the energy problems remote Indigenous communities are facing.
"It is very rewarding to know that Indigenous communities are really paving the way, pivoting to actually getting renewable energy, and also looking at how they can create jobs, educate their community and achieve energy resilience and sustainability," says Revuru.
Revuru also believes that through improved industry relationships and support, remote Indigenous communities are being empowered to solve their own energy insecurity.
"The energy sector is rapidly changing. Energy, or what we used to think of it before, is pretty much in a different landscape. Before, the talk was 'power takers' and 'power makers.' There is no power making and power taking now – you can actually make the power and take the power."
On a broader scale, Harper believes that Indigenous populations in Canada, and particularly their young people, are critical to tackling the climate crisis.
"If there's anyone that should be involved in the climate action space, it should be Indigneous people," he says. "A lot of the Indigenous teachings and way of life are so related to the care and stewardship of the Earth. This is why I take a very firm stance on ensuring that we have a youth visionary outlook when it comes to talking about energy, talking about climate justice, climate action – because for too long, the Indigenous youth voices have been silenced, but they're ever so needed in the current context."
 Vanessa Balintec is a fourth-year journalism student at Ryerson University
"It's also a symbolic gesture – not just economically, but even energetically – that within a community, we can sustain our own selves and our own livelihoods without dependence on the Canadian state, utility or big industry."