Argentum Electronics secures $100K investment from SDTC
January 29, 2021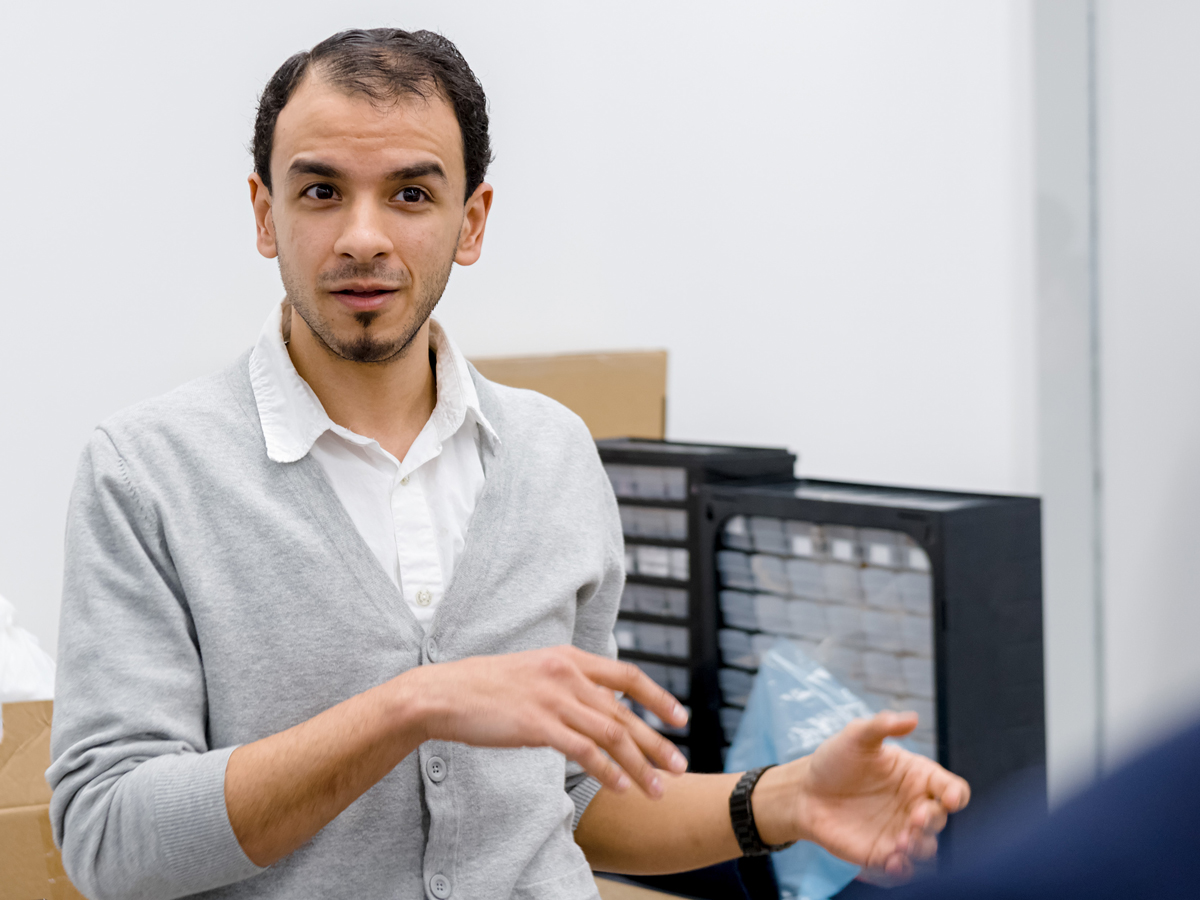 Clean Energy Zone-based company Argentum Electronics (external link, opens in new window) has been recognized by Sustainable Development Technology Canada (SDTC) as one of 18 high-potential cleantech startups that can help Canada achieve its net-zero emissions targets.

After a competitive four-month selection process, Argentum, which focuses on making buildings energy efficient, was awarded $100,000 in SDTC's latest round of seed funding. SDTC is an independent federal government initiative that provides one-time grants to help entrepreneurs scale up promising early-stage startups.
The Dec. 16 announcement (external link) is yet another vote of confidence in a company that has been making waves in the energy sector since being founded by Bolis Ibrahim in 2014 while still a student at Ryerson University.
"These investments help secure Canada's leadership in clean technologies today so all Canadians can benefit from a more economically and environmentally sustainable future," said Navdeep Bains, minister of innovation, science and industry, as he revealed the recipients.
Argentum was nominated by the Clean Energy Zone, Ryerson's in-house cleantech incubator.
"Every campus-linked accelerator will nominate a startup company to the program," explains Ibrahim. "And then we went through an intense due diligence process. We provided SDTC with our data room. We pitched to them. We had to match their money with investor money."
After graduating from Ryerson's electrical engineering program in 2019, Ibrahim turned his attention to Argentum full-time alongside cofounder Sagar Jaiswal, who at the time was pursuing a master's in mechatronics, robotics and automation engineering from the University of Toronto. The company's products have evolved over the years, undergoing several iterations in response to market dynamics and technological advancements.
"We started off making power controllers for solar, primarily," says Ibrahim. "We then pivoted to DC [direct current] microgrids and smart buildings. We took a small pause because of lack of financing, basically, to work on sensors and smart products, that were less capital intensive, and building automation. And then once we had more capital we pivoted back and put these two systems together."
"So now our DC microgrid system is a smart intelligent grid and there are sensors and it will optimize energy usage based on building conditions and indoor environment."
Argentum's innovative technology – internet-of-things-enabled hardware paired with AI-powered automation software – is already in demand from building operators grappling with ambitious energy reduction targets. The company is working on pilot projects with Waterloo North Hydro, Innovia, Ellis Don and WZMH Architects, with several more in the pipeline. The company is also collaborating with Ryerson professor and Canada Research Chair in High Performance Computing for Sustainable Energy Seth Dworkin.
"We have it installed in a bunch of places," says Ibrahim. "Demos, paid pilots and customer POCs [proof-of-concepts]. They are fully functional. They're doing exactly what our customers want them to do. But we're working right now to basically tighten the system up to bring it towards commercialization."
SDTC's endorsement has proved invaluable on this front.
"It gave us a whole lot of leverage talking to private investors," says Ibrahim. "Right now, what we're doing is getting ready for a seed round. So we're in this transition between pre-seed and a seed stage company. We hope to soon announce a successful seed round."
After winning the prestigious N100 tech startup competition in 2019, Argentum faced a daunting 2020 due to COVID-19. On a practical level, lockdown restrictions presented a challenge to tasks that typically required members of the team to meet in person, such as hardware development, prototyping and customer site visits. Like many entrepreneurs, Ibrahim also had to contend with the financial fallout from the pandemic.
"The first two quarters of 2020 were ridiculously difficult," he says. "We got around it with bank loans. The government stimulus helped. We figured it out. We just persevered. Then customer projects started picking back up, other funding started picking back up, the market bounced back and then investments came in. The last two quarters of 2020 were incredible."
Argentum has five full-time employees currently, with plans to expand the team to eight by the end of this year – something the SDTC funding will help accelerate.
"The money is going to be put to good use," says Ibrahim. "Literally, the money is going to creating Canadian jobs. As soon as we received the funding, we put out a job posting and we're planning on putting out a few more – creating high-tech local jobs."
After a rollercoaster 12 months, the SDTC funding has provided a welcome boost to the company at a critical juncture.
"The impetus really came from the Clean Energy Zone," says Ibrahim. So, thank you to everyone for nominating us. We're very grateful for all of the support."
 Matthew Kerry is the Centre for Urban Energy's manager of marketing and communications
"As soon as we received the funding, we put out a job posting and we're planning on putting out a few more – creating high-tech local jobs."