Pivoting during a pandemic: How our startups are rising to the challenge of COVID-19
July 22, 2020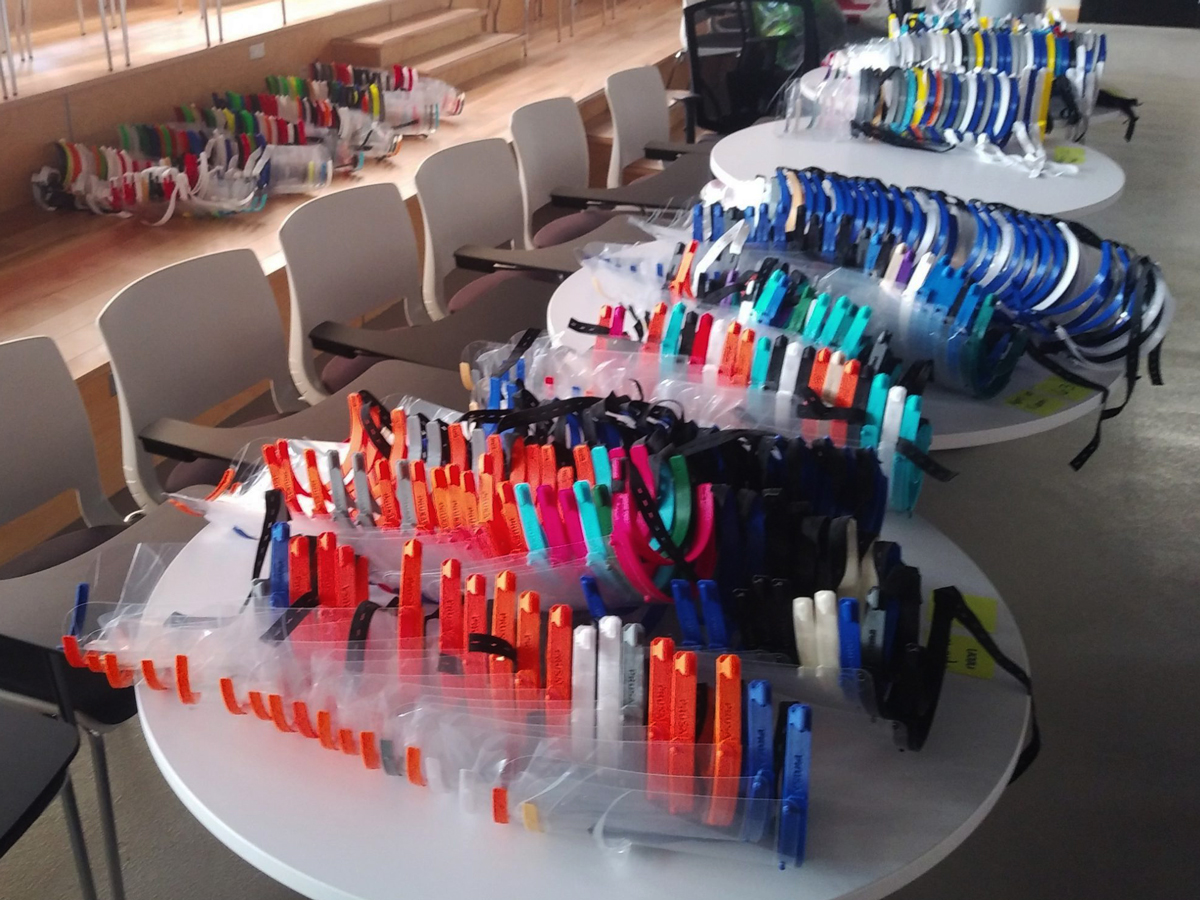 What does resilience during a pandemic look like? For Clean Energy Zone startups Argentum Electronics, external link, opens in new window and CleanAir.ai, external link, opens in new window, the adversity caused by the coronavirus pandemic has meant considering different business models in hopes of staying afloat.
"As the coronavirus pandemic came about, a lot of companies were scared that their business would die," says Argentum CEO and co-founder, Bolis Ibrahim. "We were quickly thinking about what products we could release right now that would help with the virus that would likely get procured and save us during this time in terms of revenue."
The Argentum team, who normally work on smart building solutions, came up with two prototypes: a COVID-19 breathalyzer using their own air-quality sensor technology, and a radar sensor that anonymously counts people and measures the distance between each person within a given space. Their breathalyzer concept didn't make it past the development stage, while their radar sensors have recently made it to beta testing with select customers.
"It has been pretty popular with our customers," says Ibrahim. "Anonymous people counting — i.e without the use of cameras — has always been a challenge, and now it is becoming important as workplaces begin planning their COVID mitigation strategies."
Argentum integrated this new tech alongside their original products and applied for funding, which Ibrahim says was crucial in surviving this period.
"We applied to maybe a hundred different funding sources, including many project bids. Obviously we didn't get all of them; we got rejected by a bunch," he explains. "But what happened was that we got maybe five per cent of the stuff that we applied to. Which was enough. That five per cent represented something like $100,000 in a mix of cash, credit, grants and customer projects."
The company also decided they wanted to give back to their community during such a challenging time for everyone. They did this by offering free consultation support to other startups and taking part in Northumberland.io Producer Alliance's, external link, opens in new window initiative to donate 3D-printed personal protective equipment (PPE) to frontline workers. Argentum helped produce face shields between April and May when supply lines were limited. According to the alliance, over 7,000 face shields were made and donated.
For CleanAir.ai, a smart air filtration system company, part of their survival strategy meant trying to procure government funding to develop an enhanced N95 mask using their polarization technology which optimizes the filtration of airborne bacteria, germs and viruses.
"Our technology was not being utilized in personal protective equipment," says co-founder Michael Petgrave. "That's where we said OK, this is something that could be novel and state-of-the-art. There could be patents potentially formed out of this. It seemed like a good opportunity for us."
In the past few months, the Government of Canada has released calls to the private sector for innovative solutions that could enhance PPE. Although they missed out on the first round of government funding, CleanAir.ai secured a pre-qualified slot for additional funding, if and when it becomes available, and received inquiries from government representatives on the startup's ability to scale their new technology.
In the meantime, they've been working hard to meet the increase in demand for their air filtration system, looking beyond residential and into government and commercial sites.
"Our tech is resonating very well, and I have to believe it's because of the raised awareness due to the current pandemic that we're facing," says Petgrave. "Everybody is reordering filters — some of them are changing them more frequently than our device really [calls for], just because they want to maintain the level of indoor air quality inside their homes."
For Petgrave, utilizing resources and networks is essential in building resilience and planning for the future.
"Our strength as a startup has been leveraging the resources and the network that we have around us," says Petgrave. "If you're fortunate enough to be linked to a university, a campus space accelerator, [or] you have advisors, I would just make sure that you're reaching out to all resources that you have available to let them know your situation."
Although the hard days are far from over, Ibrahim believes that for startups, planning and strategizing is essential in navigating your business through this pandemic.
"It's harder in the beginning to put things in a positive light, but the sooner you can do that and get out of the loop of panic, you can start to strategize," he says. "And if you begin to strategize carefully and properly, and you put everything into perspective, that's when you can begin to work."
July 29 update: CleanAir.ai has secured investment from venture fund Upward Labs, external link, opens in new window, based in Hartford, Connecticut, becoming part of its property technology accelerator cohort focusing on coronavirus-related solutions.
 Vanessa Balintec is a fourth-year journalism student at Ryerson University
"It's harder in the beginning to put things in a positive light, but the sooner you can do that and get out of the loop of panic, you can start to strategize."