You are now in the main content area
Our Initiatives
In-Class Workshops
Stoodis Science Urban Expansion
In September 2022, Caleb expanded the Stoodis Science program by building relationships with local Indigenous schools in Toronto. By focusing on creating the Ontario science curriculum more engaging and responsive to Indigenous students, we hope to make science fun and accessible for Indigenous youth!
Statistics from the 2022 - 2023 School year
474 Indigenous youth engaged in their classrooms
50 workshops conducted
30 unique workshops created
Reached students from Grade 1 to Grade 12
Science Rendezvous 2023
On May 13th 2023, Caleb and a team of TMU student volunteers operated two booths at Science Rendezvous. We hosted the Land Acknowledgement and Indigenous Outreach at SciXchange booths. We were able to reach over 300 members of the public at these booths!
The Land Acknowledgement booth focused on providing the space to take SciXchange and Science Rendezvous's land acknowledgement to the next level! We had the Two Row, Hiawatha, and Dish With One Spoon wampum belts. We also brought quahog shells and genuine wampum beads to share some of Indigenous knowledge of wampum belts.
The Indigenous Outreach at SciXchange booth focused on sharing Stoodis Science's urban expansion in the 2022-2023 school year. We also distributed almost 100 activity kits so that folks in the community could learn more about Indigenous knowledge and STEM.
Special shout out to the volunteers that made these booths possible!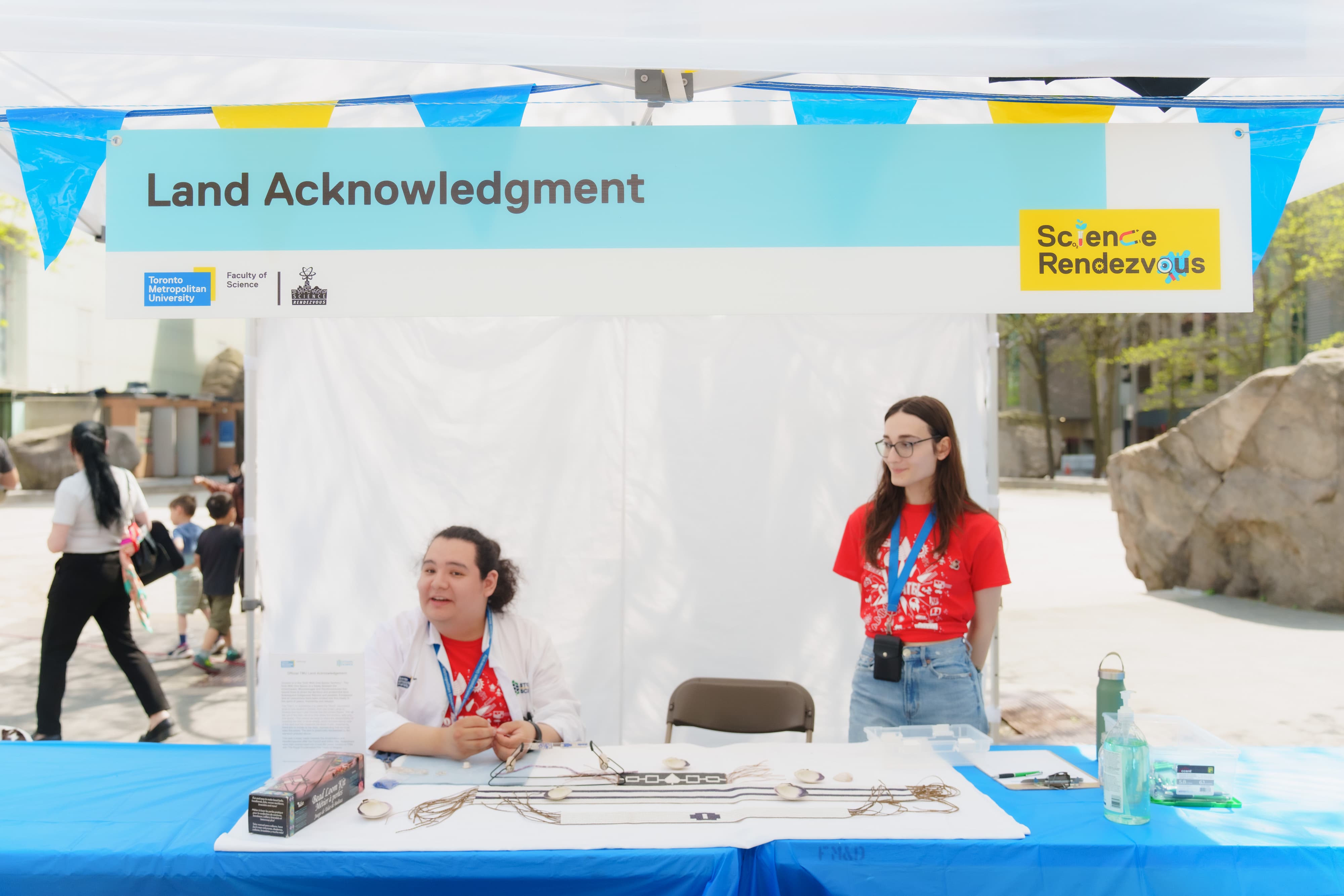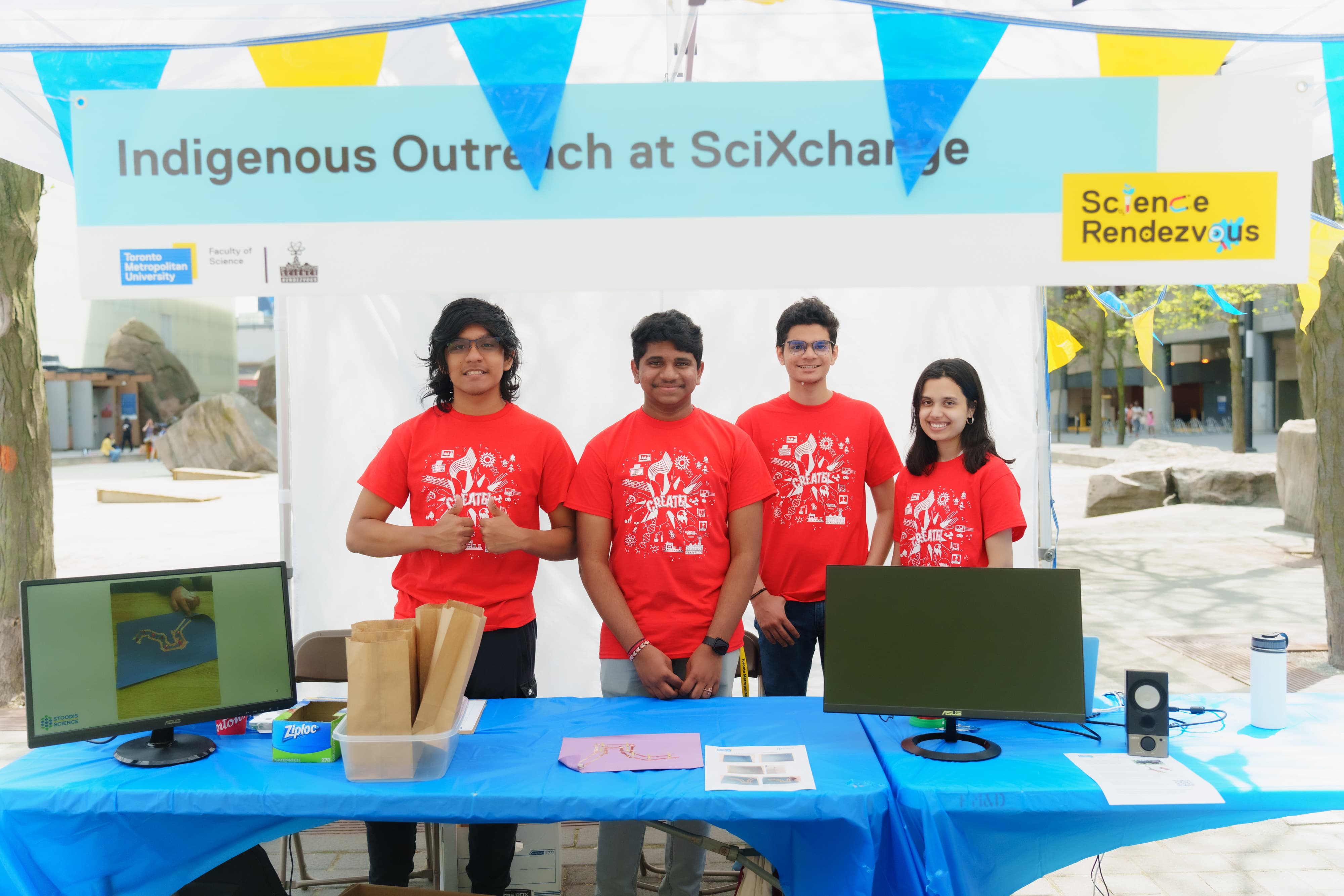 In-Community Workshops
In 2019, Amber Sandy and Jenna Barnhardt visited Jenna's home community, the Tyendinaga Mohawk Reserve (external link) located about 2.5 hours away from Toronto, to deliver STEAM (science, technology, engineering, arts, math) education and Indigenous science learning to youth. Two different topics were taught to visitors, including Neuroscience, and how to make a traditional salve.

The Neuroscience Edition
This workshop taught children about the different sections of the brain and its power! This included how you are tricked by optical illusions, how it helps you hear or learn languages, its impact on your personality, and its ability to communicate with other parts of the body for movement. Participants coloured in and labelled a paper image of the brain, then cut it out and formed it into a 3D model and wearable cap. This allowed everyone to connect where the different areas of the brain are located relative to the shape of the head.
Making a Traditional Salve & its Impact on the Brain
The adult workshop taught participants how to make a salve (a healing balm or cream applied to the skin made of a beeswax or oil base) and its connection to the brain. Topical agents (medicine applied to the surface of the skin) are used in Western medicine and work when molecules are able to penetrate through passive penetration (without the assistance of another drug or mechanism, such as absorption). Salve works in the same way and is a considered a topical agent, and has been used by Indigenous Peoples throughout history. Using salve is influential to the brain as it penetrates the nerves throughout the body vis the central nervous system (CNS) and can block pain signaling molecules.
Stoodis Science was a big hit with the Tyendinaga community!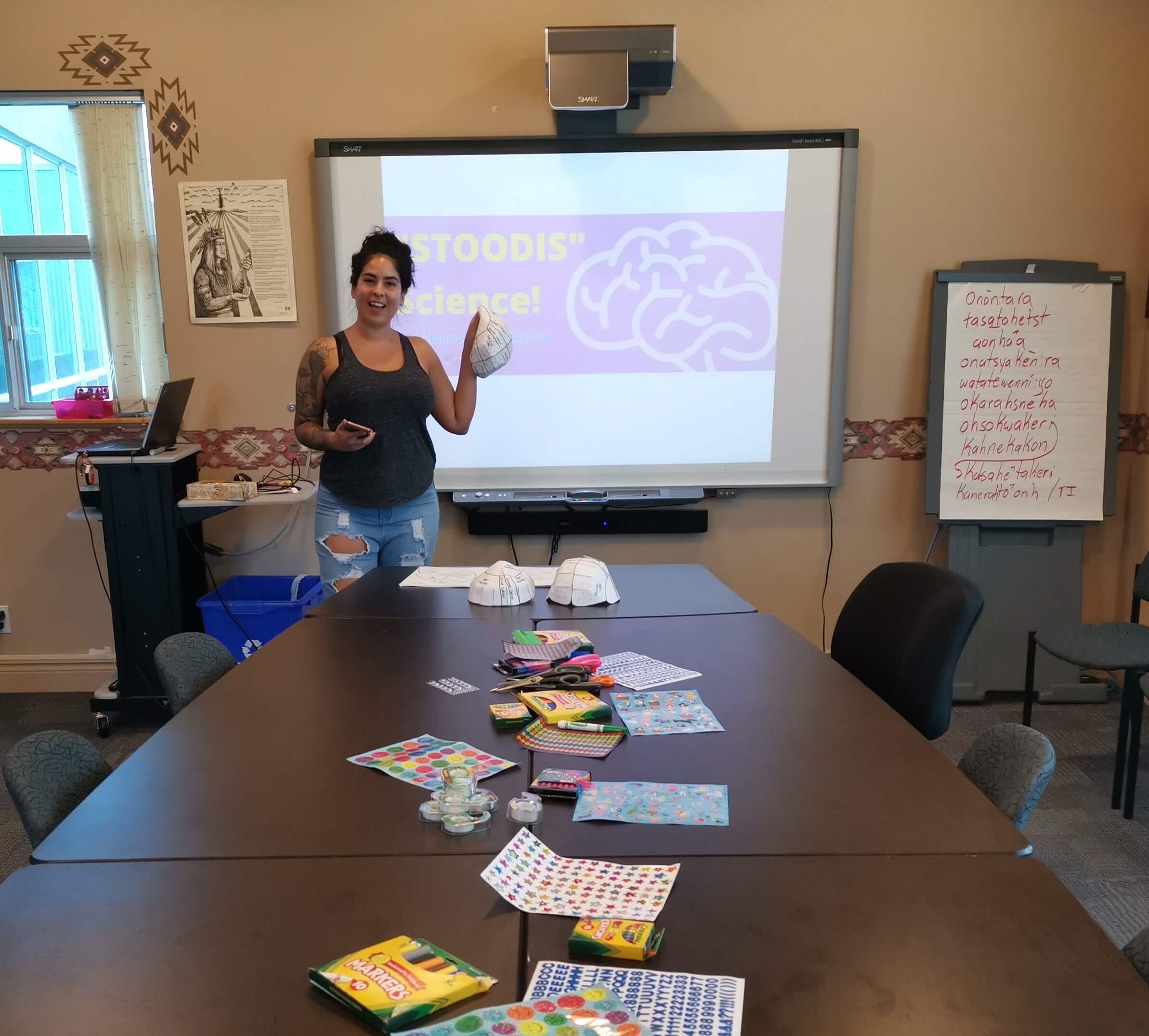 Hide Camps
2019 Hide Camp
In September 2019, Amber organized the first hide camp during Science Literacy Week. Stoodis Science's first hide camp was held in the Kerr Hall Quad, in the heart of the Toronto Metropolitan University campus.
The hide camp occurred over several days, bringing together Indigenous community members, local community members, and TMU students to learn the science behind hide tanning.