You are now in the main content area
Volunteer With Us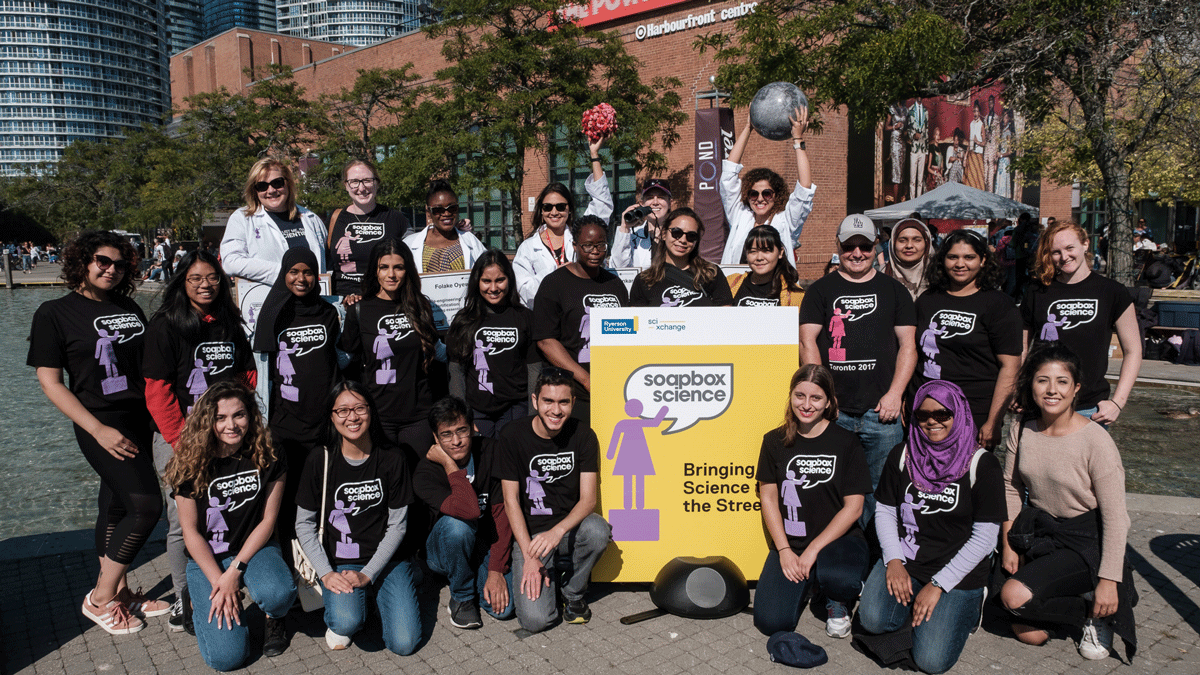 Volunteers make the world go round! (Well actually, we know it's the gravitational forces of the sun that make the earth move in an eliptical orbit...but you get the point.) We're always looking for enthusiastic volunteers who love explaining the science behind everyday life!

We rely on volunteers to help facilitate our events, run activities for the public and educate youth about the sciences. Your first step is to sign up for our updates by joining our newsletter and attend training. We'll send you the information you need to register for volunteer roles and teams.
How to Become a Volunteer
1. Join our online community.
2. Wait for an announcement.
Watch out for our newsletters in your inbox and Facebook posts to see what we have coming up next. Volunteer announcements are usually made about 1 month before the event.
3. Let us know you want to volunteer!
Follow the registration links and fill out your information, or send us an email at sciXchange@torontomu.ca (opens in new window) to tell us you're interested in volunteering for a specific activity. SciXchange will get in touch with everyone soon after registration.
Volunteer Training
SciXchange encourages students of all academic programs and personal interests to volunteer even without a background in science to foster a community of cross-disciplinary collaboration. SciXchange will provide training for all of its events and activities to ensure volunteers are set up for success.
Depending on what an individual volunteers for, training may include how to teach students between the ages of 6 and 17, prepare various materials for lab experiments, efficiently set up and tear down for an event, interact with faculty members and indsutry professionals, and more!

Volunteer Roles
We have a variety of events and activites throughout the year that offer a multitude of roles for volunteers to develop a range of skills. Depending on the activity volunteers may be able to teach younger students in elementary and high schools, assist in event planning, learn how to efficiently set-up and tear-down larger events, and network with Toronto Metropolitan University Faculty and external industry professionals. Read below to learn about the different roles, see what interests you, and how and when to sign up.
Classroom Visits with Let's Talk Science (LTS)
SciXchange partners with LTS (external link) , a national organization committed to offering science engagement opportunities to youth, and fostering a culture of critical thinking, creative innovation, and sparking curiosity in young people. Together, SciXchange and LTS offer science activities to elementary and high schools in the GTA to help students build the confidence and skills needed to pursue a future in science.
Special Events
SciXchange hosts various special events througout the year to bring science outside the lab and classroom, and into the Toronto Metropolitan University and Toronto communities. Events may be large or small, one or multiple days, and are comprised of a multitude of jobs for volunteers to get involved with. Read below for information about our special events and how to get involved. Note that there may be more special events throughout the year that are not listed below as SciXchange introduces new events.
Social Media Team
Students may volunteer to help with our social media campaigns. Volunteers will meet with each other throughout the year, along with the Social Media Team Lead, to brainstorm ideas, develop content, and interact with followers online.
When to sign up: end of August to middle of September
How to sign up: a registration link will be sent in the volunteer newsletter (external link, opens in new window) and the Facebook (external link, opens in new window) group.
Volunteer Commitment: Volunteers are required to contribute from October to March, with one hour team meetings scheduled once a month on average. Volunteers will also be required to respond to emails from the Social Media Team Lead in a timely manner, and meet any deadlines decided amongst the team. These details are determined within the team throughout the year, and students are not required to commit to more than they are comfortable with.

Volunteer FAQs

Contacting Your Volunteer Coordinator
All of our programs and activities are coordinated by various members of the SciXchange team. Take a look below to see the contact person for your event.
Please help us make sure your inquiry gets to the right person by referencing your program/event in the subject of your email!
Don't see the name of your activity, or are unsure? No problem! Just send an email to sciXchange@torontomu.ca, along with any of your questions or inquiries, and the right person will get back to you.