You are now in the main content area
Indigenous STEAM Speaker Series 2023
The Indigenous STEAM Speaker Series 2023 is a one of Stoodis Science's main programs. The speaker series focuses on providing spaces for Indigenous Peoples to share their knowledge and experience in STEAM fields. The speaker series is appropriate for folks of all ages!
This program is a partnership between SciXchange at Toronto Metropolitan University and Let's Talk Science.

Speaker Biographies
Kanina Terry
Kanina Terry is an Anishnaabe-kwe with an Anishinaabe (Ojibwe) mother and a white father. She was born and lives on her mother's traditional lands of Obishikokang (Lac Seul First Nation) - in Sioux Lookout, Ontario. She is passionate about her son and family, food, hide tanning and creating things with her hands. Kanina finds inspiration from her teachers, ancestors, bush life, Indigenous artists and knowledge holders and is determined to reclaim knowledge and skills denied to her as a result of assimilation, colonialism and residential schools.
Dr. Jamaica Cass
Dr. Jamaica Cass is a member of the Mohawks of the Bay of Quinte. Dr. Cass practices Indigenous Health as a primary care physician on-reserve at Tyendinaga Mohawk Territory. In addition, as an assistant professor in the Department of Family Medicine at Queen's University, she currently supervises both undergraduate clerks and family medicine residents. Dr. Cass also serves as the Indigenous Health Lead at the Toronto Metropolitan University School of Medicine, where she oversees development of Indigenous Curriculum, admissions policies and community engagement.
Dr. Cass completed her family medicine residency at the University of Calgary, where she served on the Indigenous Health Working Group in the department of Family Medicine. Prior to her residency, Dr. Cass spent four years in New Orleans, Louisiana, where she completed her Medical Doctorate at Tulane University.
With an extensive background in science, Dr. Cass earned her PhD from Queen's University in breast cancer molecular biology before pursuing a career in medicine. She was recognized with several institutional, national and international awards, including the American Association for Cancer Research MICR Scholar-in-Training Award, the Terry Fox Foundation Transdisciplinary Award and the Robert Sutherland Fellowship. While a student at Queen's, she was active in Indigenous mentorship and advocacy, serving on the Indigenous Council of Queen's University and the Native Students' Association, and mentoring Indigenous undergraduate students.
Zorga Qaunaq
Zorga Qaunaq is a multidisciplinary artist from Ottawa, ON, whose artistic practice includes tattooing, graphic art, jewelry and more.
Qaunaq grew up in Iglulik, Nunavut until the age of ten, when she moved to Ottawa with her family. She has developed skills in a wide range of materials, from sealskin and different kinds of animal fur, to drawing and illustration, printmaking, video creation, podcasting, traditional hand-poke tattoo methods and more.

Qaunaq works part time as an Inuktitut-language instructor at Nunavut Sivuniksavut College in Ottawa, and got into podcasting through a course offered through Good Influence Films.
Career milestones so far include a panel discussion she led with Arsaniq Deer and Aedan Corey on the impact of Inuit tattoos through Saw Gallery's Nordic Lab and Inuit Futures, co-founding a jewelry business, Chinu Designs, delivering a tattooing program in Iqaluit with the Ikajurniq program run by Ilitaqsiniq, and producing three episodes on the Indigenous 150+ podcast series.
Dr. Ryan Giroux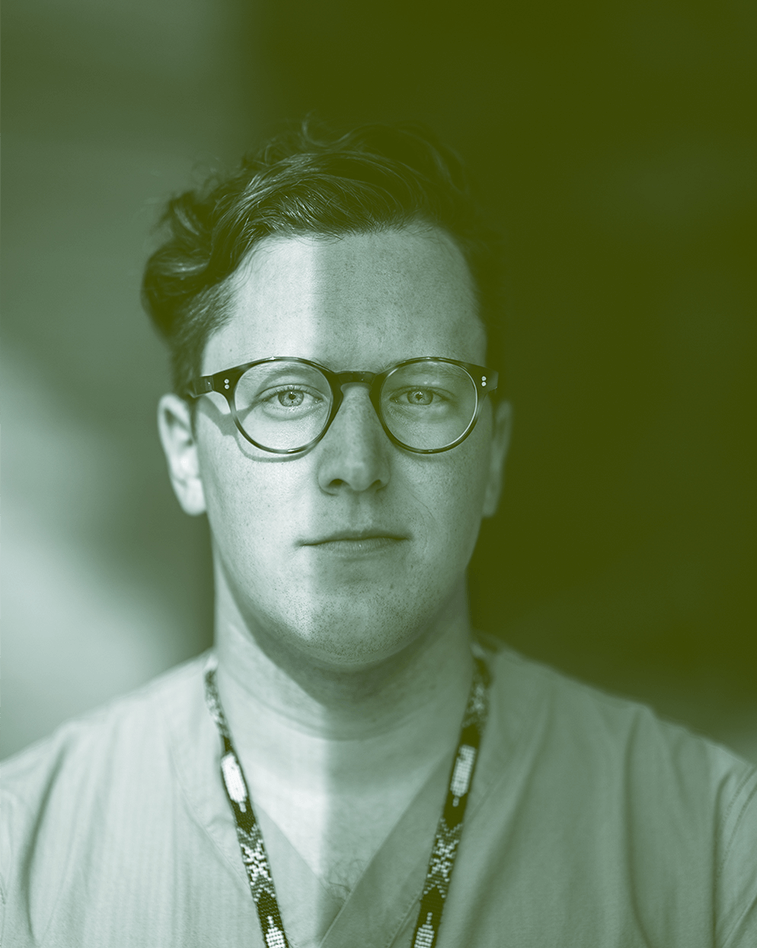 Dr. Ryan Giroux is a General Pediatrician working at St. Michael's Hospital and the Inner City Health Associates in Toronto. He is Métis from the Métis Nation of Alberta and mixed settler heritage. He is an Indigenous Educators at the Royal College of Physicians and Surgeons of Canada, where he focuses on accreditation, and is the Temerty Faculty of Medicine's PGME Indigenous Health Lead. He grew up on Treaty 6 and Treaty 8 territory in rural Alberta prior to completing a Bachelor of Arts in Anthropology in Edmonton, and completed medical school and his Pediatrics residency at the University of Toronto. His interests include Indigenous child health, refugee and newcomer health, LGBTQ2S+ health, and medical education.