2021 Teaching and Staff Service Recognition Award Winners
June 08, 2021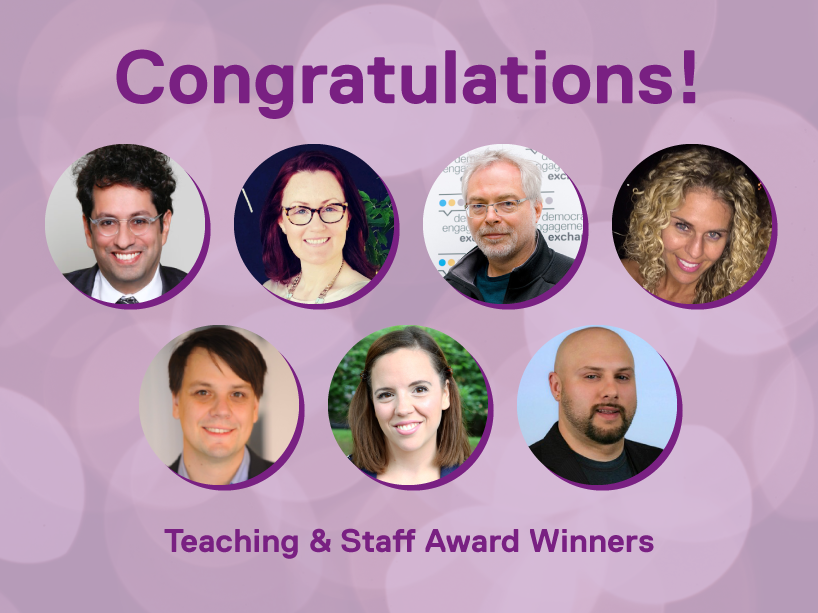 Staff Service Recognition Award winners
The Staff Service Recognition award recognizes those who have excelled in their role to create a significant change and impact, not only within the department but also to the Faculty and university.
Avala Moore, Manager, Student Relations and Development
Tammy Fuoco, Research Accounts Support Officer



The Faculty of Arts Teaching Awards winners
The Slobodan Drakulic Cross-Disciplinary Teaching Award recognizes instructors who have demonstrated continuing excellence in teaching students from a wide variety of disciplines.
Karim El Bardeesy, Ryerson Leadership Lab (Sociology Department)


The New Faculty Teaching Award recognizes pre-tenure faculty in their first three years at Ryerson who have demonstrated teaching excellence.
Ian Mosby, History


The Experiential Teaching Award recognizes a faculty member or contract lecturer who has an outstanding teaching record and who has made contributions to advancing teaching and learning at Ryerson by integrating innovative and critical pedagogy and increasing student engagement through experiential learning.
Bryan Evans, Politics & Public Administration


Faculty of Arts Contract Lecturer Teaching Award recognizes demonstrated teaching excellence among Contract Lecturers in the Faculty of Arts.
Chris Cachia, Sociology


Faculty of Arts Innovation in Curriculum and Pedagogy Award recognizes demonstrated excellence in innovations in curricular development and pedagogy.
Tracey Raney, Politics & Public Administration



Warmest congratulations to our winners!