You are now in the main content area
Student Initiatives Fund
The Student Initiatives Fund (SIF) provides seed funding to TMU student-led non-profit initiatives. It recognizes the potential of student-led initiatives to:
Improve community engagement
Create meaningful dialogue on campus
Contribute to building a diverse and innovative campus culture
Enhance the reputation of TMU

Funding
An individual or student group can submit a SIF application for one (1) initiative per semester. SIF awards funding for two main projects:
undergraduate and graduate student-led initiatives
undergraduate and graduate student-led lounge upgrades.

Black Initiatives Fund
The Black Initiatives Fund add-on is funding that you can apply to if your initiative meets the BIF criteria. The BIF aims to support our university's Black students in developing and advancing events, meetings and information sessions that specifically support and centre Black students.
The BIF Fund will award up to $5,000 in funding to initiatives that are eligible for the SIF undergraduate and/or graduate student-led initiatives award, and which also meet the BIF fund criteria.
To be eligible for the SIF Black Initiative Fund, your Initiative must fulfill the 5 main objectives of SIF, as well as BIF Criteria:
Center and engage topics and issues relating to the Black Community
Provide opportunities for students from diverse Black and Indigenous communities (e.g. Black, Black Canadian, AfroCaribbean, African, International students, Diaspora communities, Indigenous Nations) to engage with and learn from one another.
Provide experiential learning for Black-Identified students.
Intersectional initiatives that amplify Blackness and Mental Health, Queerness, Ability, Gender Identity and Expression.
Empower Black-Identified students to realize their unlimited potential.
You will have the option within the SIF portal to apply for the BIF funding add-on and be asked "how will your event support Black students on campus?" Your application answer and presentation will be evaluated using the BIF rubric found in the appendix and the criteria listed above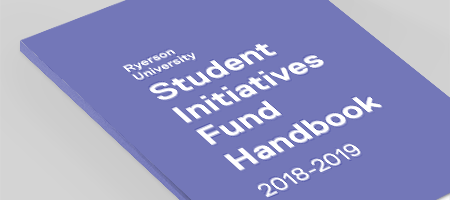 up to $5,000 for new initiatives
up to $2,500 for established initiatives
Committeee
Grant-funding applications are reviewed by a standing committee that reports to the Student Services Advisory Committee. SIF is administered by the Department of Student Life & Learning Support on behalf of the Vice Provost Students, Toronto Metropolitan University.

SIF Applicant Information Sessions
Information Sessions set up applicants for success in the application process. The project's Primary or Secondary Contact is required to attend one (1) SIF Applicant Information Session for the application to be considered by the Advisory Committee.
SIF Information Session dates and times are listed in the SIF Handbook, as well as below. As of Fall 2020 until further notice, all sessions will be held on Zoom.
Fall 2021
Winter 2022
SIF Project Supervisor Information Sessions
SIF Project Supervisor Information Sessions are mandatory and offer additional training on responsibilities as a Project Supervisor (Full-time TMU Staff or Faculty). There are sessions offered at the beginning of each term. Note, if you have attended a Project Supervisor Information Session in Fall 2021, it is not mandatory for you to attend in Winter 2021. Though you'd like a refresher or have questions, please join us!
Fall 2021
Winter 2022

Application
For Winter 2021 - the SIF Application Portal is open from January 4th 2021 - January 25th 2021, to submit an application for initiatives occurring between February 2021 - August 2021.
Received funding from SIF? Give us a shout-out by including the Student Life & Learning Support logo on your promotional materials. Download a copy of the logo here, and consider adding the line"Program Funded by Student Life & Learning Support through the Student Initiatives Fund (SIF)" to your materials.