You are now in the main content area
Funding and Scholarships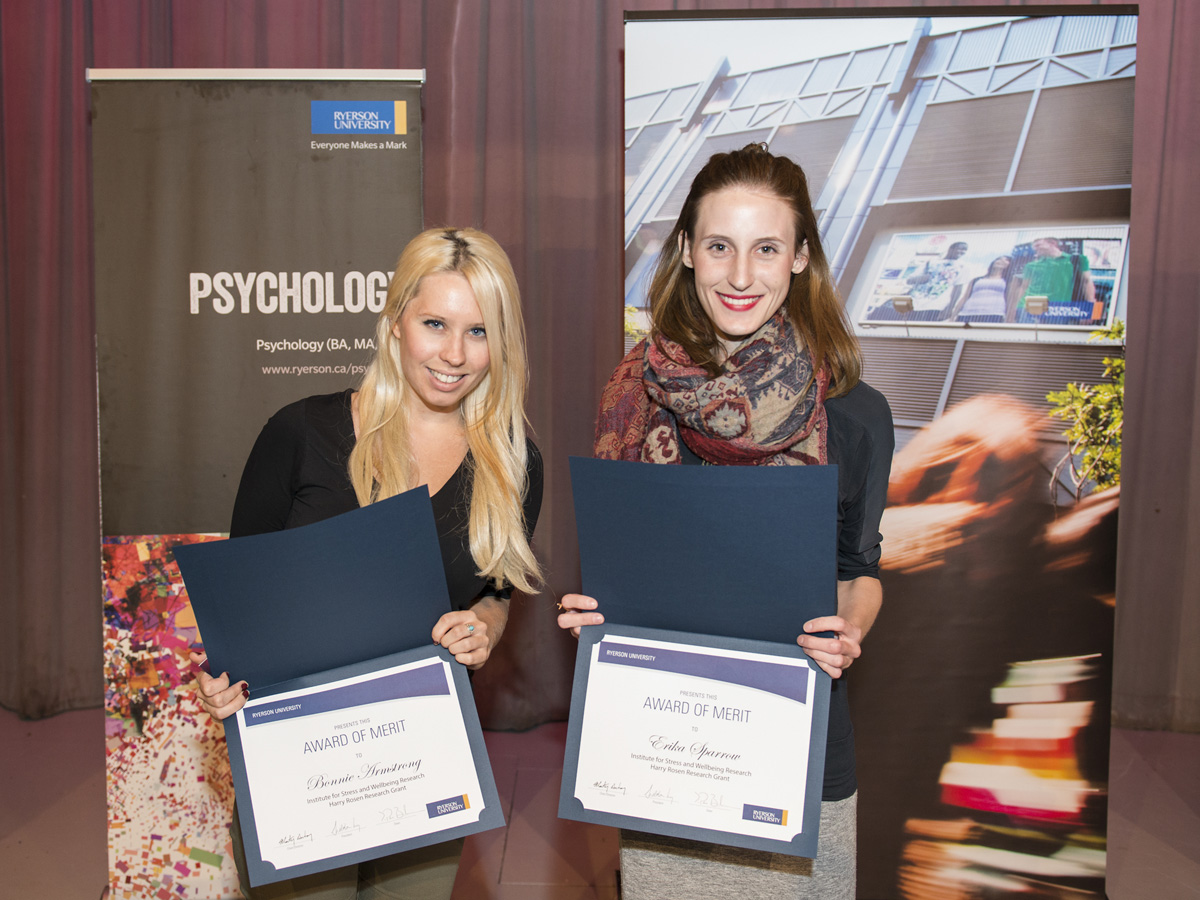 Student Fees
Student fee amounts are posted by late August on the Student Fees webpage; select "Psychology" under "Full Time Programs," "Master of Arts" for the MA Psychology program fees, and under "Full Time Programs," "Doctor of Philosophy" for the PhD Psychology program fees. Please note that student fee amounts often increase from year to year, so be sure to check the updated amounts at the beginning of each academic year (in September).
Student fees must be paid by the end of September (for Fall term fees), the end of January (for Winter term fees), and the end of May (for Summer term fees). For information on how to pay fees online and other details (e.g., the importance of making payments 3-4 business days before the deadline, to allow time for the for the payment to clear) are detailed here (opens in new window) .
Student Funding and Financial Support
Other Scholarships and Awards
Ryerson's Student Financial Assistance office has set up a listing of all the scholarships and awards available to graduate students. View Listings >
Academy for Eating Disorders (AED) (external link)
Funding opportunities include the Clinician Scholarship Program (which allows recipients to gain new knowledge and skills in the field of eating disorders and share this knowledge and experience with their respective communities) and the Student Early Career Investigator Travel Fellowship Program (for students and early career investigators to attend the ICED).
American Psychological Association Awards
(external link)
Includes a variety of awards, including the APA Student Travel Award, Graduate Research Scholarships, Dissertation Research Award, and Early Graduate Student Researcher Award.
Association for Behavioral and Cognitive Therapies (ABCT)
(external link)
ABCT provides several dissertation awards (e.g., Virginia A. Roswell Student Dissertation Award, Leonard Krasner Student Dissertation Award, John R.Z. Abela Student Dissertation Award. In addition, several ABCT Special Interest Groups (SIGs) offer research grants or awards for students conducting relevant research. Information on the different SIGs, and contact information for each SIG can be found by clicking on this link: Current ABCT Special Interest Groups (SIGs) (external link)
Canadian Acoustical Association (external link)
These awards are particularly relevant for psychology students:
Bell Student Prize, Prize: $800
Directors' Award, Prize: $500
Student Presentation Awards, Prize: $500
Canadian Association on Gerontology (external link)
The Canadian Association on Gerontology scholarships and bursaries provide opportunities to recognize those individuals who have made significant contributions to the field of gerontology and to the CAG itself, as well as to support and encourage students who will play a significant role in the future of this field.
Canadian Federation of University Women (external link)
The CFUW Charitable Trust provides funds for a range of post graduate awards and fellowships to women. The Trust is supported by donations from CFUW clubs, individual club members and nonmembers.
Canadian Psychological Association Student Awards (external link)
Numerous CPA sections offer student awards. Click the above heading for a complete list.
CHEO Graduate Award
(external link)
Awarded by the Provincial Centre of Excellence for Child and Youth Mental Health at CHEO. Graduate Awards aim to build capacity in the area of child and youth (0-18 years of age) mental health with a focus on evidence-based knowledge and practices. This award is not restricted to any one discipline of mental health training or sector of mental health practice.
COU Women's Health Scholars Awards
(external link)
Awarded by the Council of Ontario Universities. Funded by the Ontario Ministry of Health and Long-Term Care, a Scholar Awards Program in Women's Health has been established to ensure that Ontario attracts and retains pre-eminent women's health scholars. The community of women's health scholars fostered by this Awards program will excel, according to internationally accepted standards of scientific excellence, in the creation of new knowledge about women's health and its translation into improved health for women, more effective health services and products for women, and a strengthened heath care system.
For 2017-18, up to two awards will be made at each of the Master's and Doctoral levels, and one award at the Postdoctoral level:
Master's Awards - $25,000 plus $1,000 research allowance
Doctoral Awards - $35,000 plus $2,000 research allowance
Postdoctoral Awards - $50,000 plus $5,000 research allowance
ERASMUS MUNDUS ACN Student Exchange Grant (external link)
The ERASMUS MUNDUS ACN student exchange network is recruiting graduate students and postdocs who work in the field of Auditory Cognitive Neuroscience to participate in transatlantic exchanges between the member universities and institutions.
Malyon-Smith Scholarship Award (external link)
Awarded by Division 44 of the American Psychological Association, which annually awards up to $1000 to selected graduate students in psychology to advance research in the psychology of sexual orientation and gender identity. The award represents one of the Division's major efforts to mentor and support science in LGB psychology by encouraging the work of young researchers.
MS Society of Canada (external link)
Through its various funding opportunities, the MS Society is committed to supporting research that will lead to major advances in our understanding pertaining to the causes of, and potential treatments for, multiple sclerosis (MS). The "endMS Research and Training Network Awards and Programs" are aimed at graduate students and posdoctoral fellows.
MHRC Research Studentship Award
(external link)
Awarded by Mental Health Research Canada (MHRC). The MHRC offers a limited number of awards for training in research in the mental health field. The Research Studentship is available only to those who are enrolled in a PhD program at Ontario Universities during the award period.
Predoctoral Research Grant from the Association for the Treatment of Sexual Abusers (external link)
The Grant Program has been established to fulfill the organization's commitment to promoting research on the causes and treatment of sexual offending. The Predoctoral Research Grant also fulfills ATSA's commitment to encouraging and the training of new investigators.
Psychology Foundation of Canada Awards (external link)
Several awards are available, including (1) the Bea Wickett Award for Contributions to Education and Mental Health, (2) the Jean Petiffor and Dick Petiffor Scholarship fund (for graduate student research projects in the area of professional ethics), and (3) the Mary J. Wright Best Student Award (cosponsored by the CPA History and Philosophy of Psychology Section).
Seymour Fisher Outstanding Body Image Dissertation Annual Award
(external link)
For an outstanding doctoral dissertation in the area of body image.
TUTOR-PHC Program, Western University (external link)
TUTOR-PHC is a 1-year, pan-Canadian, interdisciplinary research capacity building program that has been training primary and integrated health care researchers and decision makers from family medicine, nursing, psychology, epidemiology, social work, education, policy and many other disciplines since 2003.
Universities Without Walls Fellowship (external link)
The Universities Without Walls (UWW2020) Fellowship program builds on intensive training program funded by a CIHR Strategic Training Initiative in Health Research (STIHR).
Association of Universities and Colleges of Canada (AUCC) (external link, opens in new window)
A non-governmental association representing Canadian universities, at home and abroad. For undergraduate and graduates.
CanLearn
(external link, opens in new window) Provides funding information for Canadian citizens in post-secondary education and beyond.
FastWeb
(external link) Scholarship information for colleges and universities in the U.S.
National Educational Association of Disabled Students (external link)
NEADS includes a directory where students with disabilities can access information on scholarships, bursaries, awards, and government programs.
Scholarships Canada
(external link) Extensive Canadian scholarship portal, covering scholarships, student awards, bursaries and grants and information about student loans, applications and budget planning.
The SmartStudent Guide
(external link) Information helpful for students planning to study in the U.S.
The Student Awards Site
(external link) Highly recommended by graduate students. A Canadian website for both undergraduate and graduate students. It generates (for no cost) a list of awards for which a student is eligible, based on their profile (gender, ethnicity, parent's details, etc.).