You are now in the main content area
Careers in Medical Physics
Medical physics is the application of physics principles in the fields of medicine and healthcare, with various levels on the career path. After graduation, some students land exciting, entry-level opportunities as research assistants, lab technologists or other entry-level roles in biomedical technology or health sectors. Others choose to pursue advanced roles through a master's degree, PhD or medical physics residency.

"My experience at [TMU] has directly contributed to putting me where I am now, the skills and knowledge essential to obtaining my dream job were all gained during my degrees."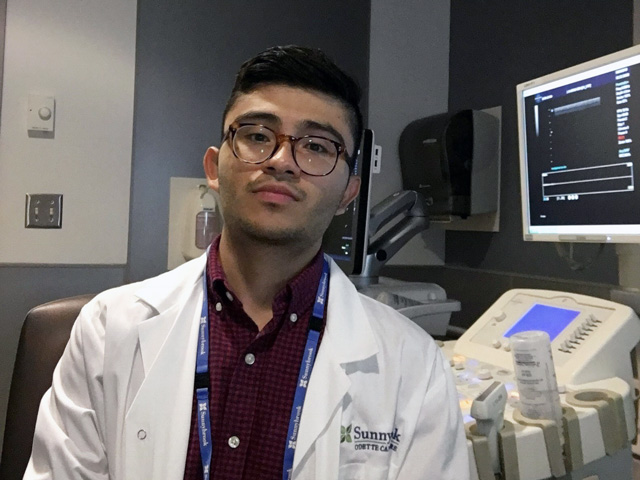 Where do medical physicists typically work?

Medical physicists typically work in clinical or research settings. These can include hospitals, disease centres, research institutes, R&D divisions of private sector companies, the government or power generation corporations. Others pursue careers in education at the secondary or post-secondary level.

What does the work involve?
Work in this niche field falls broadly into a few areas. Some medical physicists work with clinical specialists to develop treatment plans for cancer and other serious illnesses. Others monitor, maintain and manage medical equipment. Some conduct fundamental scientific research to find new or improved techniques to diagnose and treat disease. Others work in sectors related to radioactive or nuclear energy.

Industry
Computational Physics
Health Physics Consulting
Industrial Physics
Medical technology
Power and Generation Utilities
R&D in Medical Imaging
R&D in Radiation Therapy
Health
Medical Diagnostics / Imaging / Therapy
Medical Dosimetry
Medical Informatics
Medical Physics/Assistance
Radiation Therapy
Education
Academic Advising
Editing and Writing
Physics High School Education
Program Development – Non-Profit
Science Outreach
Government
Environmental Science
National Defense
Quality Assurance and Control
Regulatory Authorities
Science Policy
Technological Innovation
Business / Finance
Client Services
Corporate Management
Entrepreneurship
Healthcare Administration
Media Communication
Product Analysis
Project Management
Graduate School
Law

Forensic Law / Patent Law

Medicine and Veterinary
MSc / PhD