You are now in the main content area
The Creative School Facilities
The fashion industry's inevitable shift is grounded in building connections between fashion and other industries. The School of Fashion is housed alongside the eight best schools in the creative and cultural industries in Canada within The Creative School. In this creative ecosystem, we share courses, knowledge sets, collaborate on research and develop new skills for the twenty-first century. We partner with the best creative universities around the world to learn from each other through exchanges, collaborative classes and global research projects.
The Catalyst
The Catalyst (opens in new window) is the first large-scale space dedicated to scholarly, research and creative activities within The Creative School. The Catalyst serves to support potential, nascent, and ongoing projects coming from researchers and their collaborators.

Visit News & Updates (opens in new window) to stay connected with what is happening within The Creative School and how you can get involved.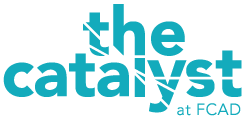 HQ
The goal of this new public creative space is to provoke, inspire and entertain through
intimate and exclusive live experiences. HQ hosts an ongoing slate of simple yet bold
boutique events that span creative sectors, including screen media, music, live
performance, fashion, and design.

Contact the Creative Director, Dr. Emilia Zboralska and Creative Manager, Sarah
Shelson at hq110bond@gmail.com to submit your proposals.