You are now in the main content area
How to create accessible documents
When authoring documents using Microsoft Office or Google Apps, there are a few simple principles that are relevant for almost all document types. These principles are meant to improve the readability and accessibility of your documents for individuals using assistive technology to access the internet.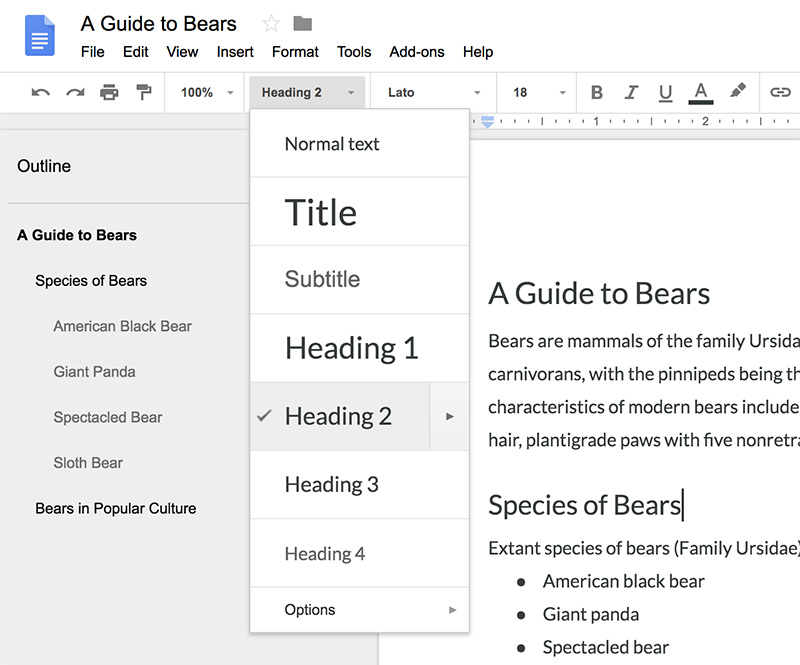 Self-describing links
Ensure hyperlinks are self-describing. "Click here" or "learn more" does not provide any useful information to someone using a screen reader, and does not make sense out of context. For best practice, hyperlinks should be descriptive, link to nouns that are specific in context, and try to be placed towards the end of a sentence.
Alternative text for images
Alternative (alt) text is used to convey meaning and provide context in place of an image, graph and other media. Blind and low vision users rely on the alt text attribute to understand the equivalent meaning of images, figures or other graphics in textual form. Alt text should provide a concise description conveying essential information about the image.
Alternative text should be concise and meaningful.
Usually around a sentence or two.
Use punctuation, as it can help make information easier to understand.
Avoid phrases such as "image of…" or "graphic of…"
Consider the context of the surrounding information when writing.
For more guidance on alternative text concepts and how to use correctly, please visit W3C's Images Tutorial. (external link)
Adding alternative text in Microsoft PowerPoint varies across different versions and operating systems. Please read the following:
Contrast
Some people have difficulty perceiving or distinguishing text that has little contrast between the foreground and background. Use colour combinations with strong contrast, such as black text on white background. Avoid using light colours for body text. For more tools and resources on colour contrast, please continue reading the Contrast section on the Website Accessibility page.

More on accessibility in G Suite
Note about saving as PDF 
Google Docs and Slides are not able to export as an accessible PDF. We recommend sharing the original document with view-only permissions. Users will be able to download the document in different formats with the view-only link.
If you must save your Google Doc as PDF, it's recommended to download the Google Doc as a Microsoft Word file. Review the document to ensure it retained the heading structure and any alt text you added. Then save as a PDF (best for online distribution and accessibility).

Accessibility in Microsoft Office 
The concepts above are applicable to most authoring tools, including Microsoft Office. We recommend using the most up-to-date version of Office which features a built-in accessibility checker. (external link)
Tip sheets
The following print-friendly tip sheets will help you improve the accessibility of Microsoft Office and PDF documents.
Video training
Watch video tutorials on creating more accessible documents, workbooks and slideshows in Office, created by Microsoft.

Accessible formats conversion tool (SensusAccess)
The Library provides an accessible formats conversion tool (SensusAccess) that can be used to convert "non-selectable" text files into machine-readable or recognized text. This will render your document readable by adaptive software such as text-to-speech applications. Non-selectable text or unrecognized text is an impediment to accessibility.
 Note: Available to the Toronto Metropolitan University community only. Login using your TMU credentials.
The main objective of an OCR engine is to recognize the majority of the body text within a document. The following items may get misinterpreted by the OCR engine:
Data from graphs and charts that feature text or shapes
Low resolution or poor quality documents
Hand annotations, underlines, scribbles, blurry or missing text
An OCR tool does not automatically recognize or apply semantic headings or provide alternative text to images.