You are now in the main content area
Tips for inclusive teaching
Use larger font sizes and minimize dense content on lecture slides.

Provide copies of lecture slides or speaking notes (where possible) to all students.
Record lectures to allow students the opportunity to pause or re-watch material.
Use closed captioning and transcription in audio and video content.
Use a high-contrast colour scheme and avoid using colour/bolding/italics to convey meaning (this cannot be captured by screen reader technology); black on white/light backgrounds is most accessible.
When speaking in an online setting, say your name before you speak first, as people with vision impairments may not know who is speaking.
Provide course readings in an accessible format

(e.g. materials that can be accessed by screen reader technology and that have clear text).
Tips and strategies for delivering accessible online education
While there are many advantages to online course delivery, there are also some notable risks. Both the institution as a whole and individual instructors are considered "educational service providers" under the Ontario Human Rights Code, and are required to provide equitable access for students with disabilities. The duty to accommodate persists so long as teaching, learning and assessment continues – even in the face of disruptions due to severe weather, outbreaks of communicable illnesses, and labour unrest.
This content was created in consultation with resources shared by Disability Support Offices across Ontario.
Creating accessible course shells
The university's learning management system, D2L Brightspace, follows web accessibility standards to ensure its interface is made accessible to users with disabilities and assistive technology. Although it is the responsibility of each course designer or instructor to ensure course content is formatted using best practices for accessibility; including the use of good heading structure, descriptive link text, alternative text and more. Many of these concepts are explained in the Accessible Documents section of this website.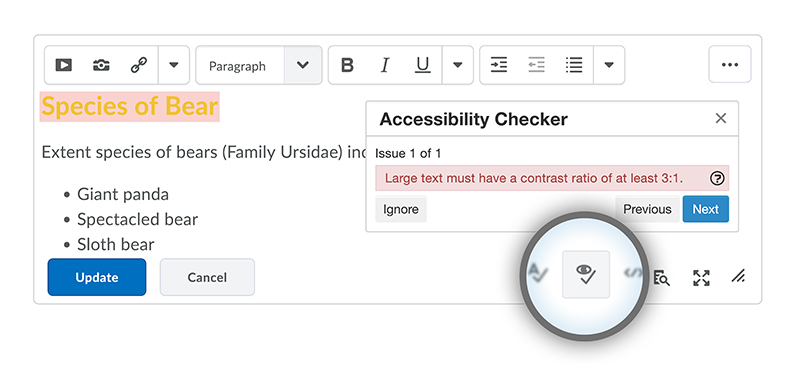 Universal Design for Learning
Universal Design for Learning (UDL) is the design of instructional materials and activities that allow learning goals to be achieved by individuals with wide differences in their abilities to see, hear, speak, move, read, write, understand English, attend, organize, engage, and remember (Ivy Access Initiative, Brown University).

The essential qualities of UDL include valuing each learner's unique perspectives and accommodating individual differences in learners' backgrounds, interests, abilities, and experiences.

Most universities favour three best practices in UDL:
Representation: A variety of methods are used to present course content (e.g. lecture, web, text, audio).
Engagement: A variety of teaching methods are used to capture the student's attention (discussions, reflections, individual projects, and other types of methods or techniques).

Expression: The instructor allows students to demonstrate their knowledge in a variety of ways and is flexible for students who have barriers in expression (e.g. oral presentations for those with reading disabilities).

(Source: Fast Facts for Faculty, Ohio State University)
Resources and support
Academic Accommodation Support
Test Centre
Library Accessibility Services
Centre for Excellence in Learning and Teaching