You are now in the main content area
Give to the Creative School


Giving to the Creative School
By supporting The Creative School today you enable us to recruit the best students and faculty and offer a premier education.
The Creative School greatly appreciates the generous support shown by our alumni, friends, faculty and staff. Your gifts to our School directly support student scholarships, awards and bursaries, chairs and professorships, programs and research, new facilities, and the purchase of critical technology and equipment. Your continued support guarantees that our unique programs will remain at the heart of the evolution of cultural industries for generations to come.
Contact Us

Partnerships

Tyler Small

Director of Development | The Creative School
647-563-8204
New Awards & Scholarships

Rosemary Quinlan

Development Officer | The Creative School
647-970-8248
Gifts in Kind & Annual Giving

Kieran Lynch

Development Associate | The Creative School
(416) 979-5000 ext. 554511
Dean's Reflection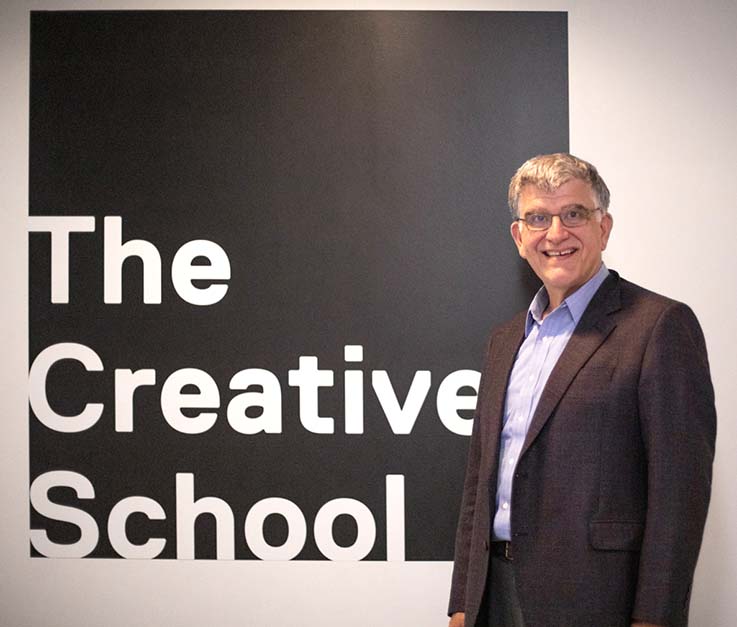 On behalf of The Creative School, I want to express our heartfelt gratitude to our generous donors. I am truly humbled by your support and the impact it will have on our students, faculty, and programs.
Your contribution plays a vital role in advancing our mission of providing exceptional education to the next generation of creative leaders. With your support, we can continue to create a transformative learning environment that fosters intellectual curiosity, critical thinking, and personal growth.
Your dedication to The Creative School's vision is inspiring, and we are committed to utilizing your donations effectively and efficiently. These funds are allocated toward initiatives that directly benefit our talented students, such as scholarships, research opportunities, state-of-the-art facilities, and innovative academic programs. Your generosity helps us provide resources that prepare our students for the challenges of the future.
We understand the importance of your trust and confidence in our institution, and we pledge to be accountable for the impact your donation makes. This page is designed to keep you informed about the progress and achievements resulting from your support, demonstrating the meaningful difference your contribution has made in the lives of our students and the community.
Thank you for your unwavering commitment to The Creative School and Toronto Metropolitan University. Your generosity inspires us all and strengthens our resolve to strive for excellence. Together, we can shape a brighter future through education.
With sincere appreciation,
Charles Falzon | Dean of The Creative School


2022-2023 Key Numbers
$858,708
Award funds given out to students at The Creative School
Donor Wall

Lifetime Donors of $1 Million+
Ted and Loretta Rogers
Esko
The Slaight Family
CTV Television Network Ltd.
Heidelberg Canada
Edward & Suzanne Rogers
Canadian Printing Industries Scholarship Trust Fund
Toronto Star
Rogers Communications, Inc.
Kodak Canada Inc.
Rogers Sportsnet
Loblaw Companies Limited
Lifetime Donors of $500,000 to $999,999
Rogers Media Inc.
Estate of Albert Le Ber
OMNI Television
DALSA Corporation
The Schulich Foundation
Sony of Canada Ltd.
Haivision
The Roloff Beny Foundation
Universal Studios Canada Inc.
The Woodbridge Company Limited
Cascades Inc.
Lifetime Donors of $100,000 to $499,999
HIFLEX Corporation of North America
Eastman Kodak Company
JennAir Canada
Agfa Inc.
The Norman & Margaret Jewison Charitable Foundation
The Eaton Foundation
Andy Donato
Fuji Graphic Systems Canada Inc.
Business Information Group Inc.
Estate of Helen & Sulo Hutko
St. Joseph Corporation
Society of The Creative School
John A. Honderich
Ricoh Canada Inc.
Chris and Anne Twigge-Molecey
CHIN Radio/TV International
Enfocus Software, Inc.
Sun Media Corporation
TC Transcontinental
Sun Chemical Limited
In memory of Rosalie Zucchetto
Red Bull Canada, Ltd.
Myant Inc.
The William & Nona Heaslip Foundation
Howard & Carole Tanenbaum Family Foundation
Audible, Inc.
The Howard and Carole Tanenbaum Family Charitable Foundation
David J., Jean E and Gillian Benitz
Quebecor World
CHUM Limited
Goethe-Institut Toronto German Cultural Centre
Kodak Graphic Communications Group
City Planning Employee Group Assoc., City of Toronto
RBC
Yabu Pushelberg
Ross Video
The Reader's Digest Foundation of Canada
HSBC Bank Canada
William Heaslip and Nona Macdonald Heaslip
Xerox Canada Ltd.
Flint Group
The Jeffrey Family
Bulmash - Siegel Fund
Estate of Suzanne Gayn
The Gerald Schwartz & Heather Reisman Foundation
PESA
Bowne of Canada, Ltd.
Rod & Sandra Campbell
Cenveo McLaren Morris and Todd Company
Elvino Sauro
Evertz
Martha G. Billes
Dejero
Fairchild Media Group
Unifor
Estate of Kathy Cleaver
Labatt Breweries of Canada
Barry Avrich
Kino Flo Lighting Systems
Hostmann-Steinberg
Jon Wylie & Pamela Hackett
TD Bank Group
CTV Inc.
Lombard Canada Ltd.
Donner Canadian Foundation
The Henry White Kinnear Foundation
R. Howard Webster Foundation
Weyerhaeuser Co. Ltd.
AnnKM
ACG Canada A Division of American Color Inc.
Ron Lorenson
Alice Mitchell Whitley
Estate of Donald C. Marren
Recent Projects