You are now in the main content area
Industry Day

Industry Day – Expanding Horizons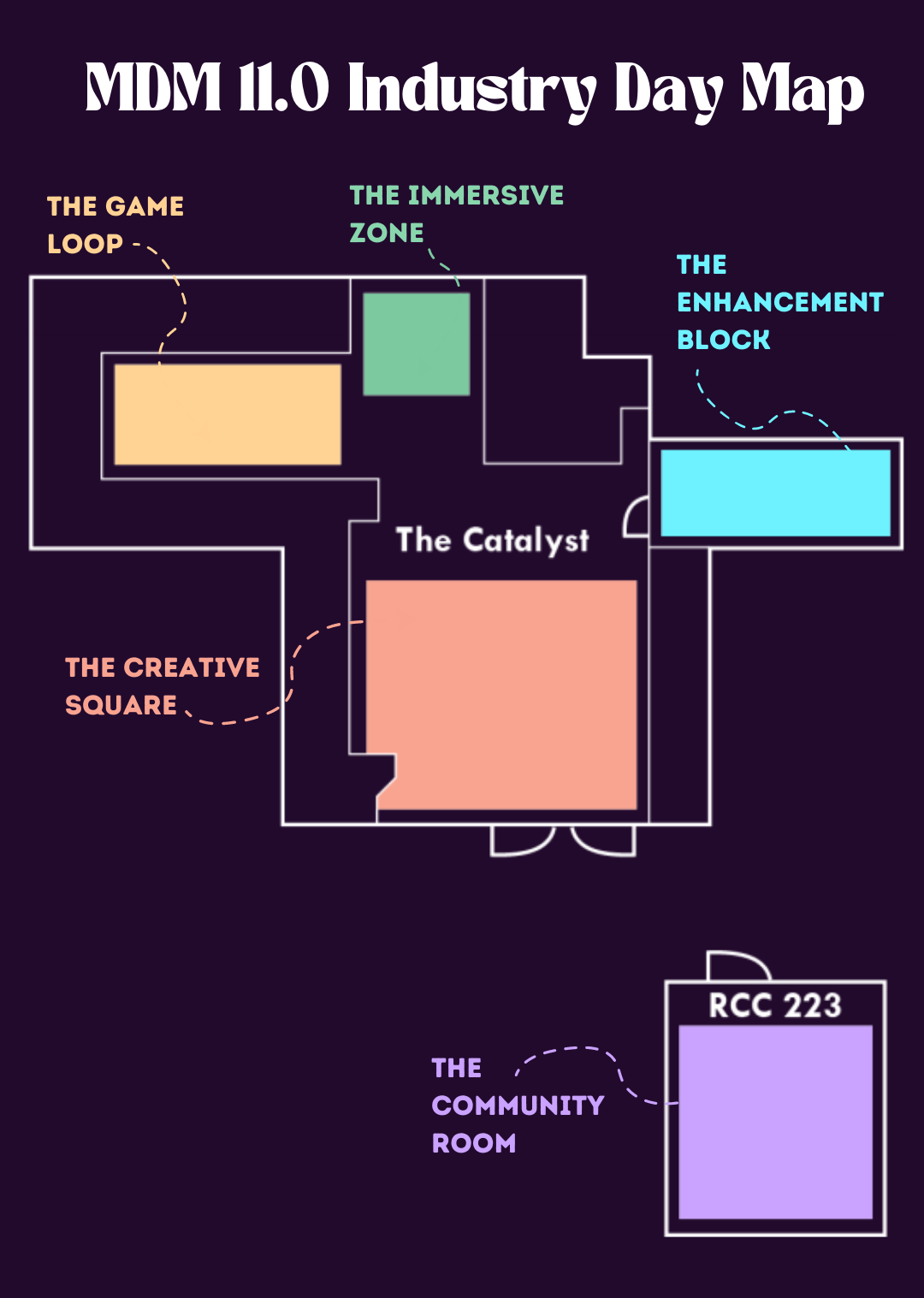 Experience creation and innovation at MDM Industry Day: Expanding Horizons. Connect with our Master's students presenting exceptional ideas and visions for the future of Digital Media. Explore projects in AR/VR, Gaming, Design, and more, driving social and technological innovation. Join us at the Rogers Communication Centre on August 17th from 3PM-8PM to witness the future of Digital Media.


What: MDM 11.0 Industry Day
When: August 17, 2023
Time: Drop by between 3:00 - 8:00 pm
Where: Rogers Communications Centre, The Catalyst & RCC223 (80 Gould Street (2nd Floor) Toronto, ON M5B 2M7)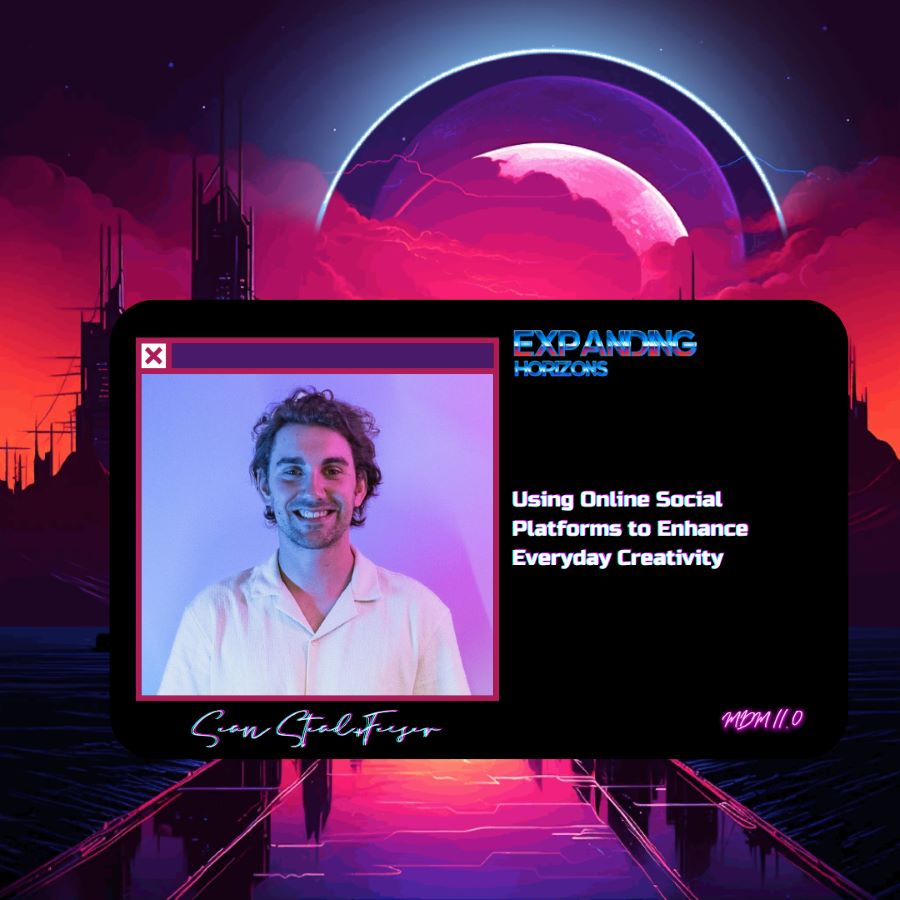 CREATIVELY: An Online Platform to Enhance Everyday Creativity
My research centers around designing an online platform to engage and develop peoples creative thinking through completing creative activities. Users can then share and post their creative works for others to see and engage with, allowing them to gain inspiration and feedback on the platform. The platform is designed to demonstrate that everyone is creative, by encouraging users to post everyday and form a habit around making something and thinking creatively. My research centers around designing an online platform to engage and develop peoples creative thinking through completing creative activities. Users can then share and post their creative works for others to see and engage with, allowing them to gain inspiration and feedback on the platform. The platform is designed to demonstrate that everyone is creative, by encouraging users to post everyday and form a habit around making something and thinking creatively.
THE WORK OF ART IN THE AGE OF AI RECREATION
Exploring and discussing the impact of Artificial Intelligence Art Generators on the field of visual art using ethical and historical analysis, theories of intellectual property and guided by the perspective of creation and origination.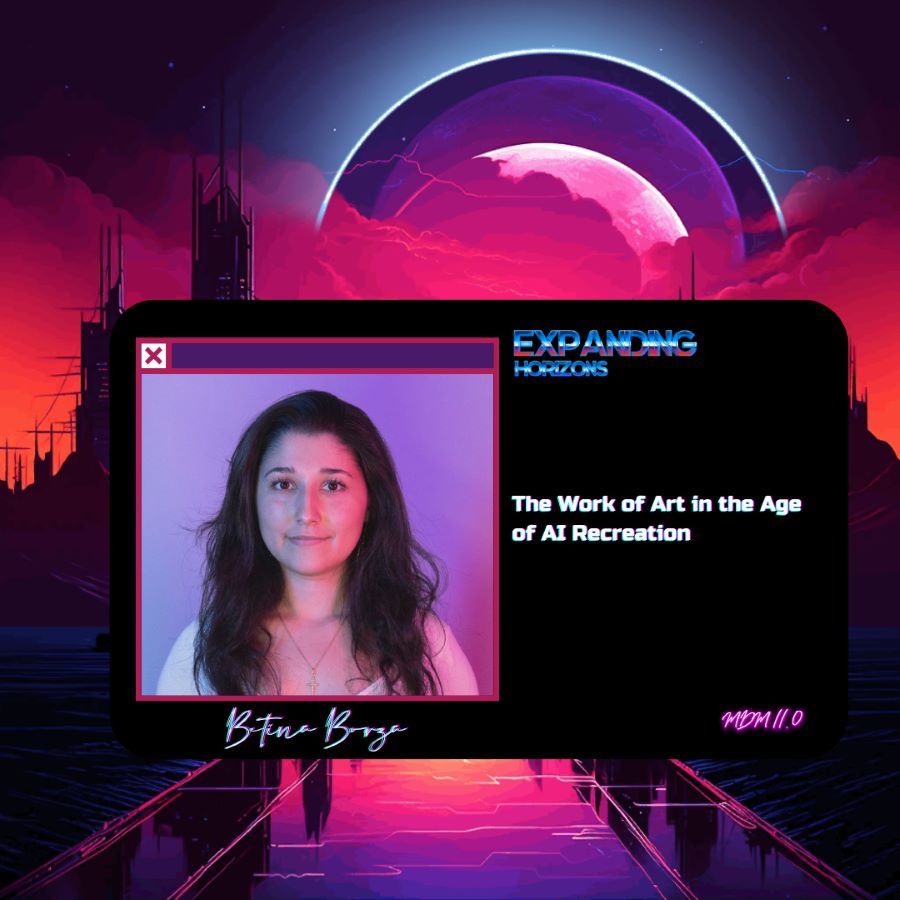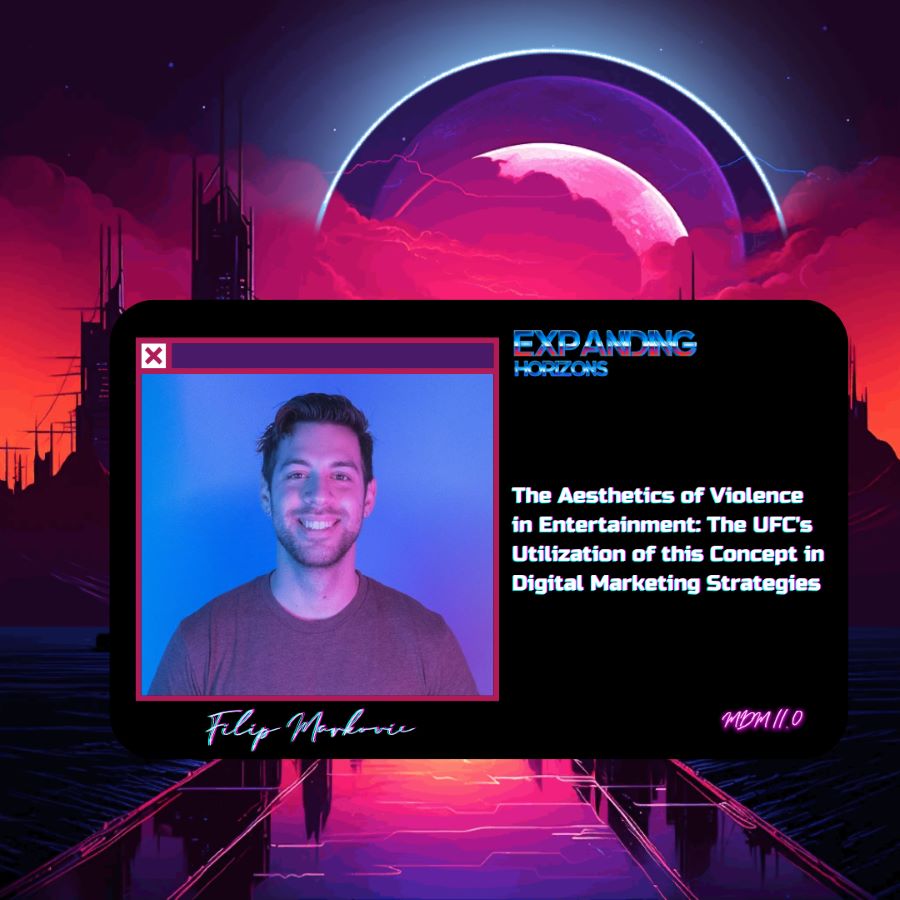 The Aesthetics of Violence in Entertainment: The UFC's Utilization of this Concept in Digital Marketing Strategies
My research paper delves into the exploration of the aesthetic of violence in entertainment, focusing on the UFC's effective utilization of this concept in their digital marketing strategies. By analyzing the three identified dimensions of intensity, atmosphere, and context & meaning, I aim to understand how the UFC capitalizes on the profitability of violence, despite its moral implications. To visually communicate my work, digitally, I will be creating a graphically designed portrait that will illustrate the research findings and the three dimensions of the aesthetics of violence.
The Effectiveness of Sustainability Labels in Driving Consumer Attention in E-Commerce: An Eye-Tracking Study
This study investigates sustainability labels' influence on consumer attention in e-commerce, exploring attitudes, social norms, and perceived control's impact on behaviour. Using eye-tracking technology, the study examines how effectively eco-friendly labels communicate information and their role in promoting sustainable consumption. Through experiments on participants navigating an e-commerce website, this study provides valuable insights for retailers, consumers, and environmental advocates, advancing our understanding of sustainability labels' influence on consumer behaviour and environmental outcomes.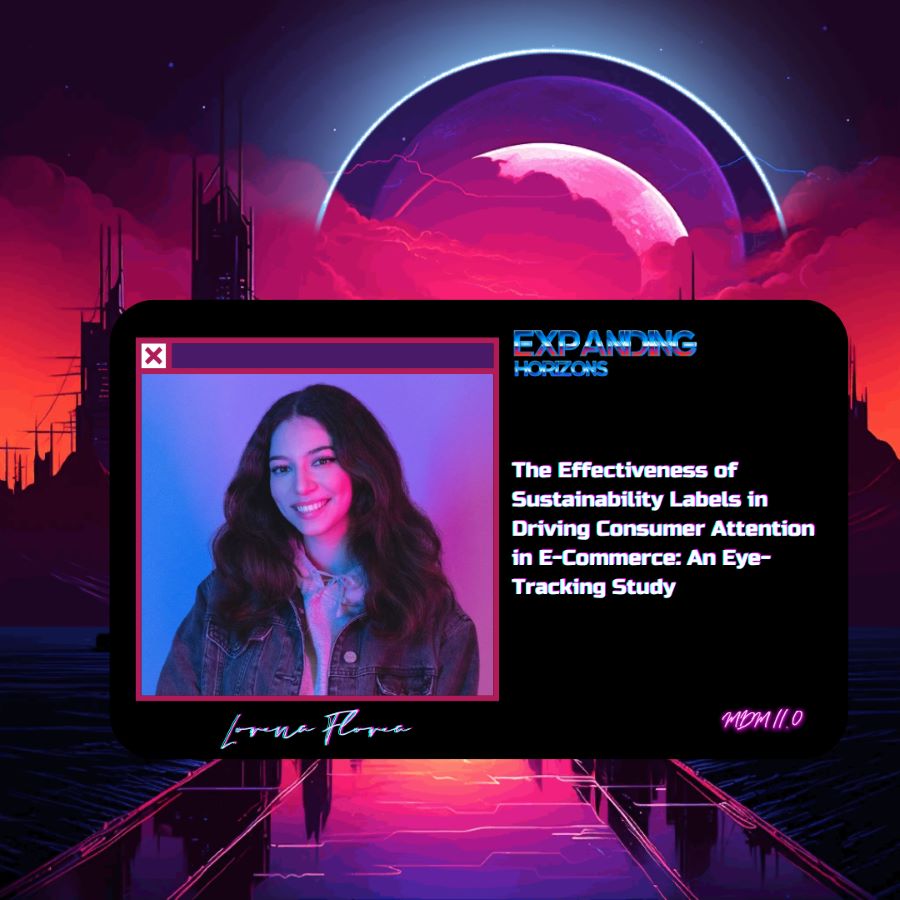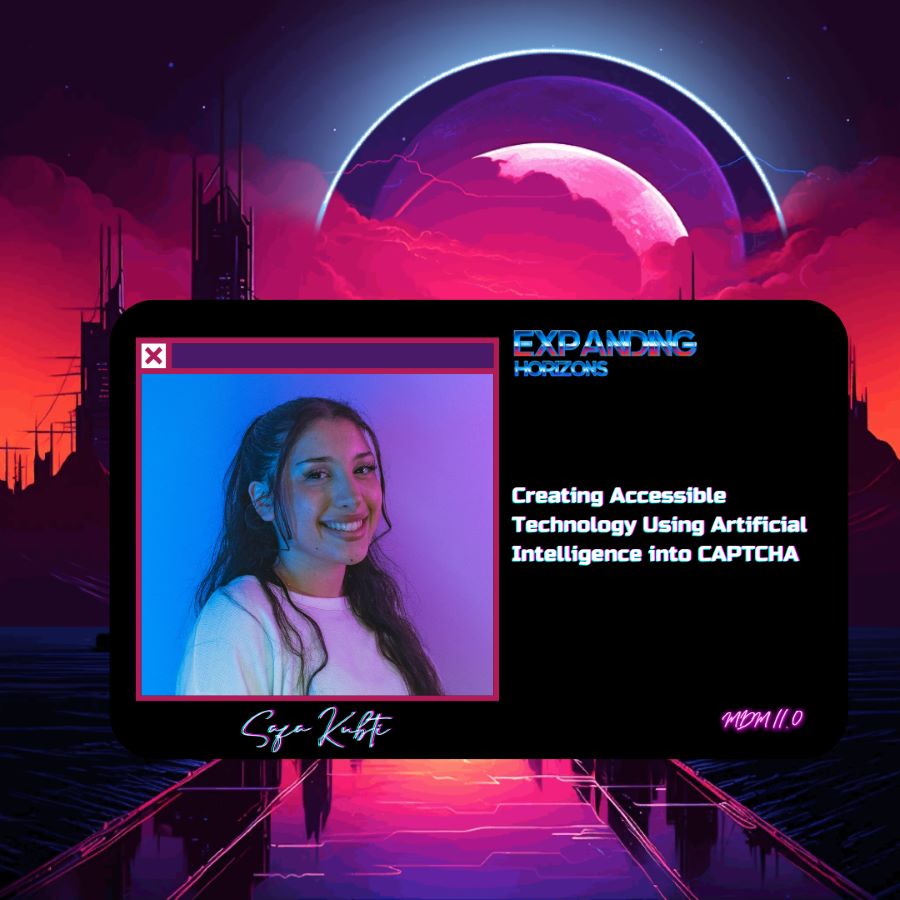 Creating Accessible Technology Using Artificial Intelligence into CAPTCHA
CAPTCHA should be an accessible authenticator to all, and should not be an obstacle to those who have impairments in accessing online materials. Their current options are not adequate in allowing everyone access to an online platform. Using facial recognition software, I will be revolutionizing CAPTCHA through the use of both open source and private code in order to build a system that is accessible to all.
DO LOOK UP - THE APPLICATION OF MODERN IMAGING TECHNOLOGIES IN THE FIELD OF AMATEUR ASTROPHOTOGRAPHY
An app and/or social media platform that would help bringing together all levels of expertise to make contribution towards the field of astrophotography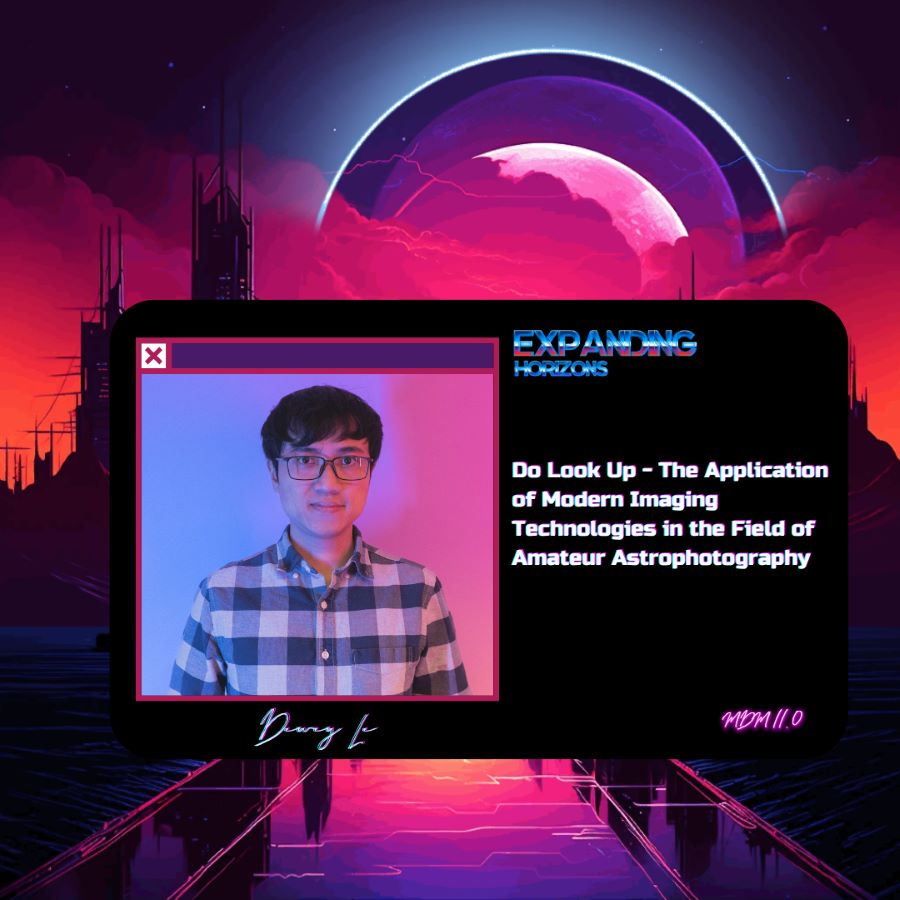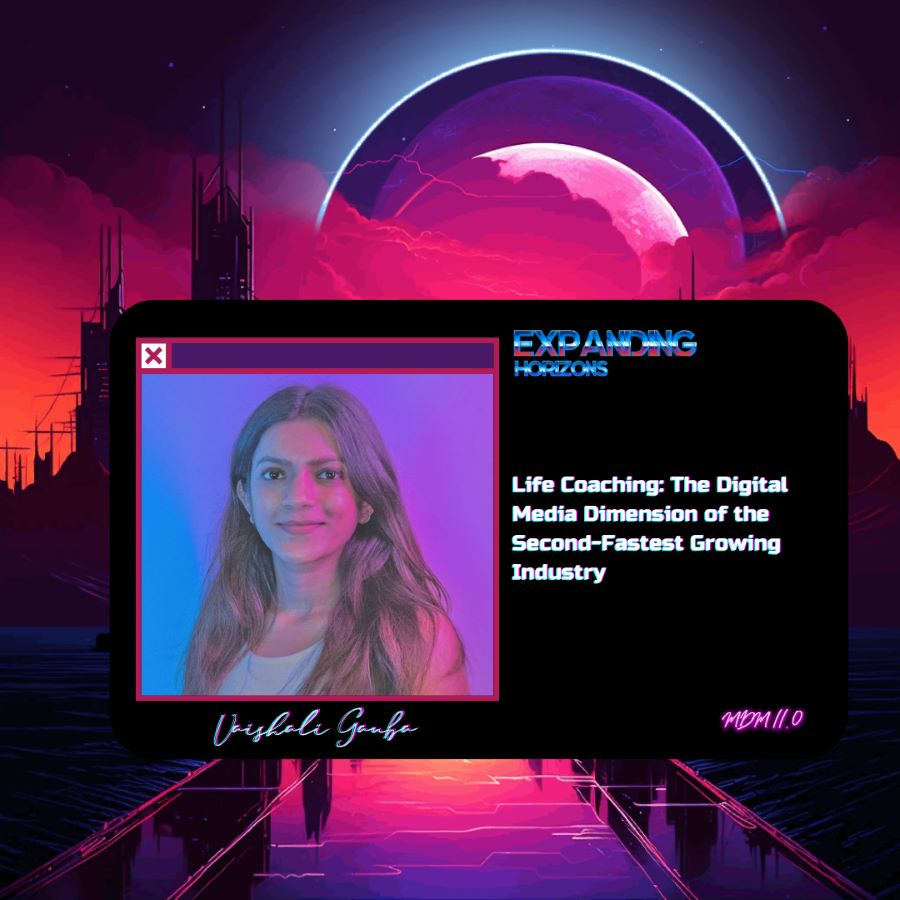 Life Coaching: The Digital Media Dimension of the Second-Fastest Growing Industry
The focus of my MRP is to create an online life coaching platform, which offers content, usable tools, and access to a 1:1 coach, using and upgrading existing digital media tools and practices deployed by current life coaches.
Augmented Reality in Art History Education: Exploring Student Engagement and Academic Outcomes
This research project explores the potential of augmented reality (AR) in enhancing art history education, focusing on student engagement and academic outcomes. Art history education plays a crucial role in fostering critical thinking and cultural understanding. By integrating AR technology into the learning process, this study aims to investigate how AR can transform traditional art history education, making it more interactive, immersive, and engaging for students. The project seeks to examine the impact of AR on student motivation, knowledge retention, and academic achievement, ultimately contributing to the advancement of innovative educational practices in the field of art history.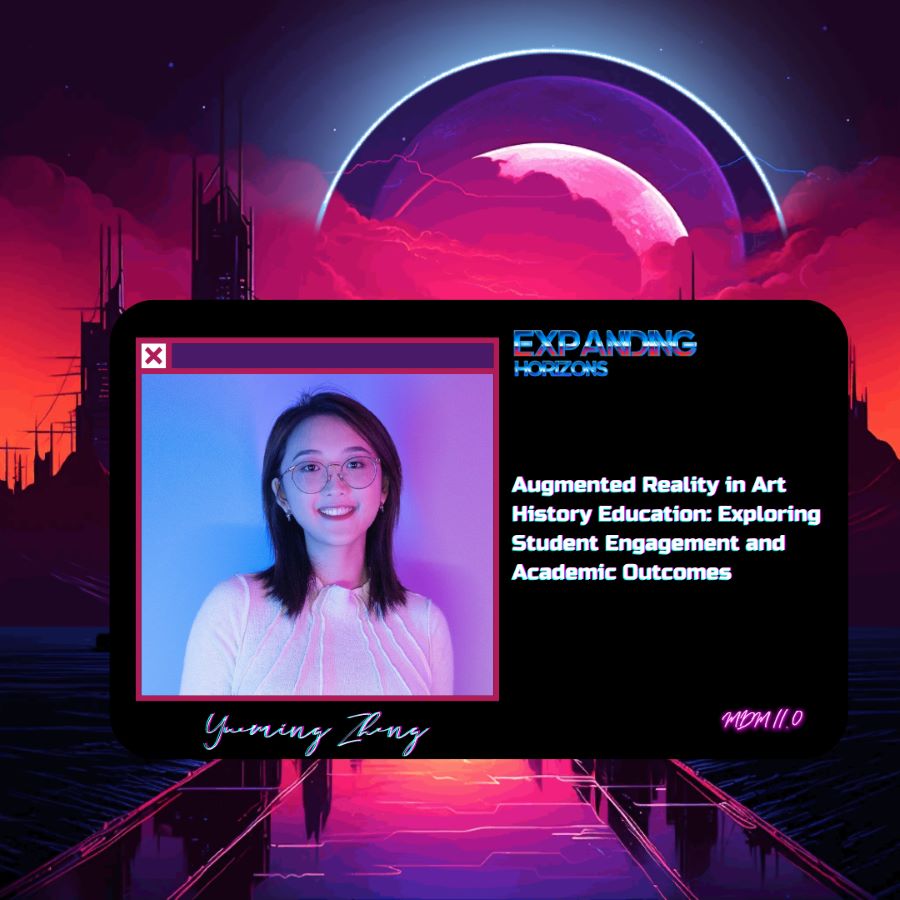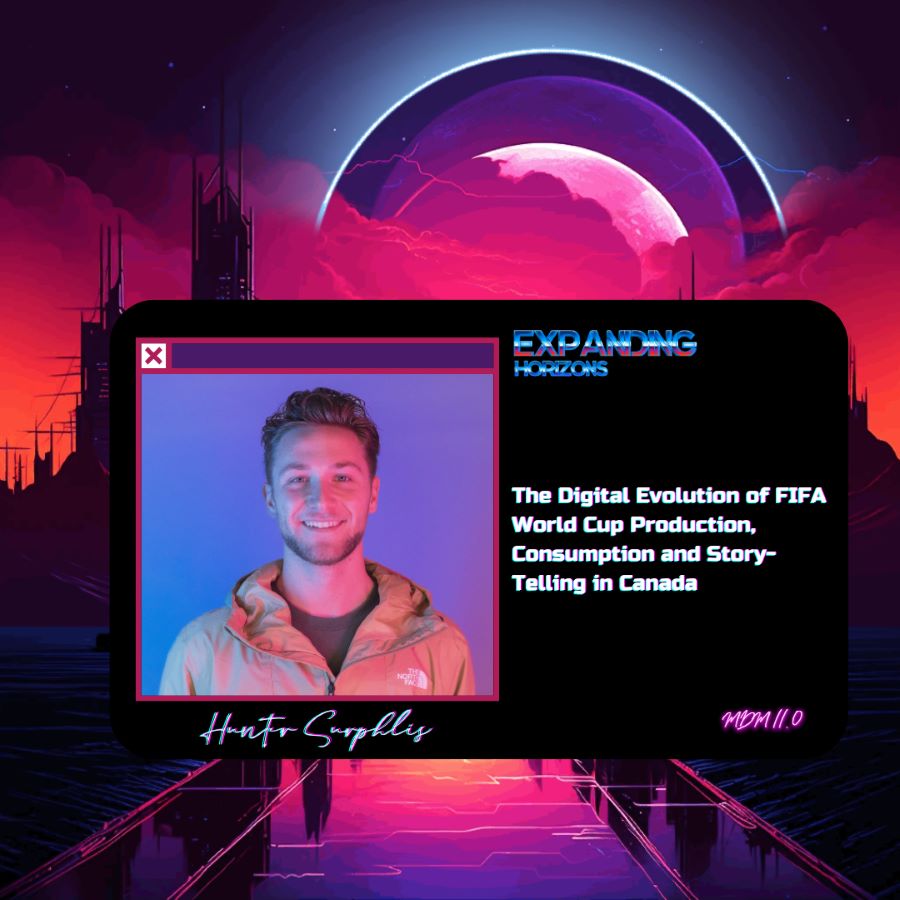 The Digital Evolution of FIFA World Cup Production, Consumption and Story-Telling in Canada
The study explores how sports fans' relationships with media have changed as digital media has evolved and how the teams broadcasting and covering these events are altering their strategies. Throughout my paper, I have interviewed a number of industry professionals to give key insights into how they have navigated this new digital forward landscape. Sports have become the last true medium that forces people to gather and watch together in real-time. The question is how fans consume it and what the industry needs to do to keep up.
GARMNTs: Rewriting the Rules of Online Fashion Retail with Ethics and Innovation through Storytelling & Customization.
"This major research project focuses on developing GARMNTs, a web-based retailer that aims to create a more ethical fashion marketplace. GARMNTs stands out from other retailers by emphasizing storytelling, customization, and community engagement, offering a unique platform that bridges the gap between consumers, independent designers, and curators in the fashion industry.
GARMNTs fosters a conscious fashion ecosystem by addressing the increased fast fashion consumption's impact on independent designers and consumer perceptions through UX design strategies such as storytelling and user-curated inventory customization, promoting consumer appreciation for independent designers and empowering informed choices aligned with values."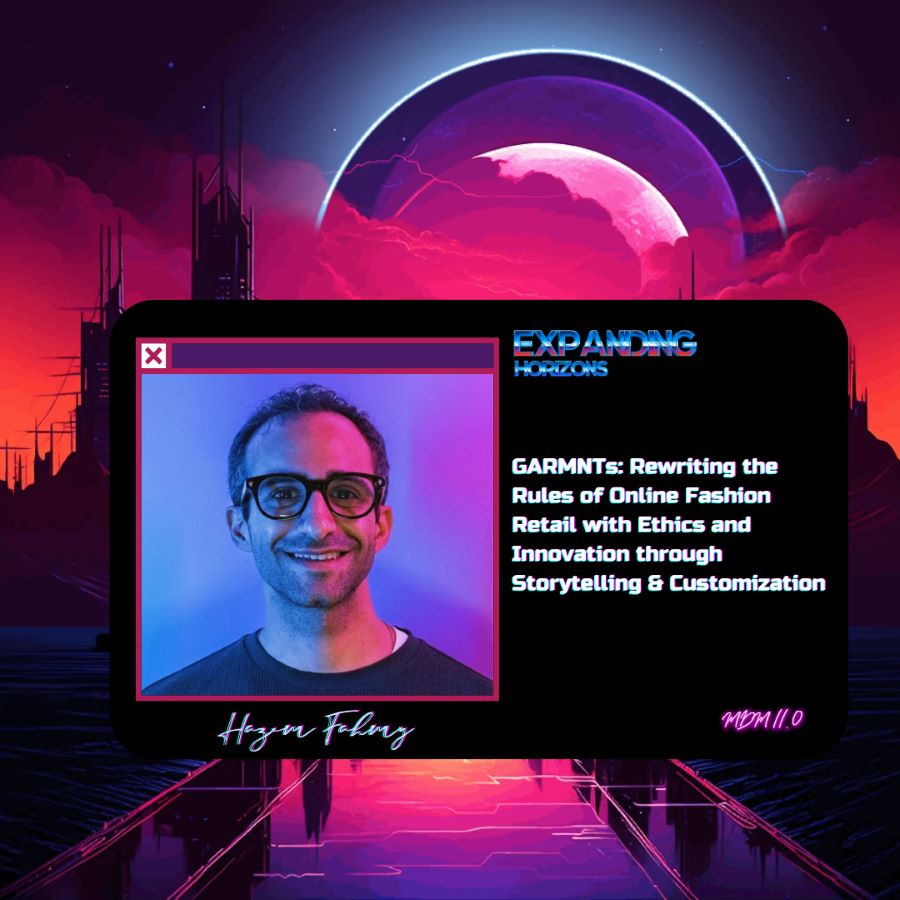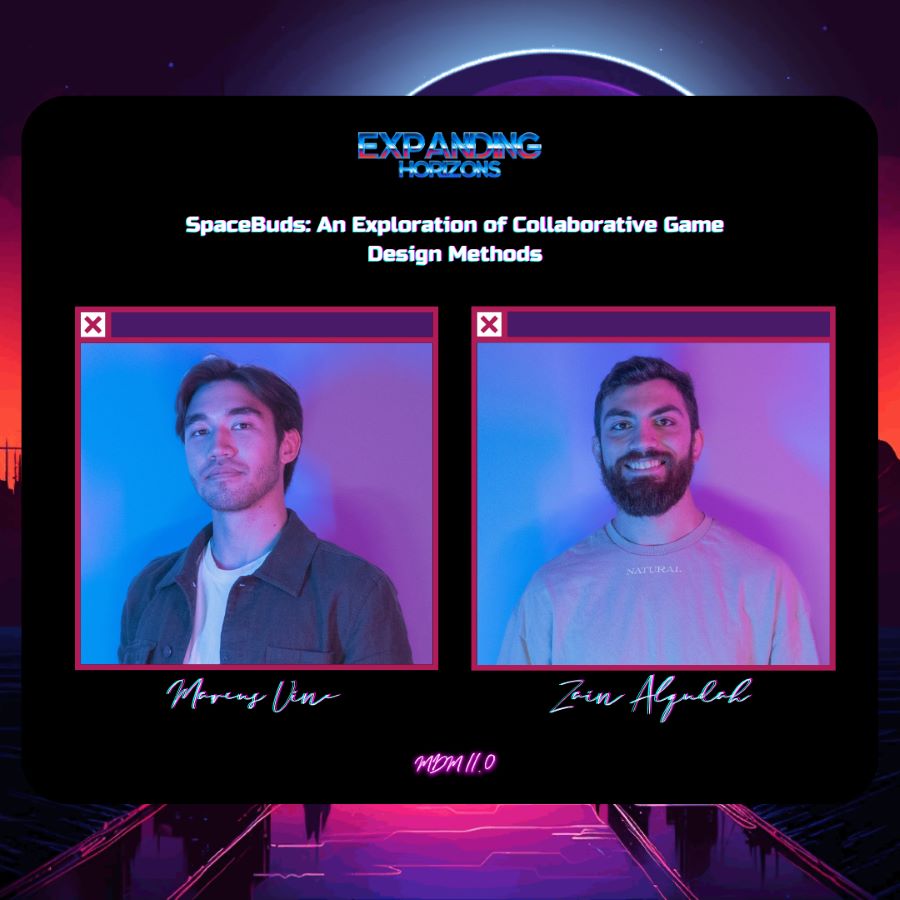 This study aims to explore how game design can foster collaboration and evaluate the effectiveness of different design elements through a series of mini-games. The primary objective of this study is to create a practical application of research findings by demonstrating the design choices made and evaluating the created games.
Branding Social Movements: Exploring the effectiveness of online activism
This study looks at how online social movements can use social media marketing tactics, specifically branding, to reach their audience and reach their goals. While the use of social media for social justice movements has lots of pros and cons, social media has become an invaluable tool for branding. Branding builds loyalty and relationships between the company and consumers, so my study explores if social justice movements can use the same tactics. To do this, I have created a media strategy for an online zine about gender equity in sports and used Instagram to market and create the "brand" around the issue.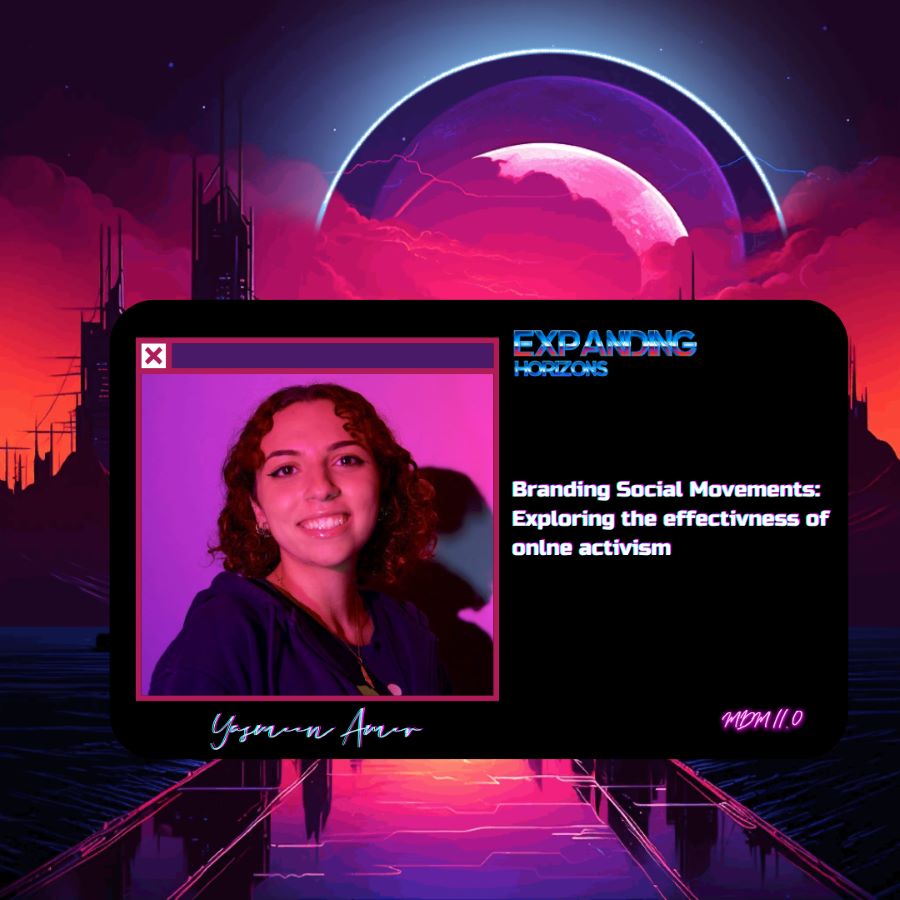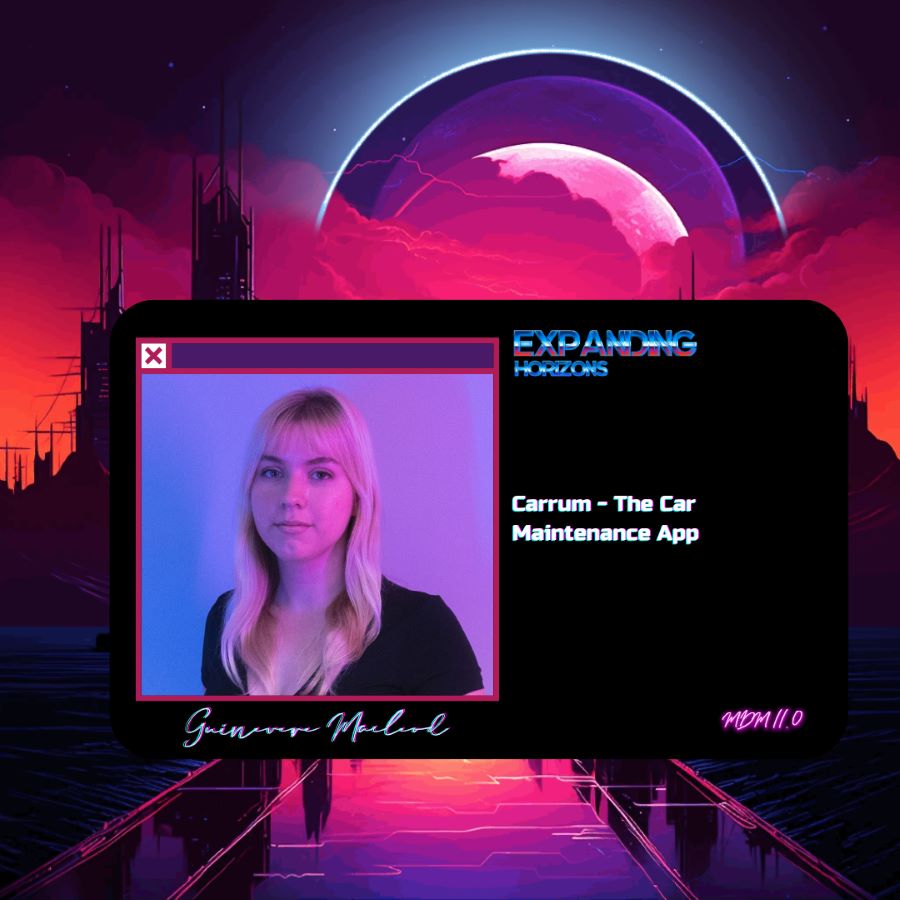 Carrum - The Car Maintenance App
Carrum is a mobile app designed to connect car owners with automotive professionals for legitimate and virtual advice. Users may create an account pertaining relevant vehicle information and within minutes are able to book an online chat session with mechanics, body work experts, and others working in various auto sectors. Carrum is designed to provide drivers with a more approachable, affordable, and convenient way to learn more about their own vehicle and its well-being.
Homeless: Survive in Winter
A VR game to simulate the life of a homeless person, experience the problem they are facing everyday.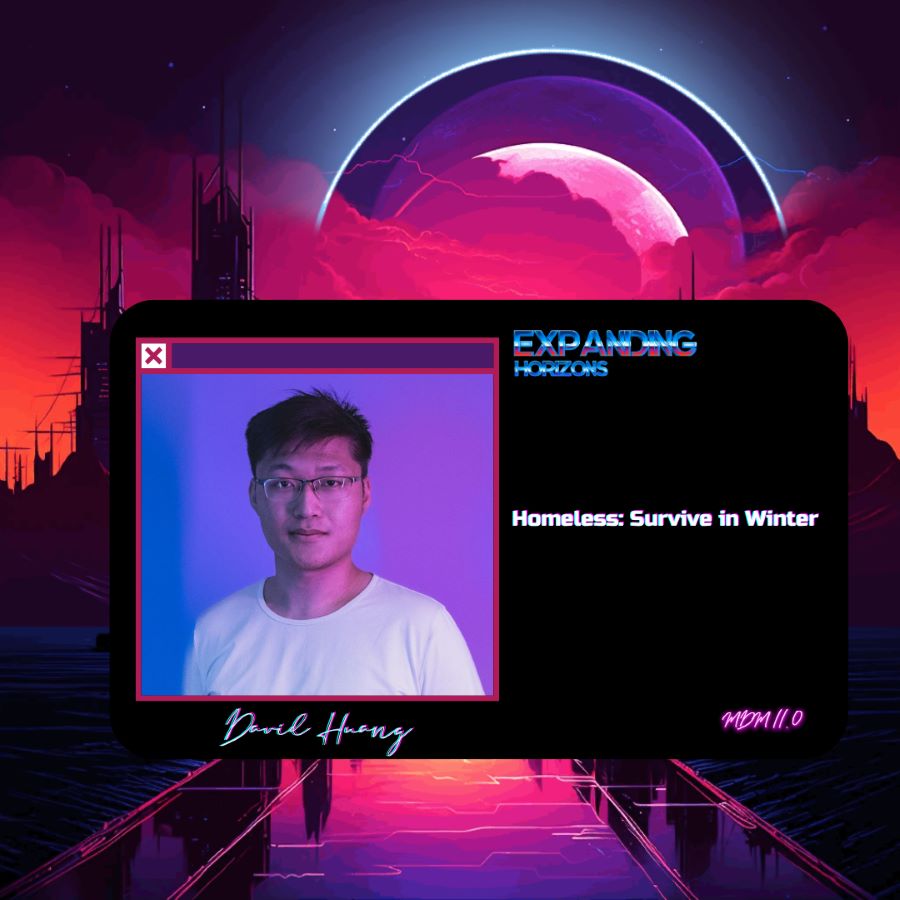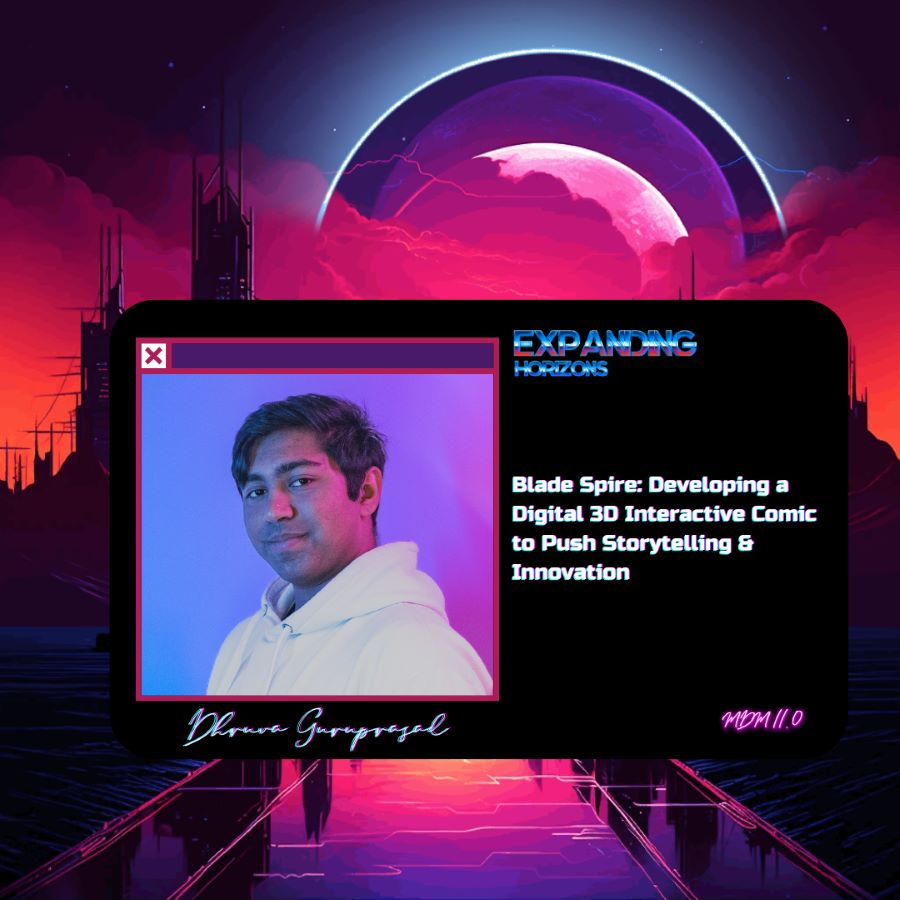 Blade Spire: Developing a Digital 3D Interactive Comic to Push Storytelling & Innovation
This research project aims to explore the possibilities of innovation within the digital 3D comic book space utilizing interactive elements to aid in storytelling. My project is called Blade Spire which is a digital comic developed within the Unreal engine utilizing a mixture of 3D and 2D assets to create environments with interactable objects, presenting more information to aid the narrative as well as the readers engagement. This project will serve as a proof of concept for others researching innovation for digital comics as well as evaluate the idea of adding interaction for improving story elements.
Move: Encouraging regular sports participation
It's a mobile app that provides users with a list of sports facilities that they can book to play. It also provides a pick-up games feature that makes it easy to indulge in the user's favourite sports. The objective of the app is to encourage regular exercise and sports participation to reap the mental and physical benefits that come with it.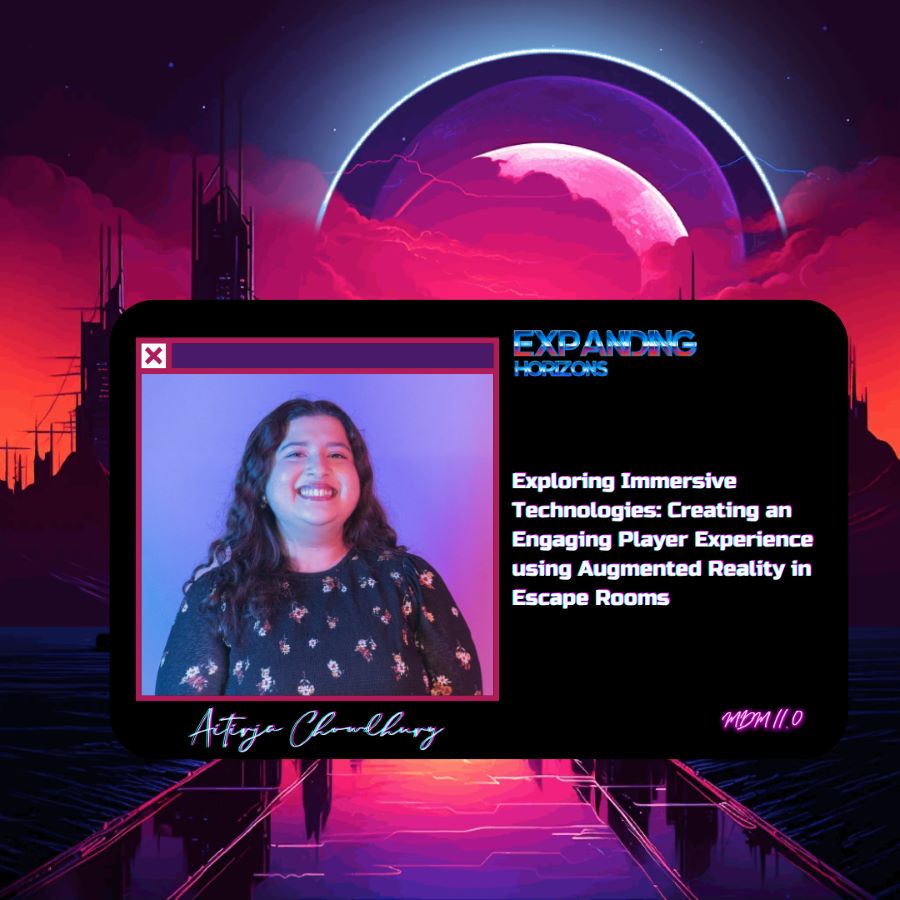 Exploring Immersive Technologies: Creating an Engaging Player Experience using Augmented Reality in Escape Rooms
The purpose of this research is to explore a new form of escape room that connects players with the story through the use of immersive technologies, specifically augmented reality (AR). By leveraging AR tools, players can gather virtual clues and solve puzzles within a physical room. The study aims to analyze the immersive aspects of escape rooms and examine the factors contributing to their popularity as an entertainment form, focusing on the experiences players have while solving puzzles.
Be Your Own Algorithms
Be Your Own Algorithms is an interactive storytelling game in which players are expected to act as back-end algorithms; they will be asked to advise or recommend pertinent information to keep the "user" online as long as possible. The purpose of the current study is to encourage participants to think from the perspective of algorithms and learn from the game by demonstrating how the backend algorithm functions.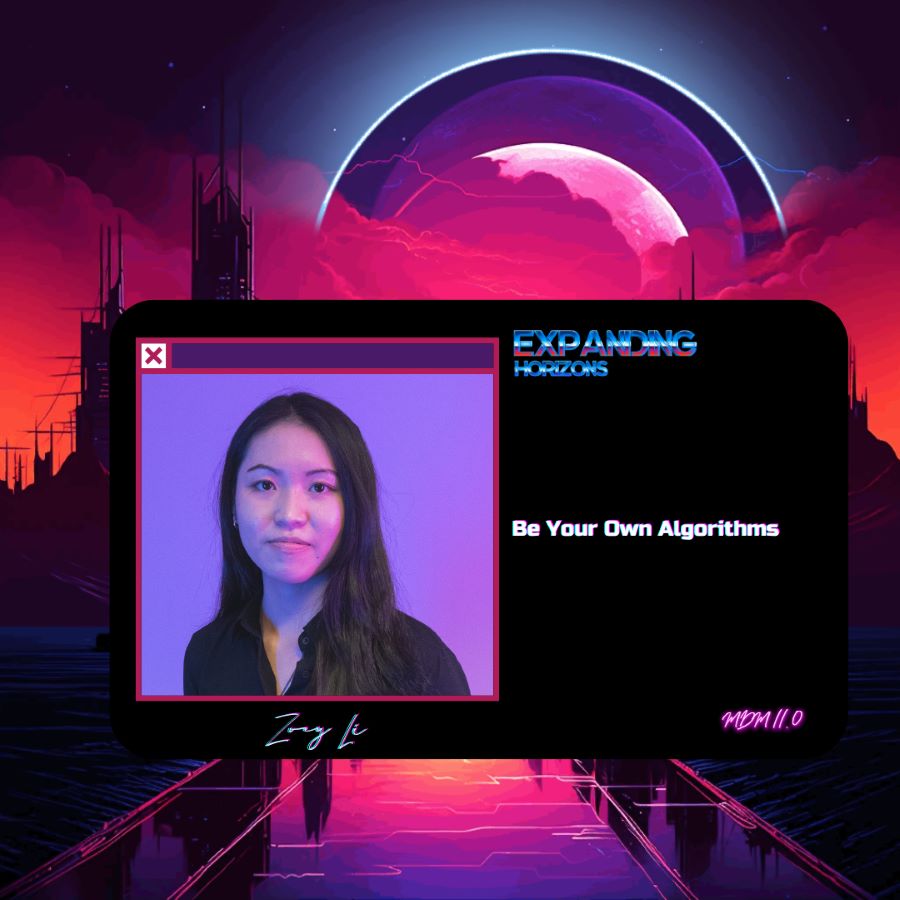 Hack "Start" to Continue: A Mixed-Method Study of Video Game Hardware Modifications
While modifications ("modding" or "mods") to video-game software are well documented in academic research, mods to game hardware have received significantly less attention. As a range of hardware-focused practices has given rise to related communities and small businesses, an exploration of such practices is necessary. This paper seeks to outline and contextualize hardware modding through original research illuminating the activities and motivations of hardware modders.
Designing Exclusive, Impactful Merchandise for Online Gaming Communities
My research focuses on apparel designed for online gaming communities. Currently, the gaming and esports industries offer a wide range of merchandise, but it mainly focuses on team-related items or designs aimed at younger audiences. However, there's a significant absence of apparel for older fans who are interested in specific games rather than teams. To address this, I employ sentiment analysis and game-related elements in designing apparel that caters to this target market.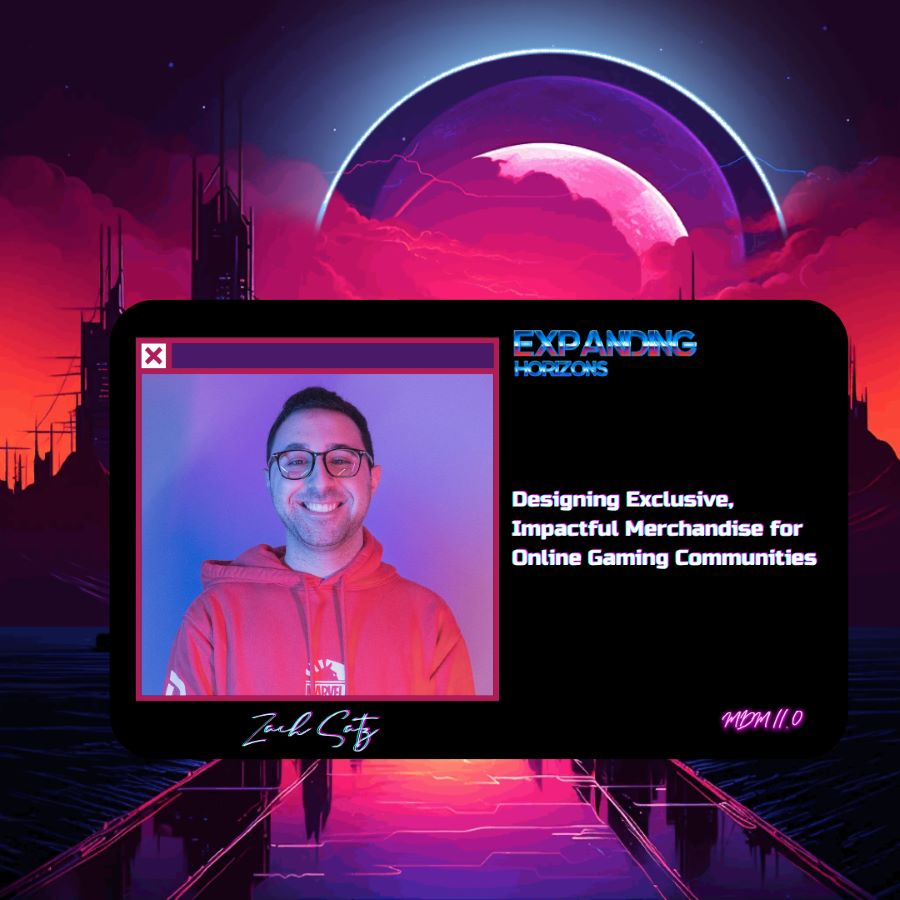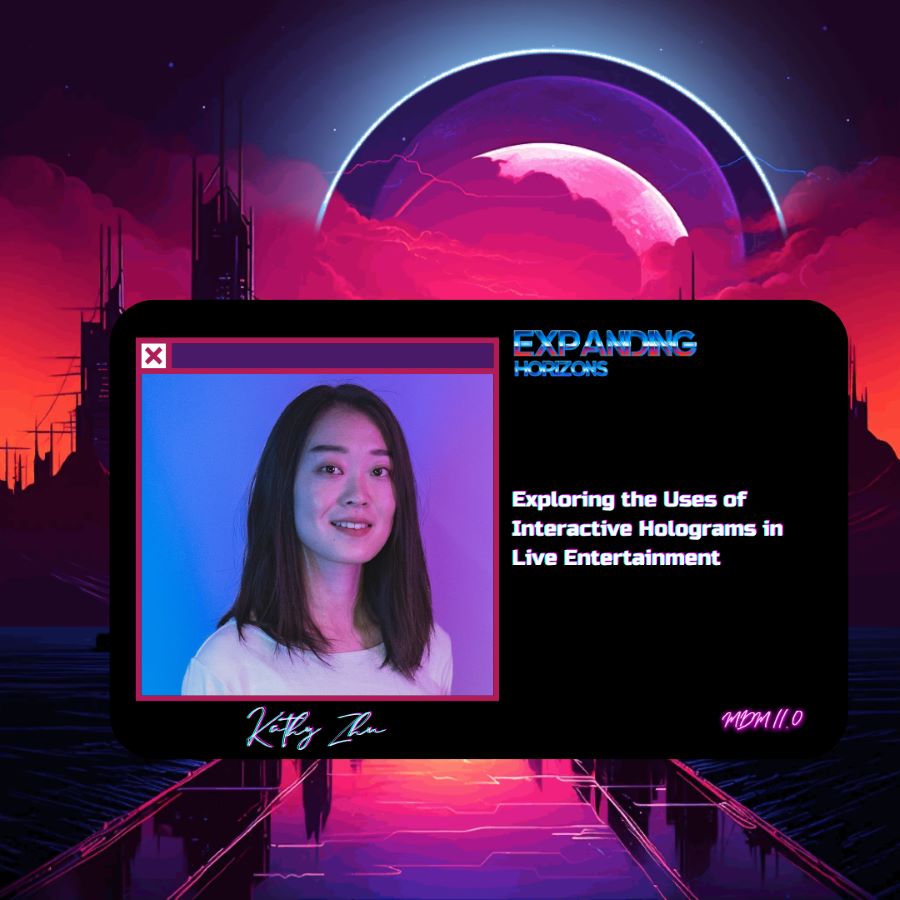 Exploring the Uses of Interactive Holograms in Live Entertainment
The entertainment industry has always been at the forefront of technological innovation while it constantly redefines its creative boundaries. The introduction of interactive digital technologies brings exciting possibilities into the field, particularly in live performances. This project studies holography as a critical technology that sets trends in future live event design due to its unique characteristics and deeper philosophical implications. The research will raise insightful questions on the significance of using holographic technology for entertainment and illustrate possible effects it could achieve through a variety of visual and experiential prototypes. As part of the final product, a systematic workflow will be presented in the form of infographics that guide designers and content creators through a seamless process of incorporating holograms into their live events programming.
Threads of Resilience: Chinese Gender Marginalization in an Interactive Narrative
Unveil a journey of exploration in "Threads of Resilience", an interactive narrative game that delves into the realities of Chinese gender marginalization. Through engaging storytelling and thought-provoking choices, players gain a deeper understanding of the social, cultural, and economic factors contributing to gender inequality and marginalization. Foster awareness, empathy, and critical thinking as you confront the complexities of gender inequality in Chinese society.

During game development, we explore innovative strategies to rapidly create engaging, serious games while minimizing costs and maximizing efficiency.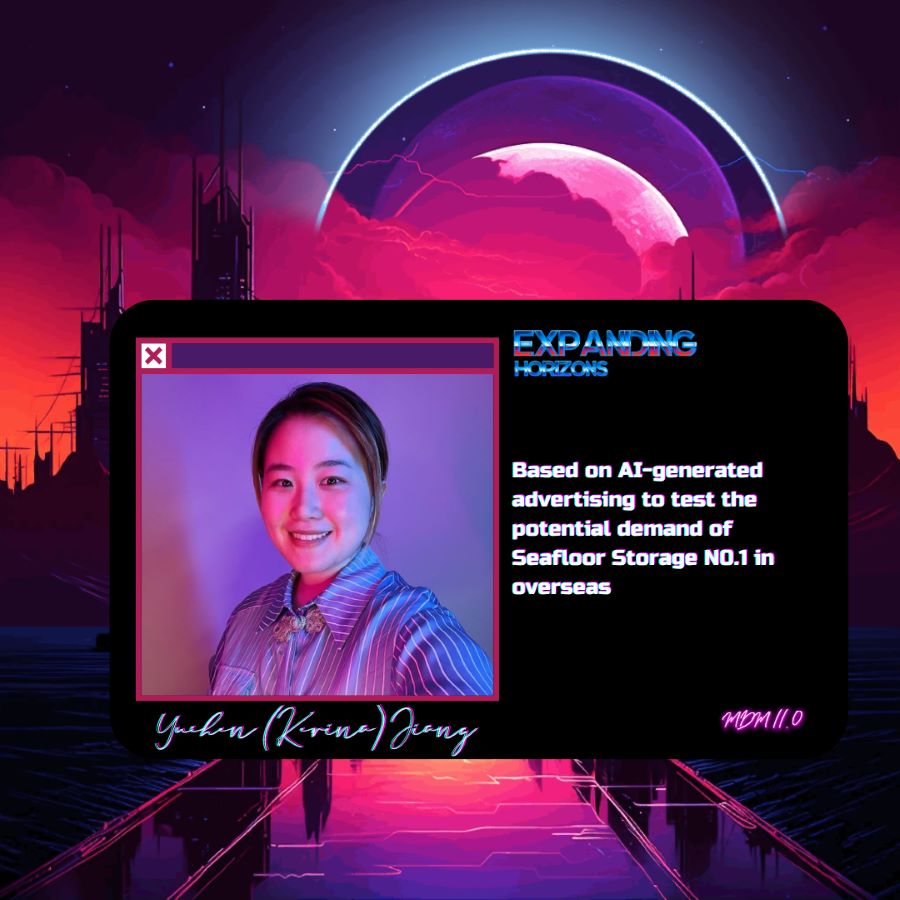 Based on AI-generated advertising to test the potential demand of Seafloor Storage N0.1 in overseas
My MRP aims to explore AI generative tools for social media content creation for marketing purposes. The project has three major phases: branding positioning and marketing research, social media campaign design using AI generative tools, and testing and iteration based on the collected data. The goal is to understand how to use AI-empowered technology to promote a new product line, Seafloor Storage No. 1 (SSN01), of the Times winery, China, in Canada through social media.

Enhancing Engagement in Higher Education: Developing a 2D Pixel Social-Based Gamification System for Post-Pandemic Learning
The major project undertaken involves the creation and integration of a 2D pixel-based social game into the university environment, embracing the principles of gamification in education to enhance student engagement and learning motivation. This innovative game provides students with personalized digital identities and spaces, enveloped within an RPG (Role-Playing Game) mechanics, fostering an immersive learning environment. Students navigate through a landscape of various tasks and challenges, where rewards are integral to the game design. The anticipation is that students would prioritize tasks with higher reward indices, thereby stimulating their engagement in learning activities. The project also examines students' responses to their digital avatars, observing the time and effort dedicated to character customization and skill selection.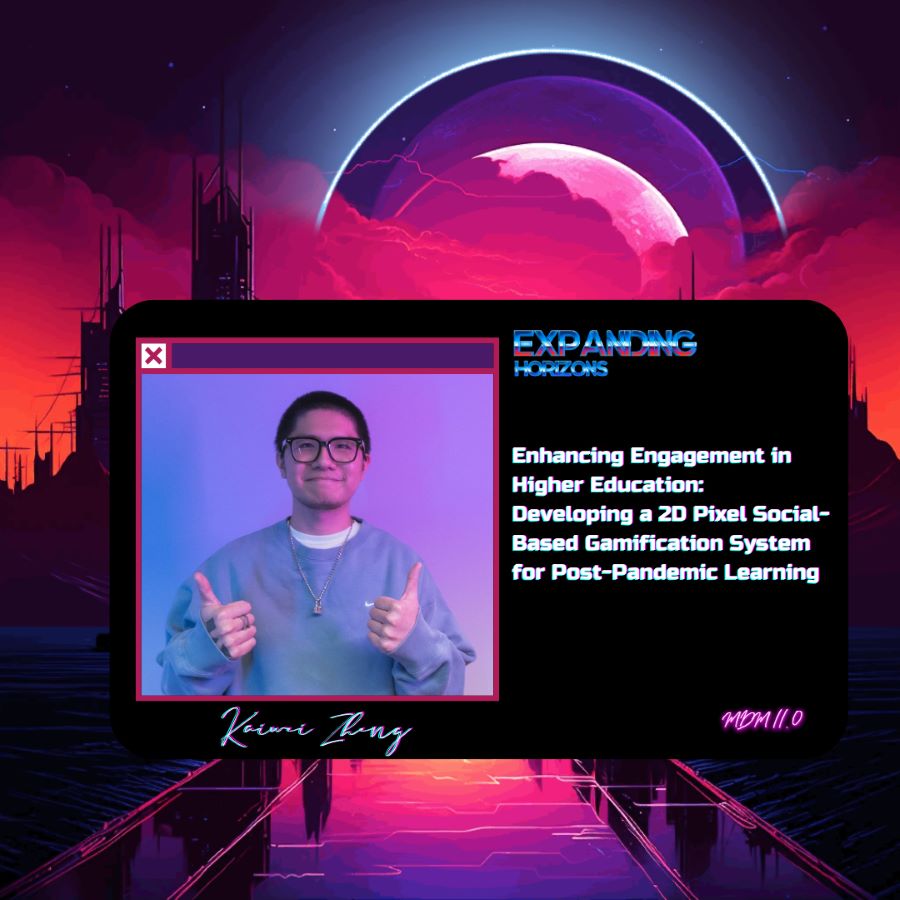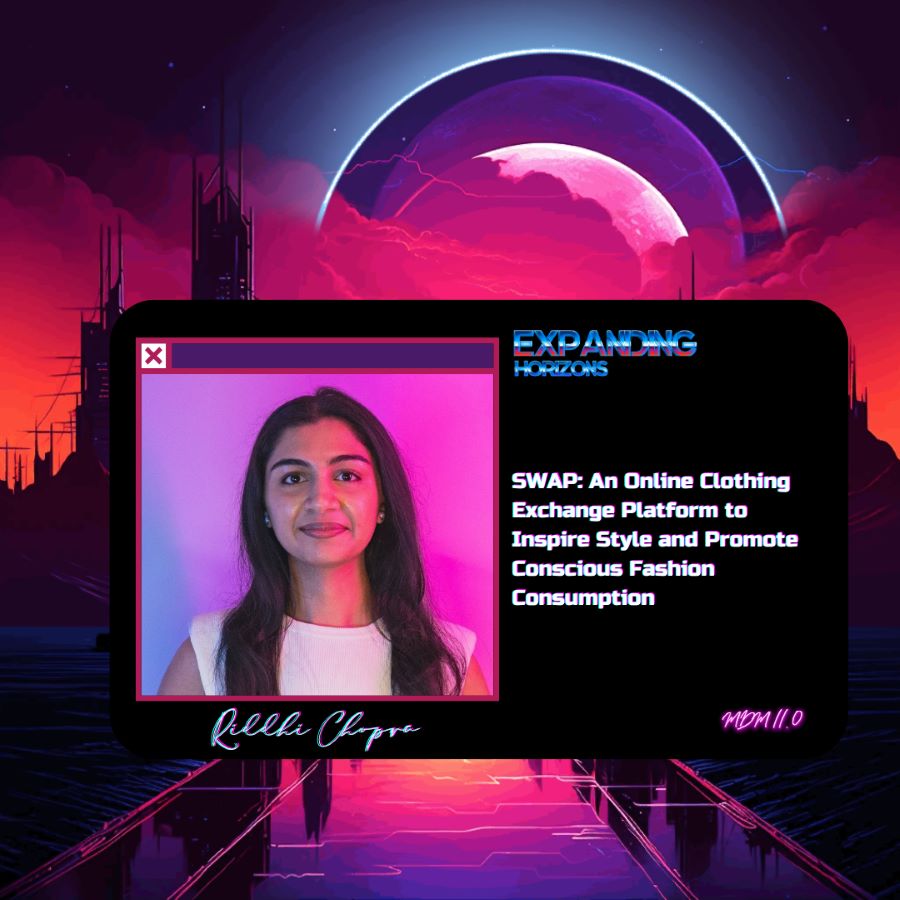 SWAP: An Online Clothing Exchange Platform to Inspire Style and Promote Conscious Fashion Consumption
SWAP is an online marketplace to facilitate clothing exchanges to allow consumers to stay on-trend in a sustainable and affordable way. Fashion trends are constantly changing and consumer demands are evolving – Gen Z and millennial consumers are following the latest fads at the cost of fast fashion's ethical and environmental concerns. My study introduces an innovative approach to promoting conscious fashion consumption by providing a platform for users to engage in sustainable consumption practices while staying on-trend.
Reviving Ink Wash Painting: An Immersive Journey into Art Heritage through XR Technology
This study revives ink wash painting using XR immersive technology, reconnecting audiences with this lost art form and creating awareness for future generations. It explores the historical and cultural significance of ink wash painting and aims to promote cultural heritage, enhance engagement, and preserve lost art in the digital age through immersive learning experiences.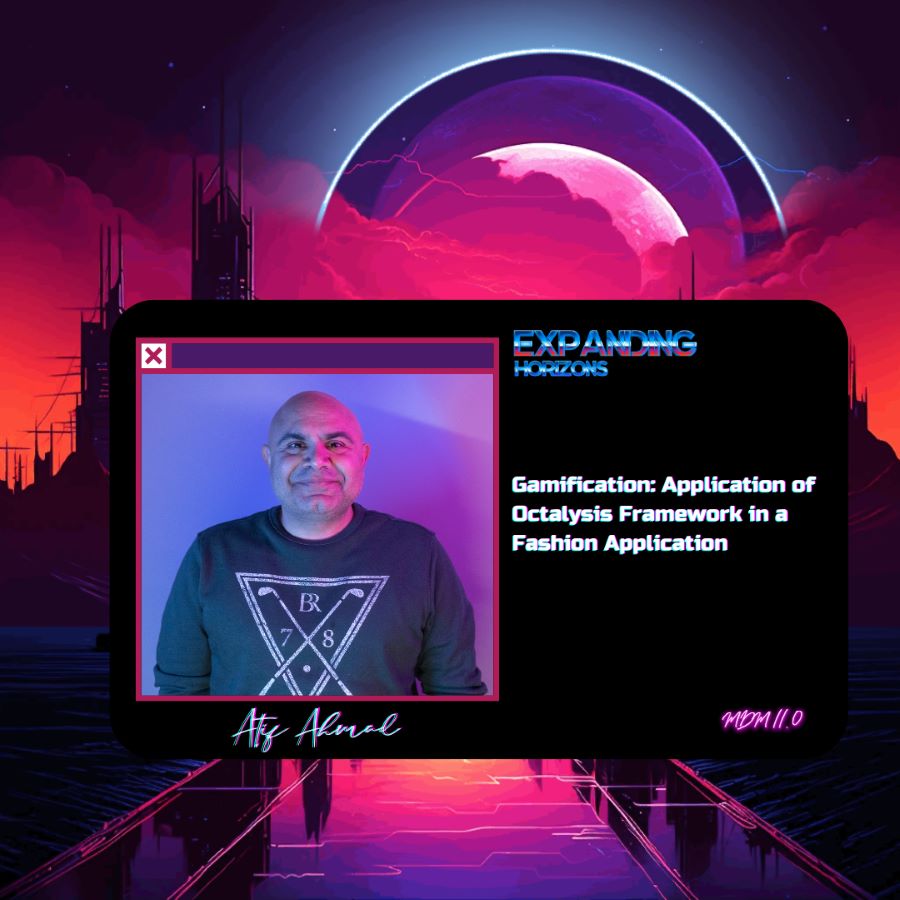 GAMIFICATION: APPLICATION OF OCTALYSIS FRAMEWORK IN A FASHION APPLICATION
In the fashion industry context, the paper examines the potential benefits and challenges of implementing the Octalysis framework in a community app. The use of gamification can enhance user engagement and loyalty by providing a more interactive and rewarding experience.
Research on skill based online learning business market in Canada
In recent years, especially in the post pandemic times, the use of e-learning has skyrocketed as more people turn to online platforms to develop their skills and knowledge. Canada is no exception, with a growing number of individuals and organizations selling digital products such as e-books, video tutorials, online courses, software, journals, planners, checklists, and cheat sheets to help people improve their skills in health, wealth, and relationship niches. The increasing demand for these products is driven by the convenience, affordability, and accessibility they offer. The e-learning business in Canada has become a lucrative industry, and many entrepreneurs are taking advantage of this trend by creating and selling high-quality digital products to meet the growing demand for online learning. The study aims to explore the e-learning business market in Canada, with a specific focus on selling digital products in health, wealth, and relationship niches. By analyzing the current state of the industry, the challenges and opportunities, and the strategies used by successful e-learning entrepreneurs, this study will provide valuable insights into the e-learning market in Canada and and provide insights for businesses looking to enter or expand their operations in this market by analyzing the potential for growth in the coming next couple of years.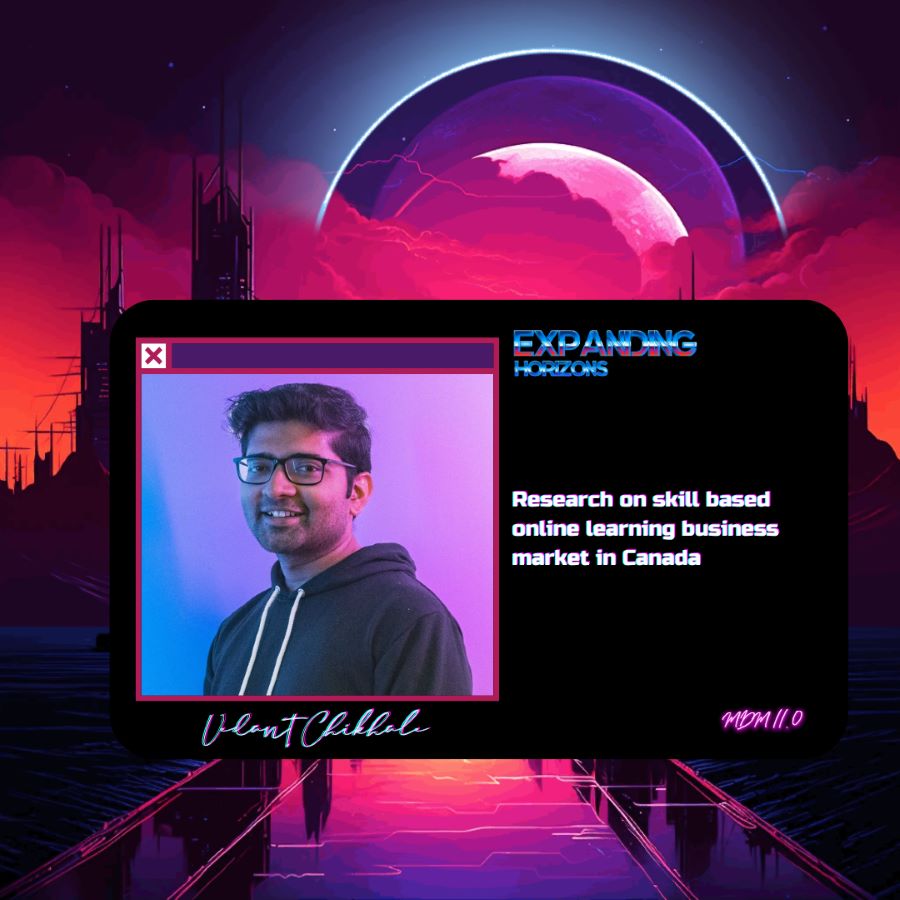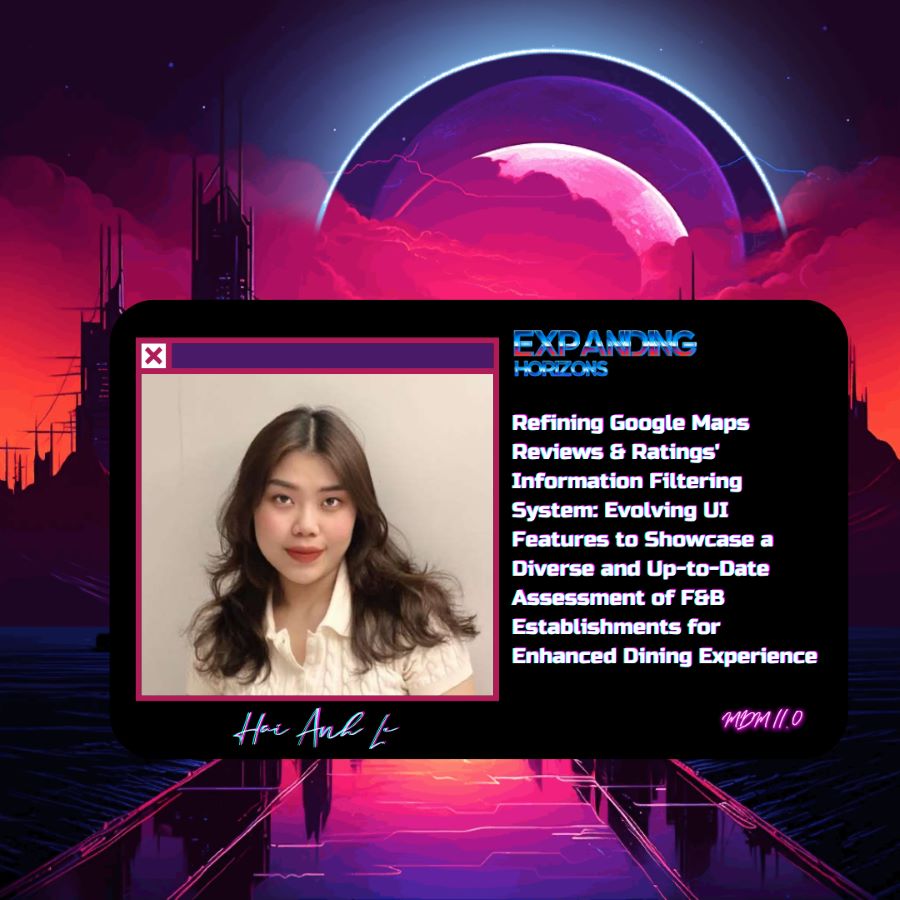 Refining Google Maps Reviews & Ratings' Information Filtering System: Evolving UI features to Showcase a Diverse and Up-to-Date Assessment of F&B Establishments for Enhanced Dining Experience
This research aims to explore the possibility of redesigning UI features of the information filtering system on Google Maps Reviews & Ratings to transform it into a "mini Wikipedia" providing comprehensive and up-to-date assessment of F&B businesses. Inspired by the cutting-edge filtering employed by e-commerce sites, which provide detailed product specifications and user-generated content, the study delves into the influence of the filter function and online food reviews on users' decision making and dining experience, while proposing a prototype of a robust and diversified filtering system for Google Maps.
Creating a Vibro-Tactile Interface for Increased Immersion for Gamers with Visual Disabilities
Using actuators to create a gamepad that returns vibrational feedback, this project aims to create an interactive interface to create deeper immersion and accessibility in games for players with visual disabilities. The project will use computer vision to register on screen moves and enemy attacks and return feedback to the user through vibration stimulus as a haptic form of information. This project draws on concepts from the Body-Braille system, and employs an Xbox Adaptive Controller to allow for future modularity.