You are now in the main content area
Exams: Prepare to deliver your exams

If technical issues arise during an exam delivered in D2L Brightspace, students, instructors, and TAs can access the "D2L Brightspace Exam Help Form" for technical support via help.torontomu.ca/ithelp (opens in new window) under the "General IT Help" section.
Using tools within or integrated with D2L Brightspace, you can administer a variety of assessments. Depending on the needs of your course this could be digital, on paper, or a hybrid approach. On this page you will find a collection of resources to follow along with when designing and setting up your exams.
If you would like support when designing assessments for remote learning, the Centre for Excellence in Learning and Teaching has provided recommendations for adjusting assessment in your course.
Are you planning a different style of exam?
Learn about delivering other types of exams using D2L Brightspace: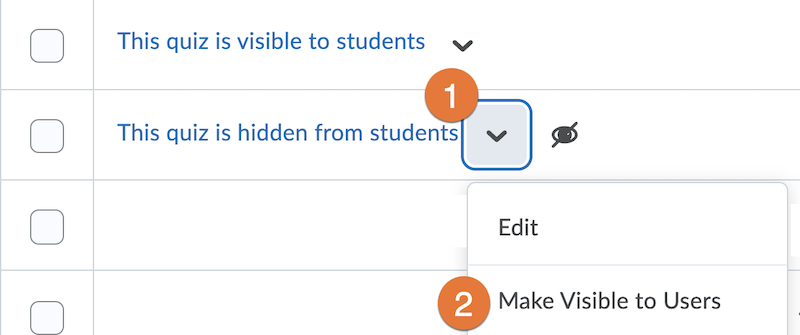 If the students cannot see the exam listed during the exam:
If you set a narrow availability window (i.e. 9:00 - 9:15 for a 3-hour exam), you are likely to receive urgent requests from students who need to be let back into the exam. If students experience any technical issues during the exam that result in a temporary loss of access they will not be able to re-enter after the availability end time. As such, we don't recommend setting a narrow availability window.
Please see the "Are the quiz date and time correct" section below for our recommendations.

If a student has network connectivity issues and attempts to re-enter after the End Date, they will not be able to resume unless an instructor provides them a modified End Date using the Special Access settings.
If you set a narrow window of time between the Start Date and End Date, please establish a preferred method of emergency contact between students and their instructor during the exam (such as a drop-in Zoom meeting).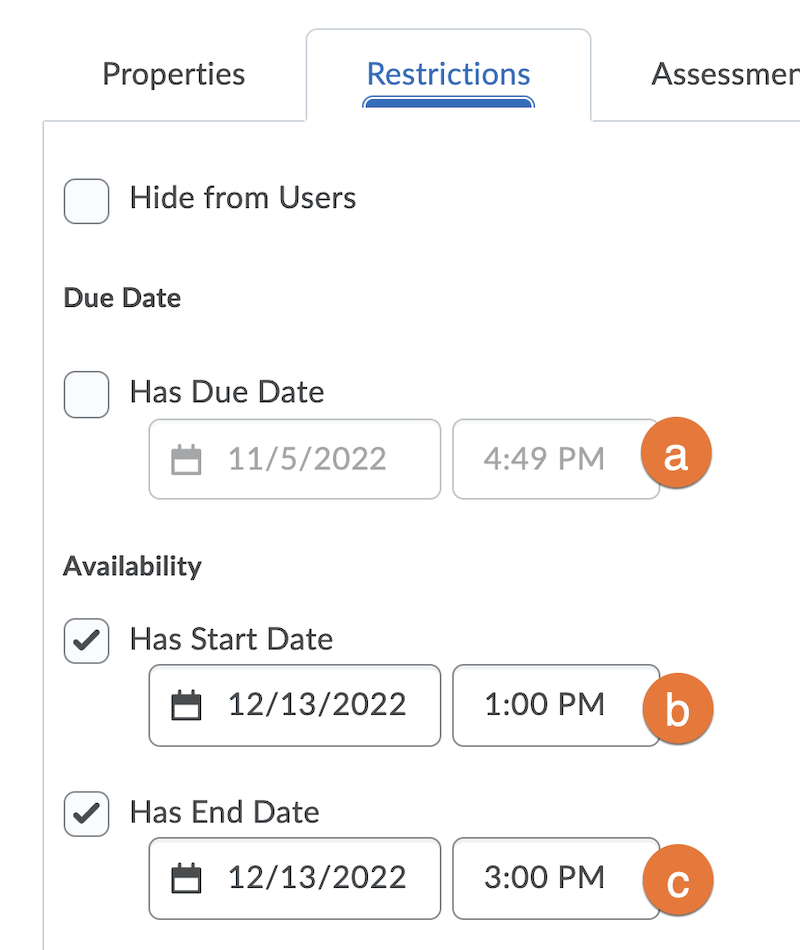 If any of your students have time-based accommodations for their exam, please confirm that their settings match the information you have been provided.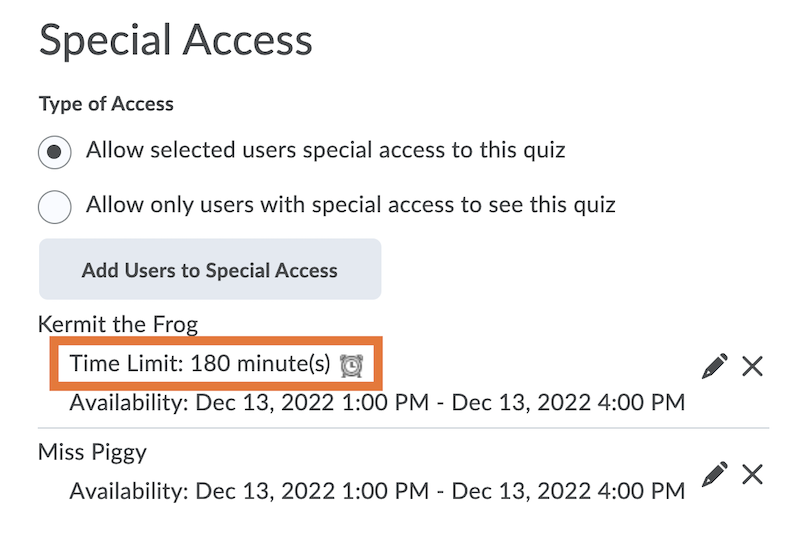 Enabling a password is an optional quiz setting that is primarily used when running synchronous assessments in lab environments.
Setting a password for all students will not provide additional security to your online remote quizzes, as it will still need to be distributed to them.
Other methods of limiting access to Brightspace Quizzes
If you are running your exam remotely, a password may not be the best manner of restricting access. Please consider using one of the options below instead:
Supporting your students during an online exam

As most exam-related issues must be resolved by the faculty member, contract lecturer or TA, the Brightspace Instructor Support team will work with you after contact to troubleshoot the issue and advise on next steps.
Please be sure you are monitoring your university email inbox regularly during the exam time.
Some instructors (depending on class size) have found it helpful to set up an optional drop-in Zoom meeting that runs throughout the exam. Students who have concerns or questions about the exam in progress can join to ask their instructor or TAs for non-technical support.
A practice test ensures that your actual exam runs smoothly!
Have students take an ungraded practice quiz that requires the same tools and settings before taking a graded exam.
Provide unlimited attempts or submissions
Make the window of availability the duration of the course
Remind students of the practice, and ask them to report any unexpected issues to you