You are now in the main content area
Assignments

Overview
The Assignments tool in D2L Brightspace allows you to set up a place for students to submit their assignments digitally, with the ability to:
Control the window for submission.
Facilitate individual submissions or group submissions (provided the groups have been set up using the Groups tool first).
Collect and assess submissions (with a connection to the Grades tool, if needed).
Assess offline assignments, such as hard copies of essays, or in-class presentations.
Enable plagiarism detection through Turnitin®.
Two main types of assignments:
Individual assignment folders allow each student to submit to the assignment, and receive their own assessment and grade.
Group submission folders allow each group to have one member submit the assignment, and all group members would receive the same assessment and grade (both in the assignment and any connected grade items)
Note that you must select the type of assignment when you first create it, and you will not be able to change it after the fact.
Assignments can be found in the top navigation, under Assessment. If it isn't there, review how to enable course tools.
Turnitin for Assignments
Some assignments require plagiarism detection using Turnitin This feature can be added to any D2L Brightspace assignment through the options in the Evaluation and Feedback panel. Since this process requires some special consideration, please review our instructions on how to Enable Turnitin for assignments.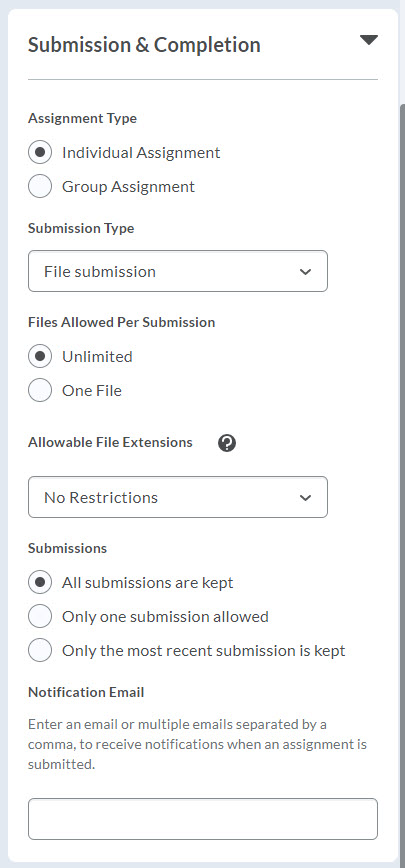 Files Allowed Per Submission:
You can decide whether students can only upload one file, or unlimited files. We recommend unlimited, in case an assignment requires multiple files/formats, and also if students notice a problem with their submission before the due date, they can upload again without the need to email you.
Allowable File Extensions:
This is a way to control the file types that you allow students to upload. This can help ensure that you receive assignments in the correct format, and that students do not try to upload dangerous files. When file type restrictions are used on an assignment, the list of allowable file types are listed on the Submit Assignment dialogue page.
No Restrictions - students can upload any file type. If the file cannot be viewed in the document viewer, you will need to download and open using a program on your computer.
PDF Only
Annotatable Files - includes all file types that are supported by the Document Viewer and the Annotation tool in Assignments. For the complete list of file types, see File types supported by Annotations

(external link)

on the D2L Community website.
Files that can be previewed without conversion - such as .HTM, .HTML, .MHT, .MHTML, and .BMP
Images and Videos
Custom File Types - Enter one or more allowable file extensions separated by a comma.
Submissions:
You can decide if all submissions are kept (recommended), only the most recent submission is kept, or only one submission is allowed. We usually recommend keeping all submissions. If there's a problem with the last submission, you can refer to previous submissions.
Notification email:
If you wish to receive an email notification each time a student uploads an assignment, type your email address into the Notification Email field.
Multiple email addresses can be comma-separated, if desired.
*Most instructors do not want this, as it could result in a lot of emails in your inbox.
Save Now!
Click Save to save your settings so far, and then proceed to the Evaluation and Feedback settings (if needed).
OR
Click Save and Close if you are done setting up your assignment.
Related video tutorials and webinars 
Find all of our D2L Brightspace video tutorials and webinars on our Brightspace Stream Page