You are now in the main content area
Assignments: View and evaluate assignment submissions

There are a number of different options for reviewing and evaluating student assignment submissions, as well as options for publishing grades and feedback.
We recommend reviewing these options when creating your assignments, so you can have these strategies in mind. Some of the settings are best completed before the grading has begun.
Assignments can be found in the top navigation, under Assessment. If it isn't there, review how to enable course tools.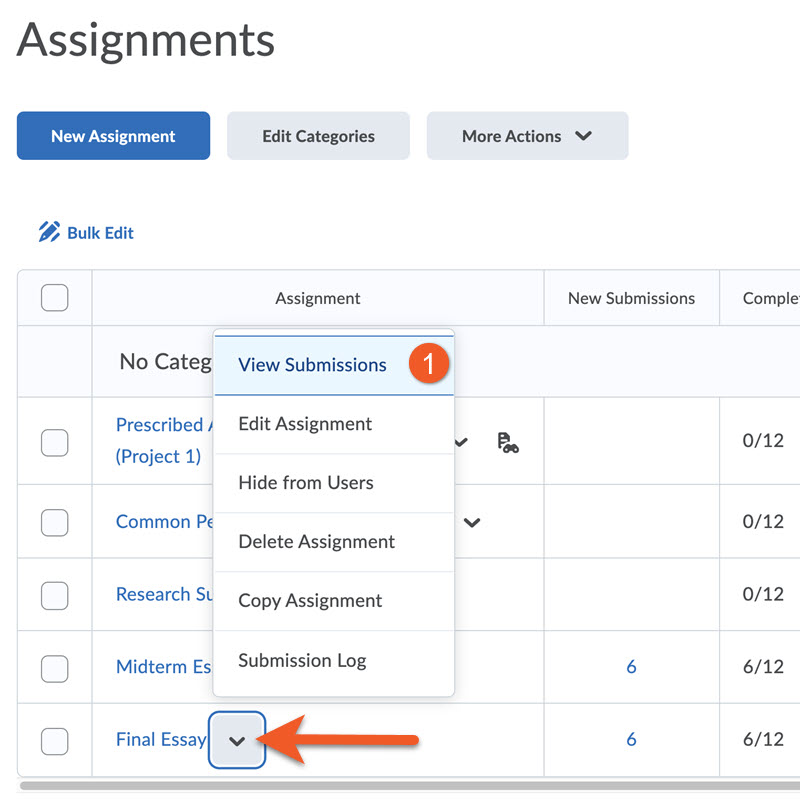 On the Assignment Submission Folders page, click on the folder you want to view submissions for, or click View Submissions.
By default, you should see the full list of students below. If they have submissions, you will see the submission name below the student's name.

You can use the Users tab or Submissions tab to view and search submissions by user or file name.

You should be able to easily find the student submission you wish to grade in the list below. If you have a large classlist, or have trouble finding a particular student, you can use the search options to find what you're looking for.

If you do not see the search options, click on Show Search Options.

Searching by User enables you to search by first name, last name, submissions, and feedback.

Searching by Submissions enables you to search by file name, submission date, read status, and flagged status.

Filter the results using Show Search Options to access the dropdown menu and checkboxes below. Here, you can choose to display only the users with submissions, only the users without submissions, users with graded submissions that haven't been published yet, and so on.

Click on the magnifying glass icon in the search box, to update the view.


Submissions appear at the bottom of the page.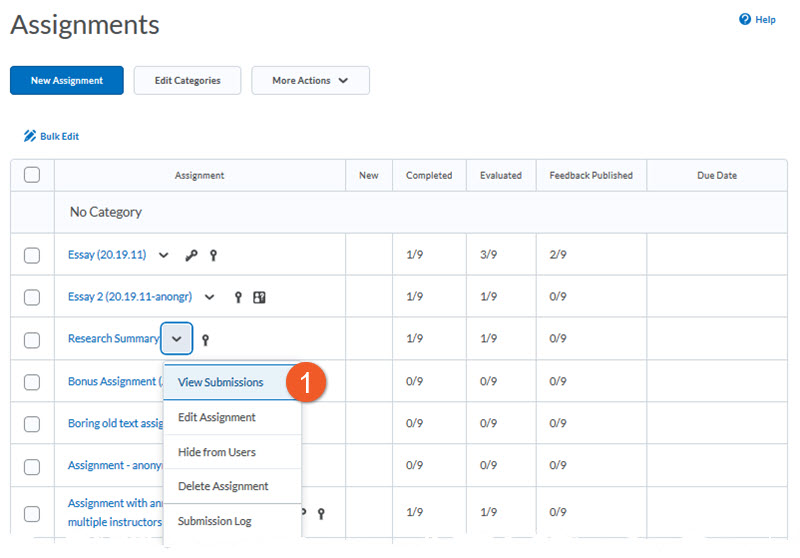 It is easiest to grade student submissions within D2L Brightspace, but if the nature of the assignment or file type makes this difficult, it is possible to download all student submissions to your computer.
Go to the Assignments tool in your course, and click the arrow to the right of the name of the assignment, and select View Submissions.
Using the checkboxes, select the submissions you want to download. By clicking the top checkmark, you can download all submissions on that page. (Note that you can adjust the number of submissions per page).
Click Download.
Download the resulting .zip file by clicking on the name of the file in the dialogue box.
If you have students who have yet to submit an assignment to a submission folder, you can email all those students at once.

From the appropriate assignment folder, click Email Users Without Submissions.
All the users without submission will appear in the BCC field.
Compose your email.
Click Send.