Record amount raised in support of student mental health
February 26, 2020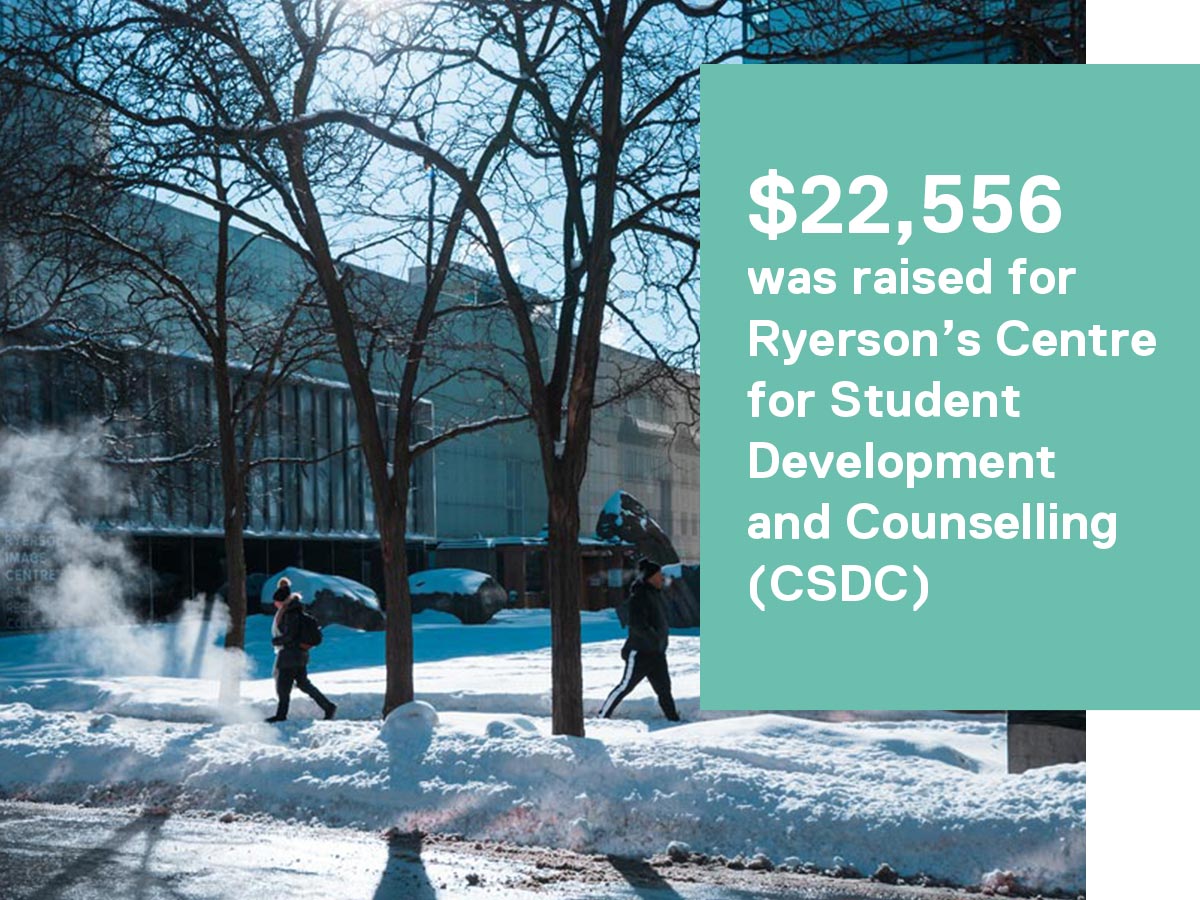 The Toronto Metropolitan University community is a supportive one, but its generosity reached new levels in December when a record $22,556 was raised for Toronto Metropolitan University's Centre for Student Development and Counselling (CSDC) as part of an annual campaign that kicked off on Giving Tuesday.
"It was a significant jump, more than double what was raised last year and the year before," said Kersti Kahar, Toronto Metropolitan University's director of development, annual and leadership giving. "The fact that people were giving, and at such a generous level, indicates to me that people care about student wellness and that it's something they want to support."
The spirit of giving
The campaign far exceeded its $17,000 target thanks to overwhelming support and higher than usual average contributions. "The campaign seemed to strike a nerve — for example, we saw a $1,000 gift from an alumna who'd never made a contribution before," said Kahar. "And, as did many donors, she said the subject really resonated with her and she thought it was an important cause."
Giving Tuesday is an international day of charitable giving and volunteering, timed to counter the mass consumerism of Black Friday and Cyber Monday. Previous campus Giving Tuesday campaigns have raised funds for the Good Food Centre and student nutrition. This year's fundraising initiative involved a strategic digital campaign that included a series of emails to Toronto Metropolitan University alumni, and social media ads.
The funds raised in the campaign will be used to hire a second clinical psychology resident for the CSDC, which will mean 10 additional counselling hours for students every week.
Increasing capacity
"The resident position is equivalent to a half-time counsellor position so it enhances our capacity and creates more counselling opportunities for students," said Andrea Martin, practicum and internship co-ordinator and clinical psychologist. "The funding creates more ongoing therapy resources, reduces our wait times, and a new resident will also bring new ideas and innovative input to contribute to the program."
Allan Macdonald, executive director, student well-being, agrees: "It improves our capacity to provide counselling care for students and it increases our ability to offer more experiential learning opportunities for students here at Toronto Metropolitan University and across the province. To put it bluntly, it adds more seats to the bus of people we can help."
The CSDC offers free confidential counselling services, and proactive preventative programming to all Toronto Metropolitan University students, provided by a team of psychologists, social workers, psychotherapists and counselling interns.
Demands on these services have increased considerably in recent years with more than 2,200 Toronto Metropolitan University students coming to the CSDC for support last year alone.
Addressing demand
"We know there are growing mental health needs across the post-secondary population so this is something we are continually trying to work with," said Martin. "These added resources will help address that increasing need. I'm so moved to see the ways in which student mental health and well-being really resonated and spoke to the larger community."
According to Martin, reduced stigma around seeking counselling and support may account for some of the increased demand for services, along with elevated levels of mental health distress.
"University is a very exciting time in a person's life, but it's not always easy, students face many stressors," said Martin. "The professional counsellors at the centre are trained and prepared to help students with a wide range of presenting concerns and promote greater wellness, so our students can move to not just surviving but thriving during their time here at Toronto Metropolitan University and beyond."
By Deborah Smyth. This story first appeared in Toronto Metropolitan University Today on January 28, 2020.