You are now in the main content area
Book a Collaborative Group Work Room (CGWR)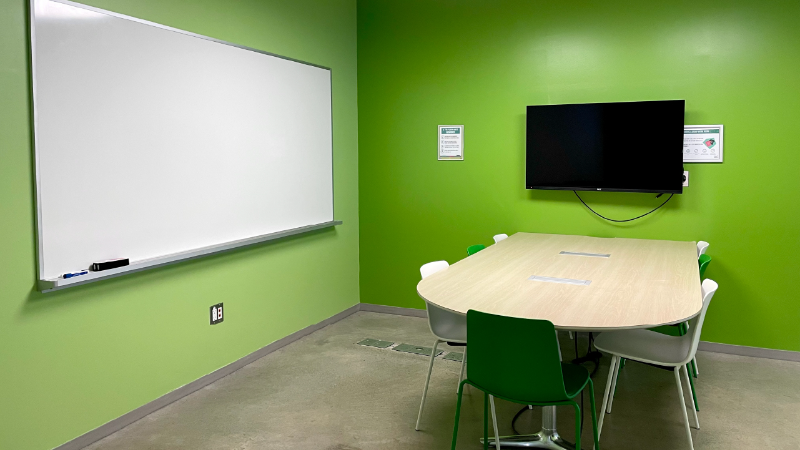 IMPORTANT: Please read the following CGWR guidelines before booking!
Booking Policies:
CGWRs can only be booked by current undergraduate and graduate students enrolled in courses at Toronto Metropolitan University. Staff, faculty, and instructors are NOT eligible to book CGWRs.
CGWRs may be booked for a maximum of 5 hours per day and a maximum of 10 hours per week.
Each booking is limited up to 2 hours. You may book consecutive bookings; however no combination of bookings can exceed a maximum of 5 consecutive hours.
Rooms may be booked up to 2 weeks in advance.
The John A. Honderich Graduate Study Space (7th Floor) is exclusively reserved for Graduate Studies students. Access to this space requires authorized Onecard access.
CGWR Use Policies:
You must claim your CGWR within the first 30 minutes of the booking. If you are more than 30 minutes late, you forfeit your CGWR reservation and your room may be taken by other eligible users.
Students may study in empty CGWRs until someone with a valid booking arrives.
Furniture within each room should be treated with care and NOT be moved outside the rooms. No other furniture (includes lounge seating or hallway furniture) should be added to the rooms.
Each CGWR has a maximum capacity. Please refer to your booking confirmation details as well as the physical signage in front of the CGWR for the specified limit.
CGWRs are a shared resource. Please respect the space and keep them tidy.
Be considerate of people in the other CGWRs and the surrounding area by restraining the noise level in your room. This especially applies to CGWRs located on the 7th floor which is the designated quiet and silent study floor.
CGWRs are for quiet discussion and for study purposes. CGWRs should not be used as a substitute for classrooms and/or as an event space.
*The SLC reserves the right to revoke bookings in violation of the CGWR policy, Toronto Metropolitan University's Student Code of Conduct and/or SLC policies. Any breach may also result in booking privileges being suspended.
Privacy Statement

The booking system collects only the minimum amount of information from users necessary to book a room. This information is stored on a secure site, and will not be used for any other purpose.
CGWRs can only be booked by current students with a valid TMU email account; users may be asked to present a valid OneCard/ID for verification by SLC staff or security.
If you have any questions or accessibility concerns regarding accessing the SLC, please email slchelp@torontomu.ca.