You are now in the main content area
How to Make a Payment to the NSLSC
Payments are typically made to the NSLSC:
An overpayment means that you have been paid more OSAP funding than you are eligible for, and reasons could include program changes, course load changes, and new assets that were previously unreported on your OSAP file.
If you have received an overpayment, it's your responsibility to pay it back directly through your NSLSC portal (external link, opens in new window) .
Overpayments are typically flagged when your OSAP application is reassessed. When an overpayment is identified, the Funding Summary page of your OSAP portal will be updated to reflect the overpayment amount (shown as a negative balance). You will also receive a message through your OSAP Message Centre, which you are encouraged to check at least once a week.
The following are instructions for how payments can be made back to the NSLSC.


Select My Account, then select Make a Payment from the drop-down menu.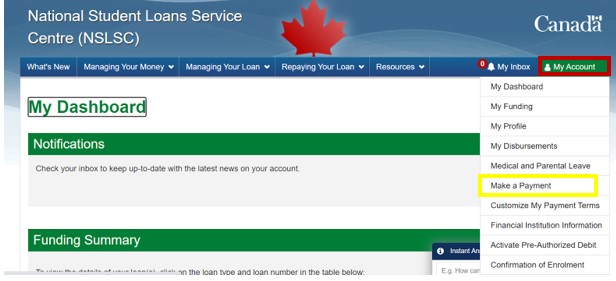 You have two options to make an online payment: One-Time Payment or Online Banking. Steps for both options are outlined below.
Option 1: Make a One-Time Payment
Click the Make a One-Time Payment button

Enter the payment amount for the loan(s) you wish to make a payment on by typing it in the text field under Payment Amount

Review your one-time payment. If everything is correct, click Submit

After submission, your payment will be summarized on the Confirmation page
Option 2: Making Payments Through Online Banking
Select your financial institution

Note: If your financial institution is not listed, contact their respective customer service for additional information

Add the NSLSC as a bill payee. Depending on your financial institution, the payee name may be National Student Loans, or NSLSC
Enter your loan number as the account number. You can find your loan number on your dashboard under the Funding Summary section
Enter the amount you would like to pay. Payments made through your online banking will reflect on your student loan account statement within three to five business days
For more information about making a payment or other questions about repayment, you may contact the NSLSC directly via telephone Monday through Friday from 8 a.m. to 8 p.m. at 1-888-815-4514.