You are now in the main content area
Future Undergraduate Students
Welcome to Toronto Metropolitan University's Faculty of Science, a powerhouse of leading-edge applied research and education located in the heart of Downtown Toronto. Our seven undergraduate programs are a careful blend of scientific theory and hands-on practice, each leading to an Honours Bachelor of Science university degree. You'll have plenty of opportunities to grow your knowledge, connect the dots and learn new skills in an innovative and collaborative scientific community at TMU.
Downtown Campus:

Explore the city, meet new friends and study in the heart of downtown Toronto
Real-World Skills:

Learn by doing with lab work and research partnerships in top GTA hospitals & facilities
Where Can a BSc Degree Take You?
A science degree opens up a wide horizon of possibilities. After graduation, some students immediately enter the workforce in sectors ranging from technology and finance to healthcare, teaching or communications. Whatever your interests, TMU's undergraduate science programs can help you launch an exciting career in STEM. (PDF file) Check out our undergraduate program guide for more possibilities.
Our authentic science approach builds bridges between disciplines to solve some of today's biggest challenges, from preserving clean water to developing smarter disease therapies to measuring financial risk. As one of the few universities with optional co-op streams in each of its science programs, you will learn to take solid theory and apply it to the real world. We push conventional boundaries of science and create solutions with meaningful impact on society. Explore our seven programs across four departments: Computer Science, Mathematics, Physics, and Chemistry & Biology.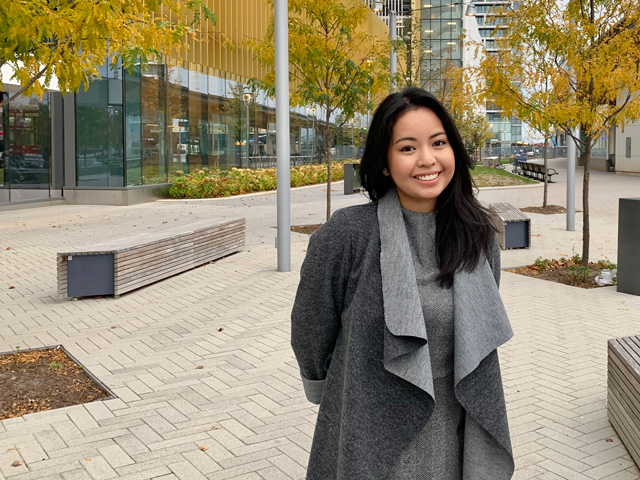 "I love problem solving, finding patterns and thinking up new inventions. I chose [TMU] for its reputable co-op program and downtown campus. The courses teach important concepts and the professors give amazing guidance and support. After graduation, I want to become a software engineer."
Salwa Saeed
Faculty of Science Recruitment & International Engagement Officer
 416-979-5000 Ext. 553248
 Email