Medical Physics Graduate Katelyn Joyce, Wins Ryerson Gold Medal
June 10, 2021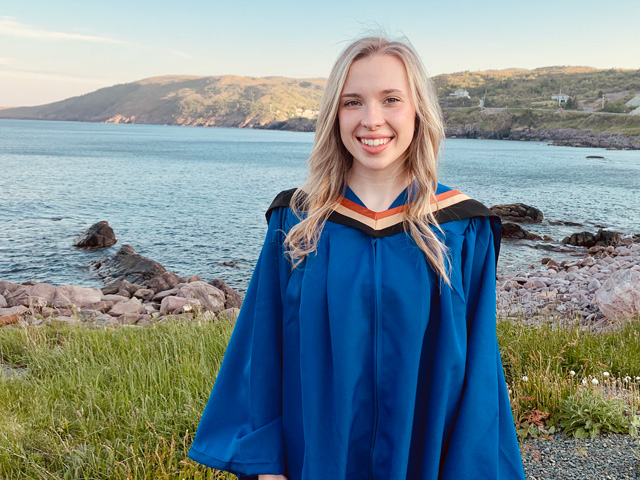 The Department of Physics congratulates 2021 graduate Katelyn Joyce, winner of the 2021 Ryerson Gold Medal award for the Faculty of Science.
The Ryerson University Gold Medal is "the university's highest award, presented to students with outstanding academic achievement combined with extraordinary contributions to the life of the university and/or their professional community and/or the community at large."
This school year, Katelyn graduates with distinction from the BSc (Honours) in Medical Physics program. Her success and talent was also recognised with the Department's Fred N. Hainsworth Award in 2020. Beside her many academic accomplishments, Katelyn was a member of the Ryerson varsity women's soccer team.
"For me, the most fulfilling part about my time at Ryerson was all the incredible connections I made," Katelyn says. "I formed some of my closest friendships with classmates from all over the world, which taught me so much about culture and the value of diversity."

"The most valuable aspect of the Medical Physics program is the incredible faculty and staff. Thanks to them, the student experience is second to none. The research experience I gained during my undergraduate degree is also really valuable. During my time at Ryerson, I worked on a research project at St. Michael's Hospital with Dean Cramb's lab, an NSERC USRA at Memorial University, and I was lucky to work on a fourth-year thesis project that I found really interesting. The project was challenging, and it really pushed me outside my comfort zone with coding," reflects Katelyn on her year at Ryerson.
Dr. Vladislav Toronov, her thesis advisor, recounts "It was my pleasure to have Katelyn working with my group this year, and I thoroughly believe she fully deserves the Ryerson Gold Medal Award. She has been working very hard to develop a method to non-invasively measure cerebral blood flow by diffuse correlation spectroscopy, and her code was successfully tested using both simulated and real data. This project is very important because it can significantly improve the care of more than 40,000 cardiac arrest patients per year in Canada."
Of finishing a degree during the difficulty of a pandemic, Katelyn says "My 4th year certainly went differently than I had pictured, but I'm really fortunate to have spent that time at home in Newfoundland, with my family and friends. I was looking forward to walking across the stage at convocation with my peers and seeing my parents in the crowd, but I am also really looking forward to the opportunity to conduct theoretical research and apply all of the skills that I've gained through the Medical Physics program. I'm attending Memorial University this Fall, where I'm pursuing a Master of Science in Physics."
Katelyn well deserves this prestigious recognition and is joining the list of the Gold Medals awarded to the students in the programs offered by the Department of Physics. In 2019 Niloufar Rostam Shirazi was a recipient and currently continues her studies with the Department's Biomedical Physics M.Sc. program. A Ph.D. graduate, Dr. Eno Hysi, was awarded the 2020 Gold Medal for his graduate research achievements and contributions to the University.