You are now in the main content area
How can we increase student representation from equity groups?
An explicit TMU goal is to substantially increase the number of students from equity groups in programs where they are underrepresented compared with the community representation. It will take sustained intentional action, involving faculty and staff from across the university and also external partners, to address systemic barriers.
Many universities in the United States, and a few in Canada, use a Strategic Enrollment Management (SEM) approach to fulfill the institution's mission and meet student success goals. There is a body of work to support SEM, which plans student engagement from recruitment through graduation, and beyond, building affinity with the institution among alumni.
Strategies, plans and actions require alignment across all aspects of the university, beginning with our mission and priorities and with optimal student recruitment and enrollment for our targeted student composition. Along with a corresponding strategy for retention and graduation rates, and outreach and recruitment, there are numerous other areas to align, such as:
academic advising
alumni relations
career counselling and development
curricular and program development
institutional marketing
quality of campus life and facilities
student fees and financial aid
student life
student services
teaching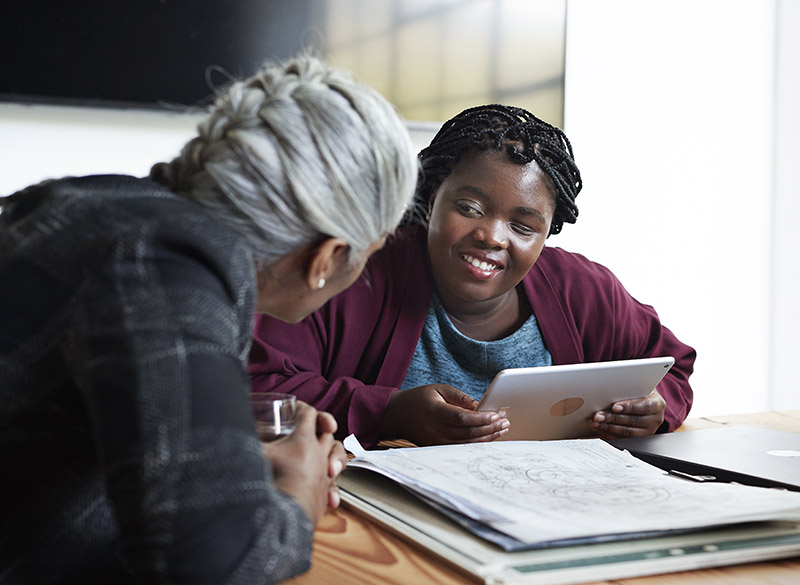 "As a Deaf person, it is important to me that my identity and presence here at Toronto Metropolitan University is recognized, valued and counted."
There are four main types of initiatives that can address barriers and increase student representation from equity groups at TMU: pathways, partnerships, pipelines and programs. Here are some TMU examples of each:
Pathways
Spanning the Gaps creates accessible pathways to some TMU programs for adults and young people who may not otherwise have the opportunity.
Aboriginal admissions processes, such as in Midwifery, create inclusive pathways for Indigenous students.
The Faculty of Law's admissions process (established in 2020) includes interviews with prospective students as an innovation to access.
The Ted Rogers School of Management and Undergraduate Admissions worked together to make Bachelor of Commerce programs more accessible to Indigenous students by eliminating systemic barriers and providing financial aid and student supports throughout their studies.

Partnerships
In partnership with the First Nations Technical Institute, Indigenous students can learn in traditional ways and stay in their communities and jobs while earning a bachelor of social work or bachelor of arts in public administration and governance.

Pipelines
The Faculty of Engineering and Architectural Science's Women in Engineering initiative provides education and outreach to encourage young women to consider a career in engineering.
Undergraduate Women in Science at TMU is a student group dedicated to exploring the challenges and insecurities experienced by undergraduate women and under-represented groups in the Faculty of Science.

Programs
TMU Aboriginal Student Services (RASS) provides a culturally supportive environment to promote academic excellence and serves as a place to balance academic learning with traditional teachings and culture.
Targeted scholarships and awards, such as the Yeates School of Graduate Studies awards for Black students and the Ethel Louise Armstrong Post-Doctoral Fellowship in Disability Studies for women scholars with disabilities, also help to create pathways and opportunities for diverse future scholars.
Teaching Development resources for implementing Universal Design for Learning build TMU's reputation for accessible education. Teaching Development is a resource area within the Centre for Excellence in Learning and Teaching that develops inclusive teaching practices.
Tri-Mentoring is a program that offers mentorship opportunities to students of all identities across all faculties, using students' individual experiences to find their sense of belonging on campus. The "tri" represents peer-to-peer, career, and group mentoring activities.
TMU has innovative initiatives in place that create opportunities for access to a number of programs for students from underrepresented and marginalized communities. Continuing to build on and expand these programs creates an even more vibrant and inclusive campus for all students.
We can also learn and adapt models, such as initiatives to increase access to engineering programs for Indigenous students. With many STEM programs having little or no representation of Indigenous students, TMU should make access a priority.
TMU's 2018 (PDF file) Truth and Reconciliation Community Consultation Summary Report and 2020 Anti-Black Racism Campus Climate Review Report also provide information and recommendations that can inspire action to improve opportunities for Indigenous and Black students.