You are now in the main content area
Inclusion Requires Deliberate Action
Access to education is an important determinant of social mobility and a critical factor in redressing social inequities.
Barriers can begin early on with child poverty or with the types of toys and activities available to very young children. Other barriers in K-12 education have been documented by some school boards, such as disproportionate rates of suspension and expulsion for Black and Indigenous students and students with disabilities.
Equity groups also face roadblocks to post-secondary education, including access to social and economic resources, family histories, societal stereotypes and biases, and other barriers that limit access to university programs.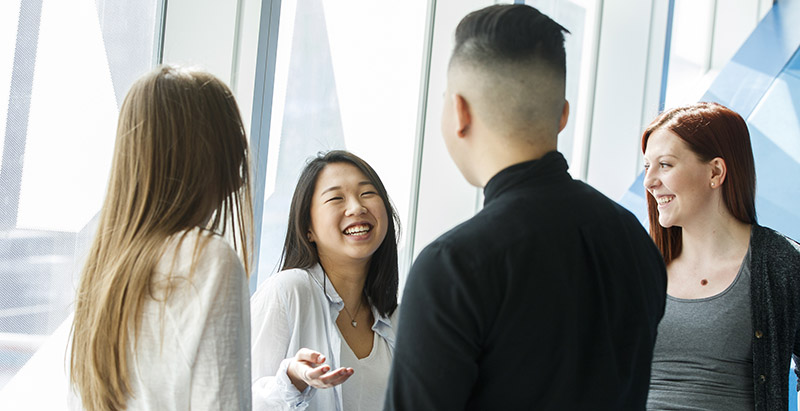 "I'm proud to be a TMU student, but at the same time I know there are obstacles on campus that some students have to face."
Consider the following
Indigenous students may have family histories that include intergenerational trauma due to ongoing colonization and oppression and lack access to education funding. They also may not want to incur debt through student loans and might work to support themselves and their family. If they live with their Nations and communities in order to be closer to family and social service supports, they may not have easy access to larger urban centres.
Black students come from communities with histories of oppression that continue to impact their opportunities today, including slavery, racial segregation, stereotypes and biases affecting educational and employment opportunities, and disproportionate representation in foster care, school suspensions and expulsions, police violence, arrests and incarceration.
Women and persons with disabilities may be influenced away from a career in STEM by societal stereotypes and biases.
2SLGBTQ+ students may live in unstable and/or unsafe conditions and experience bullying in school.
Students with disabilities may not have access to needed supports and accommodations and may be steered toward decisions that limit access to university or specific programs.
These factors and others can prevent prospective, capable and high calibre students from applying to university programs, having the funds to pay tuition and living costs, or having the required courses and GPA to get into a program. Access to education is not about lowering academic standards, it is about the post-secondary sector creating equitable opportunities for students to demonstrate their ability to achieve their potential.
The Student page on our website has a reference list with some of the literature and data on barriers to post secondary education that can impact students from specific equity groups.
Being inclusive requires more than talk. It requires deliberate action. And it involves the entire TMU community in taking that action together, as a collective: senior leaders; deans; faculty members; lecturers; researchers; librarians; counsellors; staff who recruit, serve and support students; and those who work with donors and develop communications and marketing plans and strategies.
It's up to each and every one of us to use the data presented in this report to continue to make progress.