You are now in the main content area
Undergraduate Student Diversity Report Cards
One pattern seen throughout this report is that while the overall data may show fairly high representation for some equity groups in undergraduate and graduate populations, it is not evenly distributed. For example, the representation of women is very low in many programs, including those in STEM. To present the overall data in greater detail, the student diversity report cards illustrate student representation by each undergraduate and graduate program differentiated by grading scores.
How to read the report cards
The report cards grade every program in terms of the representation of each equity group, as well as the three largest racialized groups in the student population: South Asian, Chinese and Black. From those individual grades, an average program diversity score is calculated as a percentage. Then, all of the program diversity scores are averaged to find the Faculty score as a percentage. The programs included are from the 2018-2019 academic year. The data is a snapshot from winter 2019.
More details about the grading system and formula are available in the Appendix.
Report cards by faculty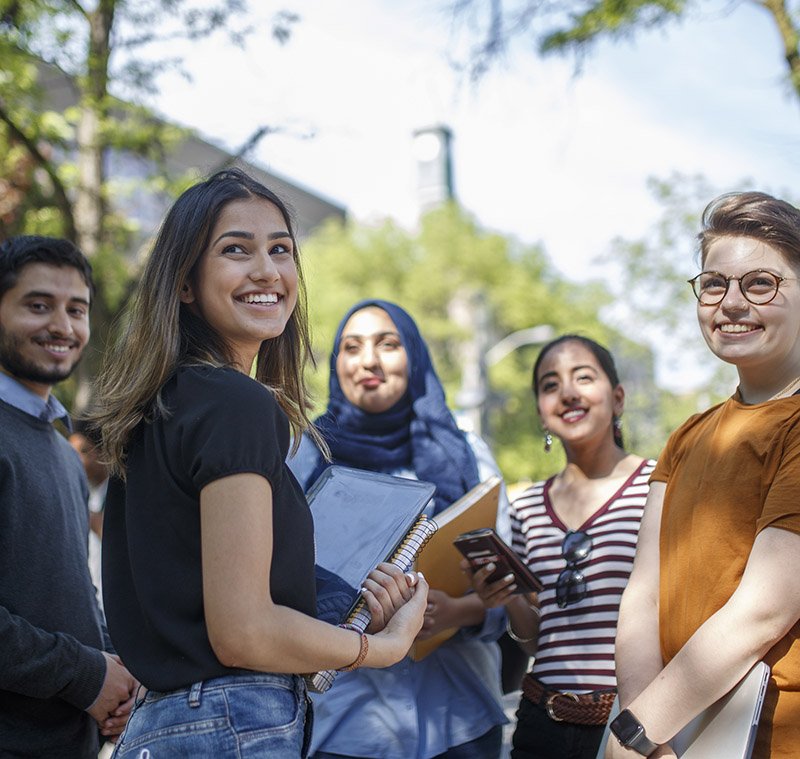 | Program name | Women students | Racialized students | Aboriginal students | Students with disabilities | 2SLGBTQ+ students | South Asian students | Black students | Chinese students | Program Diversity Score |
| --- | --- | --- | --- | --- | --- | --- | --- | --- | --- |
| Faculty of Arts | | | | | | | | | 66.8% |
| Arts & Contemporary Studies | A+ | C | A- | A- | A+ | C- | A+ | D | 72.2% |
| Criminology | A+ | B- | C+ | B- | A | A- | A+ | D- | 71.2% |
| English | A+ | C- | A | B+ | A+ | D+ | A+ | D | 70.2% |
| Environment & Urban Sustainability | A+ | D+ | C- | B- | A+ | C+ | B- | D | 58.7% |
| Geographic Analysis | C+ | C- | D- | C | A | C- | A+ | C | 53.9% |
| History | B+ | D | A | A | A+ | C- | B | D | 64.5% |
| International Economics & Finance | C | B+ | D- | D+ | C- | B+ | A+ | C | 53.9% |
| Language & Intercultural Relations | A+ | B+ | A | A- | A+ | C+ | A+ | D- | 77.9% |
| Philosophy | B | C- | C | A- | A+ | D+ | A+ | D- | 54.8% |
| Politics & Governance | A+ | A+ | A | B | A+ | A | A+ | D- | 83.7% |
| Psychology | A+ | C- | B | B+ | A+ | C | A- | D+ | 59.6% |
| Public Administration & Governance | A+ | B- | A+ | B | A | C- | A+ | D- | 72.2% |
| Sociology | A+ | B | B- | B+ | A+ | B | A+ | D+ | 76.0% |
| Program name | Women students | Racialized students | Aboriginal students | Students with disabilities | 2SLGBTQ+ students | South Asian students | Black students | Chinese students | Program Diversity Score |
| --- | --- | --- | --- | --- | --- | --- | --- | --- | --- |
| Faculty of Communication & Design | | | | | | | | | 62.7% |
| Creative Industries | A+ | D+ | A- | B | A+ | D- | D+ | A- | 64.5% |
| Fashion | A+ | C | C | B- | A+ | D | C+ | A | 59.6% |
| Graphic Communications Management | A+ | B | C+ | C- | A+ | B- | D+ | A+ | 69.3% |
| Image Arts (Film Studies) | A- | D | B | B+ | A+ | D | C- | B | 52.0% |
| Image Arts (Photography Studies) | A+ | D- | B | A- | A+ | D | D | C- | 48.1% |
| Interior Design | A+ | C+ | D+ | C+ | A+ | D | D | A+ | 60.6% |
| Journalism | A+ | C+ | A- | B | A+ | B | A+ | C- | 77.0% |
| Media Production | A+ | C- | B+ | B+ | A+ | D+ | A- | A- | 74.1% |
| New Media | A+ | B- | B- | A- | A+ | D+ | A- | A+ | 77.9% |
| Performance (Acting) | A | D- | A+ | B- | A+ | D- | A+ | C+ | 67.3% |
| Performance (Dance) | A+ | D | A- | C+ | A+ | D- | B- | B- | 62.6% |
| Performance (Production) | A+ | D- | B+ | A- | A+ | D | D | B+ | 62.5% |
| Professional Communication | A+ | D+ | B- | C | A+ | C- | A- | D | 60.6% |
| Sport Media | C | D- | B- | C+ | B- | D- | B- | D- | 41.4% |
| Program name | Women students | Racialized students | Aboriginal students | Students with disabilities | 2SLGBTQ+ students | South Asian students | Black students | Chinese students | Program Diversity Score |
| --- | --- | --- | --- | --- | --- | --- | --- | --- | --- |
| Faculty of Community Services | | | | | | | | | 72.2% |
| Child & Youth Care | A+ | B+ | A- | B+ | A+ | B- | A+ | D+ | 78.9% |
| Disability Studies | A+ | D+ | C | A+ | A+ | C | A+ | D- | 61.5% |
| Early Childhood Studies | A+ | B+ | B | B | C+ | C+ | B- | A | 63.5% |
| Midwifery | A+ | D+ | A+ | A | A+ | C | A+ | D+ | 75.0% |
| Nursing (Collaborative Program) | A+ | A+ | D | C | B+ | B+ | A+ | A+ | 77.9% |
| Nursing (Post-Diploma Degree Completion) | A+ | C+ | C+ | C+ | B | D+ | A+ | D+ | 61.5% |
| Nutrition & Food | A+ | B | B+ | C | B+ | B- | D+ | A+ | 70.2% |
| Occupational & Public Health | A+ | A+ | D | D+ | B | A+ | A+ | B- | 73.1% |
| Social Work | A+ | A | A+ | A+ | A+ | B- | A+ | C- | 86.6% |
| Urban & Regional Planning | A- | C+ | B+ | C+ | A | B- | A | B+ | 74.1% |
| Program name | Women students | Racialized students | Aboriginal students | Students with disabilities | 2SLGBTQ+ students | South Asian students | Black students | Chinese students | Program Diversity Score |
| --- | --- | --- | --- | --- | --- | --- | --- | --- | --- |
| Faculty of Engineering & Architectural Science | | | | | | | | | 54.1% |
| Aerospace Engineering | D | A+ | D | D+ | C+ | A+ | D+ | B- | 52.9% |
| Architectural Science | A+ | A | D- | C- | B+ | C | D- | A+ | 60.6% |
| Biomedical Engineering | A | A+ | D- | D | B- | A+ | B- | D+ | 60.6% |
| Chemical Engineering | B- | A+ | D+ | D- | C- | A+ | A+ | C+ | 62.5% |
| Civil Engineering | D+ | A | D- | D- | D | A | D | C- | 41.4% |
| Computer Engineering | D | A+ | D- | D- | C | A+ | D | A- | 51.0% |
| Electrical Engineering | D- | A+ | D- | D- | D- | A+ | C+ | B+ | 49.1% |
| Industrial Engineering | C+ | A- | D- | B- | D+ | A+ | D+ | C- | 52.0% |
| Mechanical Engineering | D- | A+ | D | D- | D- | A+ | C | C | 45.2% |
| Undeclared (First year studies only) | D+ | A+ | D- | B | C- | A+ | A+ | B | 65.4% |
| Program name | Women students | Racialized students | Aboriginal students | Students with disabilities | 2SLGBTQ+ students | South Asian students | Black students | Chinese students | Program Diversity Score |
| --- | --- | --- | --- | --- | --- | --- | --- | --- | --- |
| Faculty of Science | | | | | | | | | 64.9% |
| Biology | A+ | A+ | B+ | C- | A- | A | B | B- | 77.9% |
| Biomedical Sciences | A+ | A+ | C- | D- | B+ | A+ | B | C- | 67.3% |
| Chemistry | B+ | B | D- | D+ | B | C+ | A+ | A | 63.5% |
| Computer Science | D | A+ | C- | C | A- | A+ | D- | A | 62.6% |
| Financial Mathematics | C- | A+ | D- | D- | C | A+ | A | A | 62.6% |
| Mathematics & its Applications | C- | B- | C+ | C- | B- | B+ | D- | C+ | 50.1% |
| Medical Physics | B+ | A+ | C | B- | B- | A | A+ | B | 70.2% |
| Program name | Women students | Racialized students | Aboriginal students | Students with disabilities | 2SLGBTQ+ students | South Asian students | Black students | Chinese students | Program Diversity Score |
| --- | --- | --- | --- | --- | --- | --- | --- | --- | --- |
| Ted Rogers School of Management | | | | | | | | | 54.8% |
| Accounting & Finance | B | A+ | D+ | D- | D- | A+ | D- | A- | 53.9% |
| Business Management (Accounting) | C+ | A+ | D- | C+ | D+ | A- | A | B- | 61.6% |
| Business Management (Finance) | D- | C- | D- | C- | D | B | D- | D | 29.9% |
| Business Management (Undeclared) | B- | C+ | D+ | C- | D+ | B+ | B+ | C | 51.9% |
| Business Management (Economics & Management) | C | A- | D | D | D- | A+ | C | B | 51.0% |
| Business Management (Entrepreneurship) | B- | C | C+ | C | C+ | C+ | C | C | 51.0% |
| Business Management (Human Resource Management) | A+ | A+ | C- | D | C- | A+ | B | B+ | 68.3% |
| Business Management (Real Estate Management) | C- | C | B- | D+ | D | B | C- | B- | 46.2% |
| Business Management (Global Management Studies) | B | A+ | C- | D | D | A+ | C+ | C+ | 57.7% |
| Business Management (Law & Business) | A+ | A- | D- | D+ | D+ | A+ | C- | C- | 54.8% |
| Business Management (Marketing Management) | A | A- | D+ | D | C | A- | C- | A- | 60.7% |
| Business Technology Management | D+ | A+ | D | D | D- | A+ | B+ | B | 54.8% |
| Heath Services Management* | A+ | C | D- | C- | A- | A- | B+ | C+ | 62.6% |
| Health Information Management | A+ | D | A | D+ | B | D- | C+ | D+ | 51.9% |
| Hospitality & Tourism Management | A+ | B- | C+ | D+ | A- | C | D | A+ | 62.5% |
| Retail Management | A+ | B | B | D | C | B+ | B+ | B+ | 58.7% |
* currently known as Health Administration