You are now in the main content area
Transitioning at TMU
This page is for gender transitioning, transgender and gender non-conforming students looking to update the name appearing on official documents and/or gender identity on their Toronto Metropolitan University student record.
If you are looking to update other information on your student record, please visit the main Student ID and Personal Information page.
Student Records is committed to creating an environment where all individuals are treated with respect and dignity, and supporting all students to reach their academic potential. We know that students are most successful when they feel secure and comfortable at school, and recognize that updating their Toronto Metropolitan University (TMU) student record to reflect their identity is important for many transitioning students.
While transitioning is a highly personal and individual experience, we provide resources so transitioning students know that there are confidential options to make changes to their student record so that it is consistent with their identity.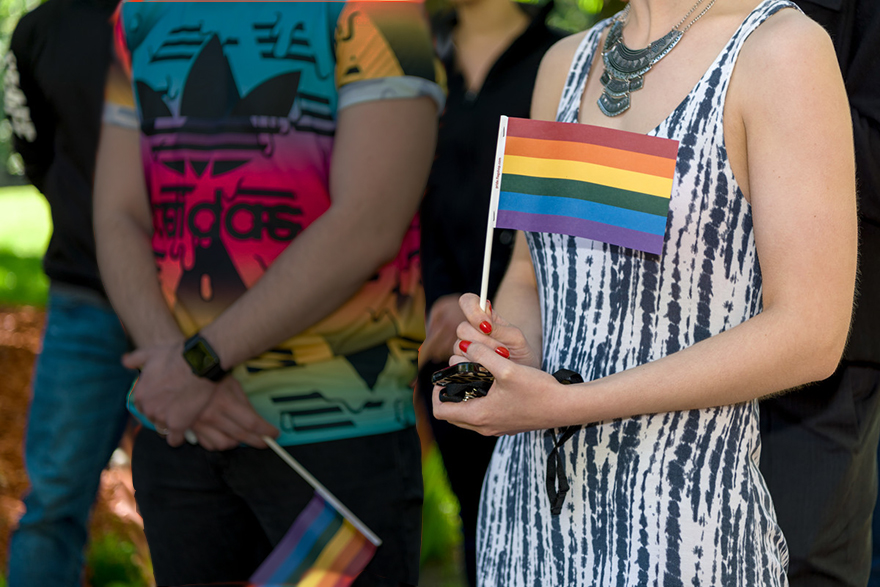 Questions?
Please contact Kate Liss at kate.liss@torontomu.ca.
You are welcome to make an appointment to help you through every step of updating your TMU student record. Any discussions or information disclosed will be kept completely confidential.
 Step 1: Update Your Chosen Name
If you do not want to change the official name on your TMU student record that displays on official documents, there are some options to help make sure you are addressed by the correct name.
Update the Chosen Name on your student record
You can update the chosen/preferred first name on your student record directly in MyServiceHub. For more information, please visit the How to Update a Chosen/Preferred Name page.
Effective fall 2022, changing your chosen/preferred first name will change how your name will appear for internal purposes at TMU, including in the following places:
D2L Brightspace, Google Workspace and Zoom display name
Class rosters and grade rosters
OneCard
For more information about the use of the chosen/preferred name on your student record, please refer to the Student ID and Personal Information page and Senate Policy 172: Student Names.
Change your Gmail display name
You can change the name displayed in your TMU Gmail account (external link) when you send and receive emails.
The official legal name on your TMU student record appears on all official university documents and legal records.
If you want to change the official name that appears on official university documents (including transcripts and graduation awards), the first steps will depend on whether you have made a legal name change.
Legal Name Change
To apply for a legal name change, you will need to contact your home province or country of origin, and follow the appropriate application procedures.
If you are from Ontario, instructions for applying for a legal name change in Ontario can be found on the Service Ontario (external link) website.
 Before you proceed:
It is really important to know that updates to your TMU student record made through the Student Records Statutory Declaration for Change Form will not change the legal name on file with other official organizations outside of TMU. As a result, you may run into some issues with matters like OSAP, RESP providers, tax receipts, potential employers, other universities, Citizenship & Immigration Canada, health insurance providers, and grad school applications. These external organizations will continue to use your legal name and may require further proof that any TMU student records or documents are your legitimate records.
If you are planning on eventually changing your legal name, you may find that it is better to do that first, before changing your TMU student record, in order to avoid these obstacles. Once you have changed your legal name, you can follow the instructions for updating the legal name on your student record on the Student ID and Personal Information page.
If you have not made a legal name change, we are happy to work with you to identify the best option for updating your student record.
To change the official name on your TMU student record without making a legal name change, you will need to complete TMU's Student Records Statutory Declaration Form for Change of Name and have the form signed and sealed by a commissioner of oaths.

You can submit this form as the supporting documentation for your name change.
This form is a method for you to declare your intention to change your name, and for Student Records to officially connect your updated name to your TMU student record.
This form was developed to balance both the need to support transitioning students who have not completed a legal name change, and TMU's obligation to protect the integrity of its student records.

Submit the (google form) Personal Data Change Form (external link, opens in new window) and upload your Statutory Declaration as one of the pieces of supporting documentation. The updated name/information in the Personal Data Change Form must match what is on the Statutory Declaration.

Your updated personal information will be entered exactly as it appears on your form and Statutory Declaration.
It is advisable to check your MyServiceHub account five days after submitting your request to review the updated information for accuracy.
A commissioner of oaths is a person authorized to take your oath or solemn affirmation when you sign an affidavit or statutory declaration.
A notary public is a person authorized to perform legal duties that include certifying documents, witnessing signings, and administering oaths.
The Law and Business Clinic at the Ted Rogers School of Management offers free one-on-one appointments with lawyers through the Summary Advice Legal Clinic
TMU students can also access free legal services through their student union
 Step 3: Update Your OneCard and Next Steps
Once the name on your TMU student record has been updated, you can contact other departments to help you update your school accounts.
Replace your OneCard: To request a new card once the chosen name or legal name on your student record has been updated, you can fill out and print the

(PDF file)

New/Replacement OneCard Form and bring it to the OneCard Office. The normal replacement cost will be reduced to $12.50.
Update your information with Human Resources: Change the personal information on file with Human Resources and update eHR if you also work at TMU (for example as a teaching assistant, graduate assistant, research assistant, work-study student or other student employee).
Verify your OSAP information: If you are receiving OSAP or other government financial aid, the assessment and distribution of your funding requires that your TMU student record matches the information received by the government. Follow up with Bianca Marryshow, Manager, OSAP at bianca.marryshow@torontomu.ca to identify any additional concerns with OSAP or other government aid.
Resources for Gender Transitioning, Transgender and Gender Non-Conforming Students
Student Personal Information Collected for Statistical Purposes
TMU is required to report student-level enrolment-related data to Ontario's Ministry of Colleges and Universities (MCU) as a condition of its receipt of operating grant funding. The Ministry collects this enrolment data, which includes limited personal information such as Ontario Education Numbers, student characteristics and educational outcomes, in order to administer government post-secondary funding, policies and programs, including planning, evaluation, and monitoring activities.
TMU collects all variables required as part of this enrolment reporting, including gender, as part of creating and maintaining your TMU student record. Gender is recorded for statistical purposes only, and is not disclosed on transcripts, graduation awards, or other university documents.
Have we missed anything? If you have any comments or suggestions about this web content, please contact Kate Liss at kate.liss@torontomu.ca.