You are now in the main content area
TMU Safe

TMU Safe is the university's tool for mass notification that will send alerts in urgent situations that pose an immediate safety or security risk to the community.
The system is supplied by an external organization called AppArmor.
In an urgent situation on campus, we want to increase the likelihood that you receive the latest information about what is happening as soon as possible. This way, you can make informed decisions that prioritize your personal safety.
These kinds of systems are becoming common in Canadian colleges and universities, and are part of the university's commitment to proactively plan for rare but possible emergency situations.
While we send messages over email, social media and digital screens on campus, we ask that all community members download the app and opt-in to receive text messages from TMU Safe as these are generally the fastest ways to receive notifications. Alerts sent to the TMU Safe mobile app travel over both the WiFi and the cellular network, and have the potential to reach users faster than other communications channels.
Already downloaded the app but haven't used it in some time? 
If you're an iPhone user, make sure your phone hasn't offloaded the app. If it has, you may need to redownload it.
If you're an android user, make sure you double check that the app has not gone into hibernation mode. To prevent app hibernation from occurring, redownload the app and TMU Safe will prompt you to disable this feature within their app's settings on your phone.
If the app has been offloaded or gone into hibernation mode, you will not receive notifications.
TMU Safe will be used in active and urgent situations that require your immediate attention because they have the potential to:
result in serious harm to people;
cause substantial damage to property; and/or
disrupt the usual activities of the university.
TMU Safe will broadcast information in situations like:
campus closures due to severe weather;
building evacuations because of infrastructure- or security-related issues; and/or
the rare case of an active threat situation and the call to Get out. Hide. Fight.
While TMU Safe will be used primarily for situations happening on campus or in close proximity to a TMU-owned or -occupied buildings, there may be some off-campus incidents in which the system will be used.
In those cases, the executive director of Community Safety and Security will determine on a case-by-case basis if the size and severity of the incident has a likelihood of impacting TMU community, property or operations and warrants the use of the system.
Alerts will be broadcast on six communications channels
While alerts will broadcast to all six channels, the fastest way to get the information you need is through both the TMU Safe mobile app and text messages.
In particular, alerts pushed to the mobile app travel over both WiFi and cellular networks, and have the potential to reach users faster than other communications channels.
Learn more about each channel
Alerts point to one single source of information
When an alert is sent out, the TMU Safe system will generate an accompanying web page that will act as the single source of information. This page will be hosted by AppArmor (the mass notification system supplier) on their servers. Alerts to your device, email, on the website banner and Twitter will point to this page for all the details we have available for you.
The aim is to get you the information you need to make informed decisions, which means you may receive multiple alerts within the span of a few minutes.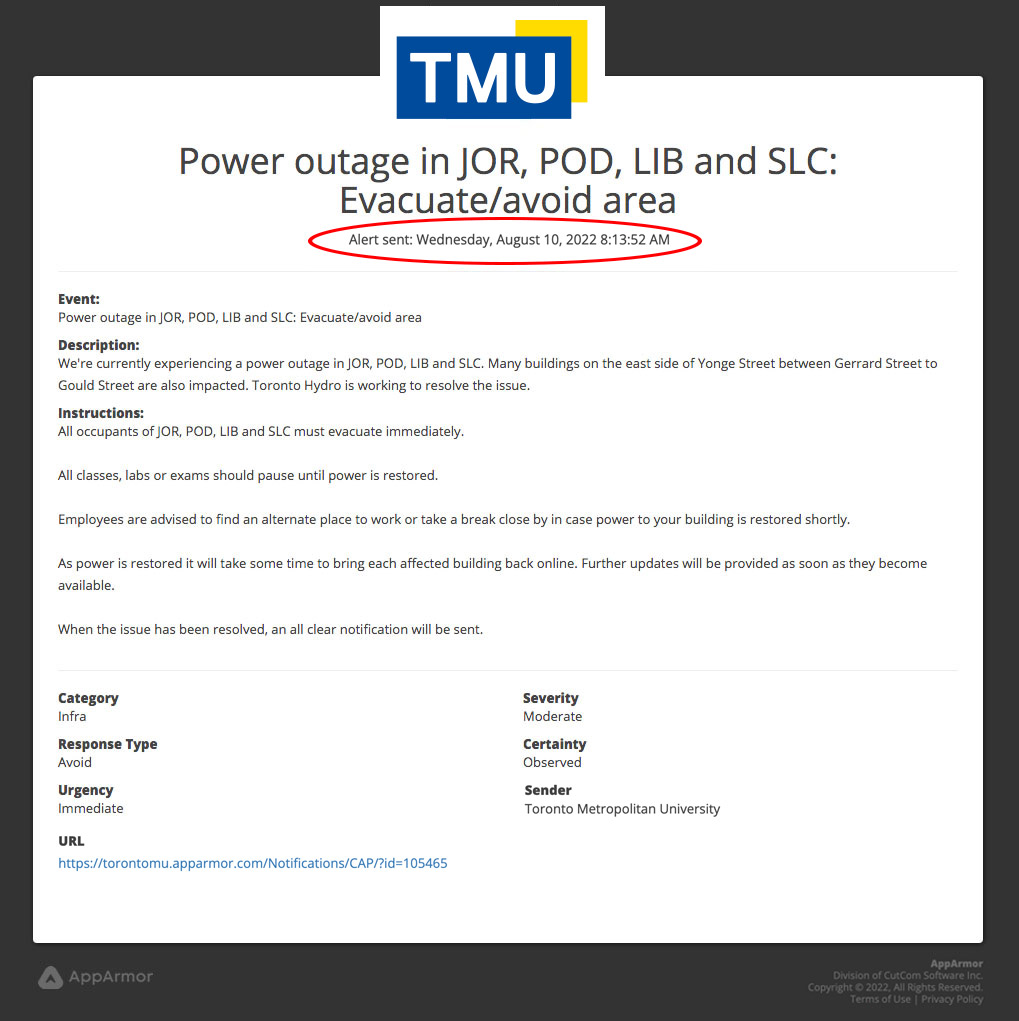 When the issue is resolved, an "all clear" notification will be sent
TMU Safe alerts provide the latest and most up-to-date information. When an issue has been resolved, we will send an alert stating the issue is all clear.
Questions?
If you have technical questions about using the TMU Safe app for COVID-19 health screening or submitting your proof of vaccination, please contact support@apparmor.com. For more information about COVID-19 vaccinations at TMU and related frequently asked questions, visit the Vaccinations page on the COVID-19 website.
For any other questions about TMU Safe, please contact Maryam Paknejad, Community Safety and Security, at maryam.paknejad@torontomu.ca or 416-979-5000, ext. 553076.
For general questions about Community Safety and Security, please email security@torontomu.ca or call 416-979-5040.