You are now in the main content area
Digital Signage
TMU Safe alerts will be displayed on digital signage (TVs on campus) that are connected to the university's digital signage system. Digital signage will only be used in situations of high severity, such as an active threat situation on campus.
Interested in connecting your screen?
If your department has a screen that is connected to the campus signage tool and runs Windows 10, your screen will be taken over when an alert is issued.
If you have a digital screen that is not configured using the campus signage tool, it will not display urgent alerts. If you are interested in connecting to the campus signage system, please complete the (google form) Digital signage on the TMU campus form (external link) . Computing and Communications Services will contact you directly to arrange an assessment.
Preview of an alert on digital signage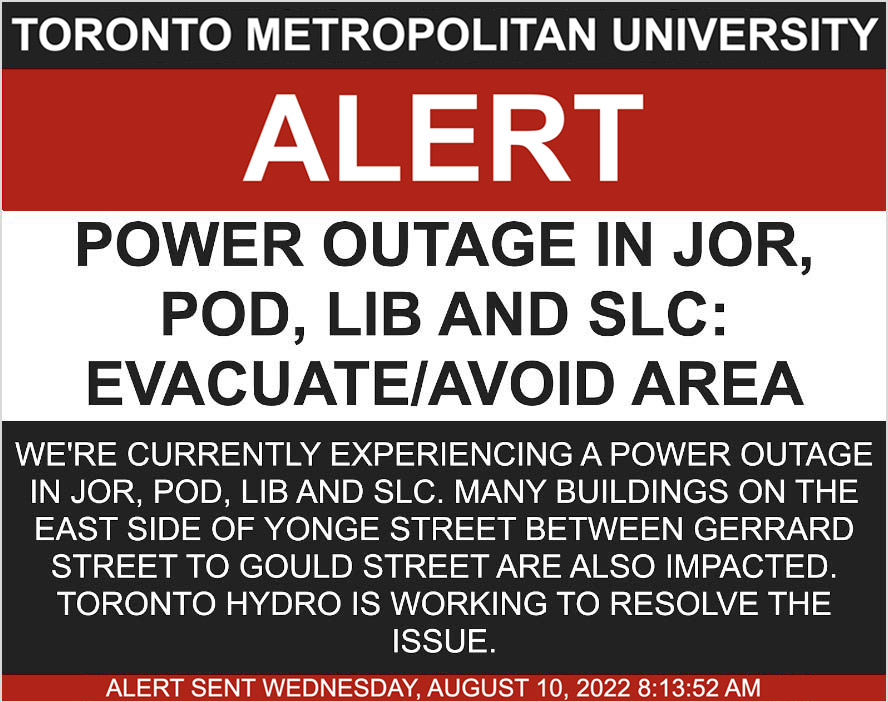 When the issue is resolved, an "all clear" notification will be sent
TMU Safe alerts provide the latest and most up-to-date information. When an issue has been resolved, we will send an alert stating the issue is all clear.
Questions?
If you have technical questions about using the TMU Safe app for COVID-19 health screening or submitting your proof of vaccination, please contact support@apparmor.com. For more information about COVID-19 vaccinations at TMU and related frequently asked questions, visit the Vaccinations page on the COVID-19 website.
For any other questions about TMU Safe, please contact Maryam Paknejad, Community Safety and Security, at maryam.paknejad@torontomu.ca or 416-979-5000, ext. 553076.
For general questions about Community Safety and Security, please email security@torontomu.ca or call 416-979-5040.