You are now in the main content area
Contact
In an emergency, call 911
In an emergency or if you have immediate safety or security concerns, call 911.
TMU Security is available 24/7
External phones: 416-979-5040
Internal phones: 555040
Email: security@ryerson.ca
Location: Victoria Building (VIC), 285 Victoria Street, 1st floor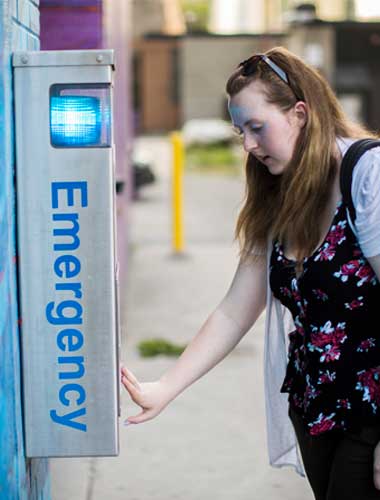 Custodial and maintenance issues can be directed to the Facilities Help Desk during business hours.
Email: fixit@ryerson.ca
Phone: 416-979-5091
Fax: 416-979-5248
Hours: Monday to Friday | 8 a.m. to 10 p.m.
For any after-hours issues, please contact Security and Emergency Services at 416-979-5040 or at security@ryerson.ca.
For all internal and external media requests, please contact Lindsey Craig, communications and media relations specialist:
Email: lindseyc@ryerson.ca
Phone: 416-979-5000, ext. 552126
Get in touch with us
Denise Campbell
Executive Director
Phone: 416-979-5000, ext. 556270
Email: denise1.campbell@ryerson.ca
Max Piorkowski
Manager, Finance and Administration
Phone: 416-979-5000, ext. 553853
Email: max.piorkowski@ryerson.ca
Charles Caria
Administrative Coordinator
Phone: 416-979-5000, ext. 554551
Email: charles.caria@ryerson.ca

Keith Christie
Director, Risk Management and Investigations
Phone: 416-979-5000, ext. 557719
Email: christie@ryerson.ca
Gill D'Agostino
Director, Security and Emergency Services
Email: gill.dagostino@ryerson.ca
Lance Campbell
Manager, Security Operations
Phone: 416-979-5000, ext. 544411
Email: lance.campbell@ryerson.ca
Loudanski Gumbs
Manager, Security Systems
Phone: 416-979-5000, ext. 557324
Email: lgumbs@ryerson.ca
Mike Hollands
Manager, Crime Prevention and Community Engagement
Phone: 416-979-5000, ext. 552687
Email: mike.hollands@ryerson.ca
Mark Sulmona
Manager, Security Operations
Phone: 416-979-5000, ext. 544778
Email: mark.sulmona@ryerson.ca
Lindsay Canning
Emergency Preparedness Specialist
Phone: 416-979-5000, ext. 553076
Email: lindsay.canning@ryerson.ca
Maryam Paknejad
Emergency Preparedness Specialist
Phone: 416-979-5000, ext 554555
Email: maryam.paknejad@ryerson.ca