You are now in the main content area
Contact
Important notice: On March 18, Ryerson shifted to an essential services model on campus. For more information, please visit ryerson.ca/covid-19.

In an emergency, call 911
In an emergency or if you have immediate safety or security concerns, call 911.
Ryerson Security is available 24/7
External phones: 416-979-5040
Internal phones: 555040
Email: security@ryerson.ca
Location: Victoria Building (VIC), 285 Victoria Street, 1st floor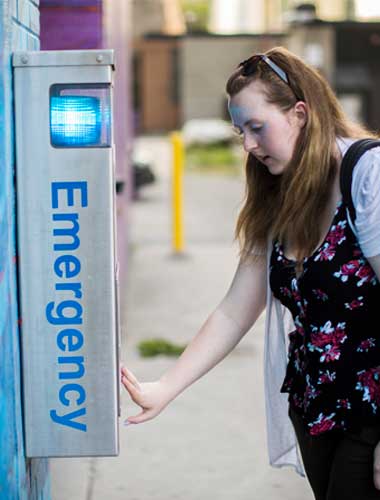 Custodial and maintenance issues can be directed to the Facilities Help Desk during business hours.
Email: fixit@ryerson.ca
Phone: 416-979-5091
Fax: 416-979-5248
Hours: Monday to Friday | 8 a.m. to 10 p.m.
For any after-hours issues, please contact Security and Emergency Services at 416-979-5040 or at security@ryerson.ca.
For all internal and external media requests, please contact Lindsey Craig, communications and media relations specialist:
Email: lindseyc@ryerson.ca
Phone: 416-979-5000, ext. 552126
Get in touch with us
Denise Campbell
Executive Director
Phone: 416-979-5000, ext. 556270
Email: denise1.campbell@ryerson.ca
Max Piorkowski
Manager, Finance and Administration
Phone: 416-979-5000, ext. 553853
Email: max.piorkowski@ryerson.ca
Charles Caria
Administrative Coordinator
Phone: 416-979-5000, ext. 554551
Email: charles.caria@ryerson.ca

Keith Christie
Director, Risk Management and Investigations
Phone: 416-979-5000, ext. 557719
Email: christie@ryerson.ca
Gill D'Agostino
Director, Security and Emergency Services
Email: gill.dagostino@ryerson.ca
Lance Campbell
Manager, Security Operations
Phone: 416-979-5000, ext. 544411
Email: lance.campbell@ryerson.ca
Loudanski Gumbs
Manager, Security Systems
Phone: 416-979-5000, ext. 557324
Email: lgumbs@ryerson.ca
Mike Hollands
Manager, Crime Prevention and Community Engagement
Phone: 416-979-5000, ext. 552687
Email: mike.hollands@ryerson.ca
Mark Sulmona
Manager, Security Operations
Phone: 416-979-5000, ext. 544778
Email: mark.sulmona@ryerson.ca
Lindsay Canning
Emergency Preparedness Specialist
Phone: 416-979-5000, ext. 553076
Email: lindsay.canning@ryerson.ca
Maryam Paknejad
Emergency Preparedness Specialist
Phone: 416-979-5000, ext 554555
Email: maryam.paknejad@ryerson.ca