You are now in the main content area
Your Bias Becomes Everyone's Problem: Addressing Transmisogyny In the Movement to End Gender-Based Violence 
Date

March 10, 2022

Time

3:00 PM EST - 4:00 PM EST

Location

Virtual

Open To

General Public

Contact

ccfevents@ryerson.ca
Join us as we bring together the voices and insights of Trans women working in the Gender-Based Violence sector across Canada. Together they will engage in a dialogue about complicity, accountability and the need for change in the gender-based violence movement on the issue of transmisogyny. The panel includes Kelendria Nation, Kimberely Nixon, Rosalyn Forrester, Tatiana Ferguson, Kimberly Nixon. Hosted by Jiaqing Wilson Yang. Closed captioning and note-taking are available.
This event is open to the public: we especially invite those working in the gender-based violence sector and those who are interested and invested in influencing change in the movement. This is affirming event, one that's built on action for change.
Inaugural "Your Bias Become Everyone's Problems" event, where, each year, we will explore critical issues faced by the gender-based violence movement held by Consent Comes First and Simon Fraser University Sexual Violence Support and Prevention Office.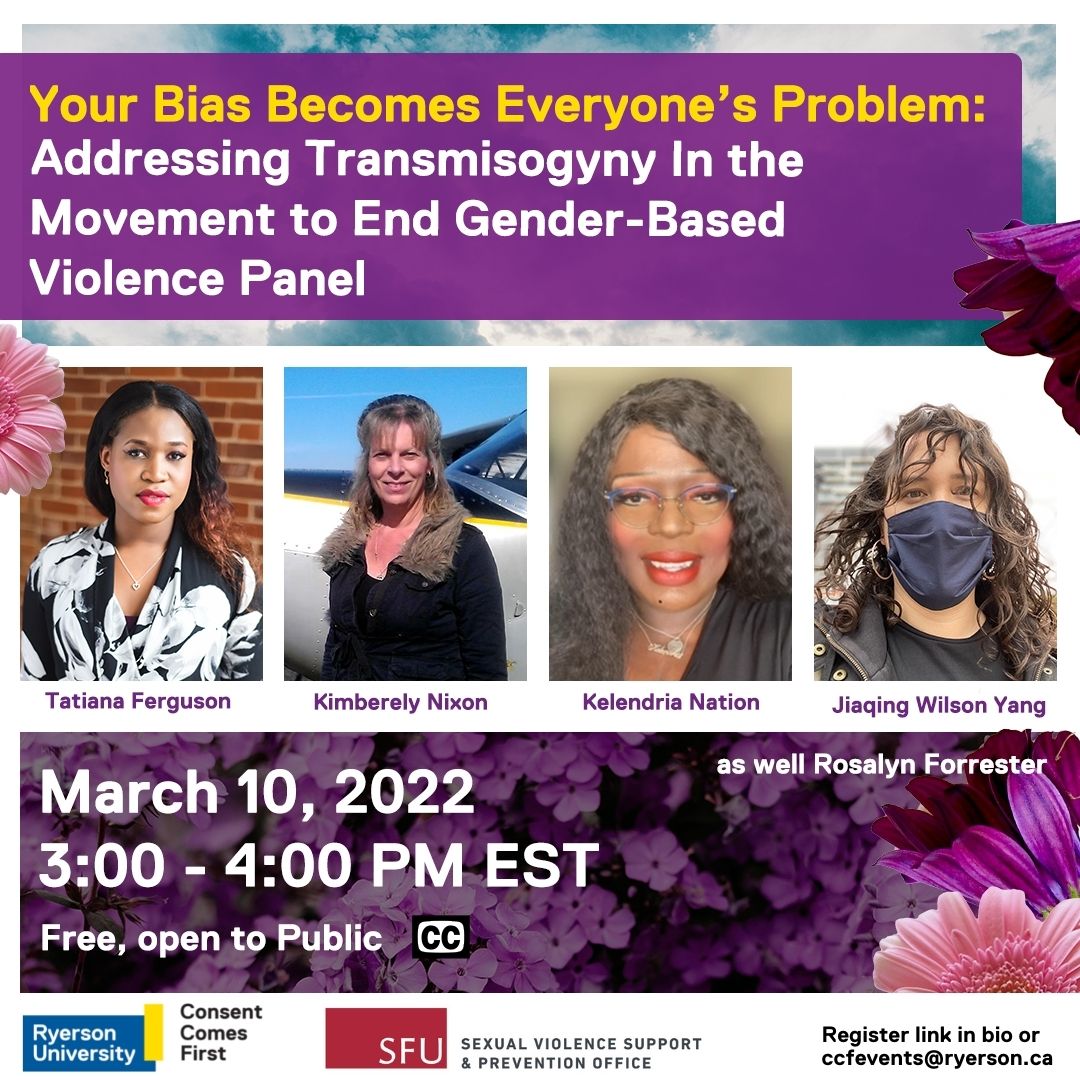 Speaker Bios
Kelendria Nation is a Black woman of Trans experience of Caribbean descent who uses her perspective and unique experience to bring awareness to the various issues surrounding trans people; especially trans women of colour. She has dedicated herself to using her voice to impact change and bridge understanding across all communities. She provides advocacy, resolutions and transitions for Trans identified people. Through her work in community space through advocacy, she strives to allow folks to see that Trans, Non-binary, and 2spirit identified folks because of their multiple intersections are oftentimes left out in conversations. With collaboration and standing in solidarity with other community members, she has been given the tools of being able to communicate her experience which has allowed her to tell her own story in her own voice. It is her hope that in time there will be more opportunities to empower other BIMPOC identified folks in the same which she has been. She currently has her own consulting business " Kelendria Nation Consulting" where she works on prioritizing Transgender health and inclusion in various settings including within the health care system, non-profit organizations and other allied organizations working towards Transgender, gender diverse and two-spirit inclusion within their organization.
Kimberly Nixon Lives in Vancouver and is a white privileged transgender woman who has identified as female all her life! Pronouns she/her! Kimberly has worked as a Commercial Pilot for Air Canada/Jazz also was a Corporate Pilot and flew many years in the North serving many northern communities doing Medivac and has flown spanning 47 years! She has also worked for 24 years as a Carpenter! She and her partner have restored over 63 major historic landmarks around the lower mainland!
Kimberly also trained and worked with BWSS, WAVAW and Peggy's Place with the Kettle Friendship Society all of which provide support services for women who are escaping gender-based violence! Kimberly was at the centre of a 15-year long Human Rights Case against Vancouver Rape Relief (1995-2010) that set an International precedent and changed over 400 points of law for the rights of trans people! The case was the catalyst for the human rights code being amended to include Gender Identity and Expression as protected grounds under the code both Provincially and Federally. As a result of this case over 90% of women's organizations are now inclusive of trans women across Canada! Kimberly pioneered the inclusion of trans women in gendered space fighting against transphobia and transmisogyny all along the way!
Tatiana Ferguson: is a leader in Equity and Inclusion and Co-founder of the Black Queer Youth Collective; a grassroots group dedicated to providing opportunities and support to Black Queer and Trans individuals in Toronto and the Greater Toronto Area. In her private practice, Tatiana coordinates and facilitates capacity-building activities for organizational and systemic change. Her work is informed by an anti-oppression framework with critical consideration to how intersections of Race, Gender and Class interplay to create barriers for marginalized communities. Currently, she is leading a project in the Queer and Trans Research Lab that seeks to examine the key motivators for African, Caribbean and Black Transwomen in Canada when dating and in relationships. She also provides management and administrative support to the Black Queer Youth Collective and serves as a co-investigator on Trans PULSE Canada. In addition to her research and community work, Tatiana is an active member of the Network for the Advancement of Black Communities (NABC) and the City of Toronto's Black Resilience Cluster.
Rosalyn Forrester walks with several identities, she is a woman of colour who was born with transexualism, a single mom of two beautiful daughters, a woman living with chronic pain, a woman loving women femme, an activist, a Pagan, an educator, a caregiver. Presently Rosalyn works at Embrave a VAW agency in Mississauga, as well as at East Mississauga Community Health Centre working with the Greater Trans Communities. She has organized a number of events for trans communities and spoken across Canada. Rosalyn has also been forced to become well versed in Human Rights Law and Family Law as it pertains to people from within the Greater Trans Communities.
Jiaqing Wilson-Yang is a trans Chinese/Irish setter living in Tkaronto, in the Dish With One Spoon Territory. She works at X University at Consent Comes First, the Office of Sexual Violence Support and Education as a Sexual Violence Specialist. She has been supporting survivors of gender-based violence for 10 years.