You are now in the main content area
Nursing - BScN (4-Year Collaborative Program: TMU, Centennial, George Brown)

Is it for you?
Nurses provide care to diverse patients, families and communities along the continuum of health promotion and acute care. This collaborative nursing degree program provides entry options through Toronto Metropolitan University (TMU), Centennial College or George Brown College to ultimately earn a BScN from TMU. This program, offered across all three sites, provides diverse clinical placements, simulation, group study and interactive teaching strategies. After graduation, you may write the National Council Licensure Examination (NCLEX), apply for registration with the College of Nurses of Ontario and pursue nursing positions in a variety of healthcare settings.
 Approved by:
Approved by the College of Nurses of Ontario and Accredited by the Canadian Association of Schools of Nursing

Program info
Faculty:
Faculty of Community Services
Program format(s):
Full time: 4 Year
Degree:
Bachelor of Science in Nursing
Grade range:
TMU: Low 90s1
Centennial: Low 80s
George Brown: High 80s
Requirements:
Grades-Only
Experiential learning:
Mandatory clinical placements

Academic requirements
Ontario Secondary School Diploma (OSSD) or equivalent (see Important Notes below) with a minimum six Grade 12 U/M courses including the following program specific requirements.
Typically, a minimum overall average of 70% establishes eligibility for admission consideration; subject to competition individual programs may require higher averages:

English/anglais (ENG4U/EAE4U preferred)
Chemistry (SCH4U)
Biology (SBI4U)
Grade 11 U or M or Grade 12 U mathematics (one of MCF3M, MCR3U, MCV4U, MDM4U, MHF4U)

The minimum grade required in each of the subject prerequisites (normally in the 70-75% range) will be determined subject to competition.
Important notes:

Applicants who have been absent from full-time formal education for a period of ten years or longer may be required to repeat prerequisite subjects to ensure currency of knowledge and preparedness for the program.
Applicants with prior university or college study must present a minimum CGPA of 2.33 (C+) and be considered 'In Good Standing' with no failures in core prerequisite subjects in order to be considered. Higher CGPA's/averages may be required subject to competition.
Only applications to the first year of the Nursing program will be considered, and consideration is limited to applicants without prior post-secondary studies in Nursing. Advanced standing for students with prior Nursing studies cannot be considered. In addition, RPN diploma holders ineligible for Bridging-to-University programs and applicants who have completed a nursing degree will not be considered for admission.

CASPER (online, open-response situational judgment test) is not required.
Academic admission requirements for all other applicants are available at: Admission Requirements.
Tuition and fees 2023-2024
For detailed fees information, visit tuition and fees by program.
Full-time format:
Ontario fees range: $7,280 - $7,753
Out-of-province fees range: $7,996 - $8,661
International fees range: $33,423 - $34,665
First-year courses
Here is a preview of first-year courses based on the available undergraduate calendar information.
Your future
Write the National Council Licensure Examination (NCLEX), apply for registration with the College of Nurses of Ontario to become a Registered Nurse, and have access to dynamic career opportunities in:
Acute, chronic or long-term care hospitals and institutions
Clinics and community health organizations
Public health
Education
Research
Occupational health
Harm reduction
Patient education
Mental health
Nursing administration, management and leadership
Graduate studies in nursing from TMU or other universities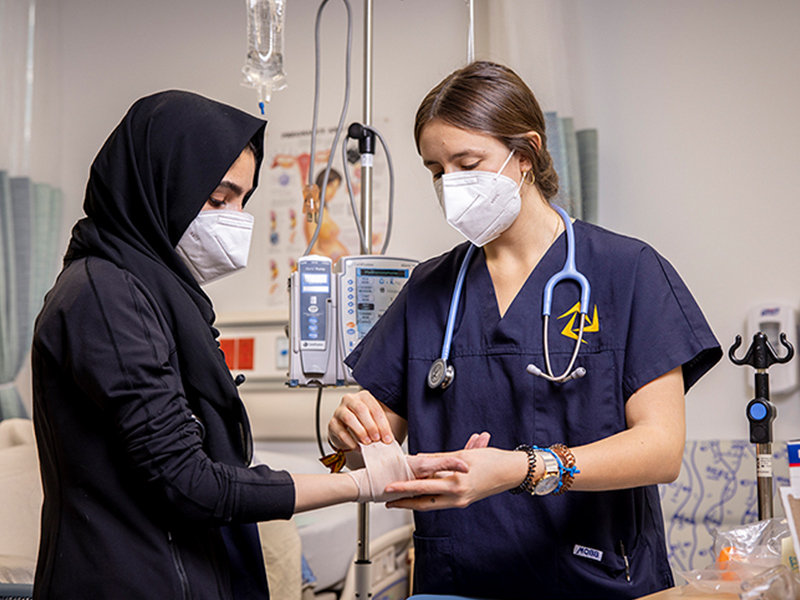 Virtual tour
Explore Toronto Metropolitan University's unique urban campus in the heart of downtown Toronto from the comfort of your own home!


Notes:
Actual minimum grade ranges required for fall 2024 admission/wait list consideration will be determined based on grades and qualifications presented by the applicant pool as they become available. Required grade ranges may fluctuate from year to year (up or down) as a result of competition. Applicants not educated in Ontario may present the equivalent of the Ontario requirements. TMU reserves the right to determine equivalency at its sole discretion.