You are now in the main content area
General Campus Tours
Discover Toronto Metropolitan University, either virtually or in person!
Located in the heart of Toronto, Canada, the fourth largest city in North America. Here, students can connect with leaders in culture, business, health care or government because opportunity lives at our front door. Navigate through our vibrant campus and experience award-winning buildings like our Sheldon and Tracy Levy Student Learning Centre. Learn how we are dedicated to creating a culture of action. What our students learn in the classroom is enhanced by real-world knowledge through internships and co-ops, or amplified through zone learning, specialized minors, and student-driven initiatives.
Our tours are general in nature and focus on undergraduate program content.
Most of our tour is outdoors. We encourage guests to review the local forecast for their tour date and dress appropriately for the weather.
At this time, our tours do not include housing and residence life as a stop on the tour.
 Tour Dates
Monday, January 23 - Friday, April 7, 2023
We currently offer tours, Mondays, Tuesdays, Thursdays, Fridays, and select Saturdays.
How to Book an In-Person Tour
Booking is done through the scheduling platform Calendly.

It is important that each registration is completed for every member of your party joining the tour. The Calendly platform counts each registration and will no longer display an option to register once full. Our tours have a maximum guest capacity of 30 guests. If members of your party have not registered, they may not be accommodated on the tour.
We encourage any future students to use their email addresses to receive important and timely updates from the university after your tour.

Tours often operate at capacity and typically are full two weeks prior to the tour date. Spots may become available if there are cancellations. If you do not see your preferred time for the current month listed below, it is likely full. Tours for the next month are usually updated two weeks prior to the start of the month.
No tours available on the following Saturday dates:
March 11
March 18 (Choose Toronto Met: Open House)
University Closures:
Monday, February 20 - Family Day Holiday
Friday, April 7 - Good Friday

Self-Guided Tours
If you wish to navigate campus on your own, please see the PDF fileself-guided tour.
Self-guided tours have limited access to indoor spaces and operate as an opportunity to understand our campus layout while being able to omit stops you do not wish to visit.
Immerse yourself in panoramic views of our campus guided by our student ambassadors and ask any questions you may have about campus life and the student experience!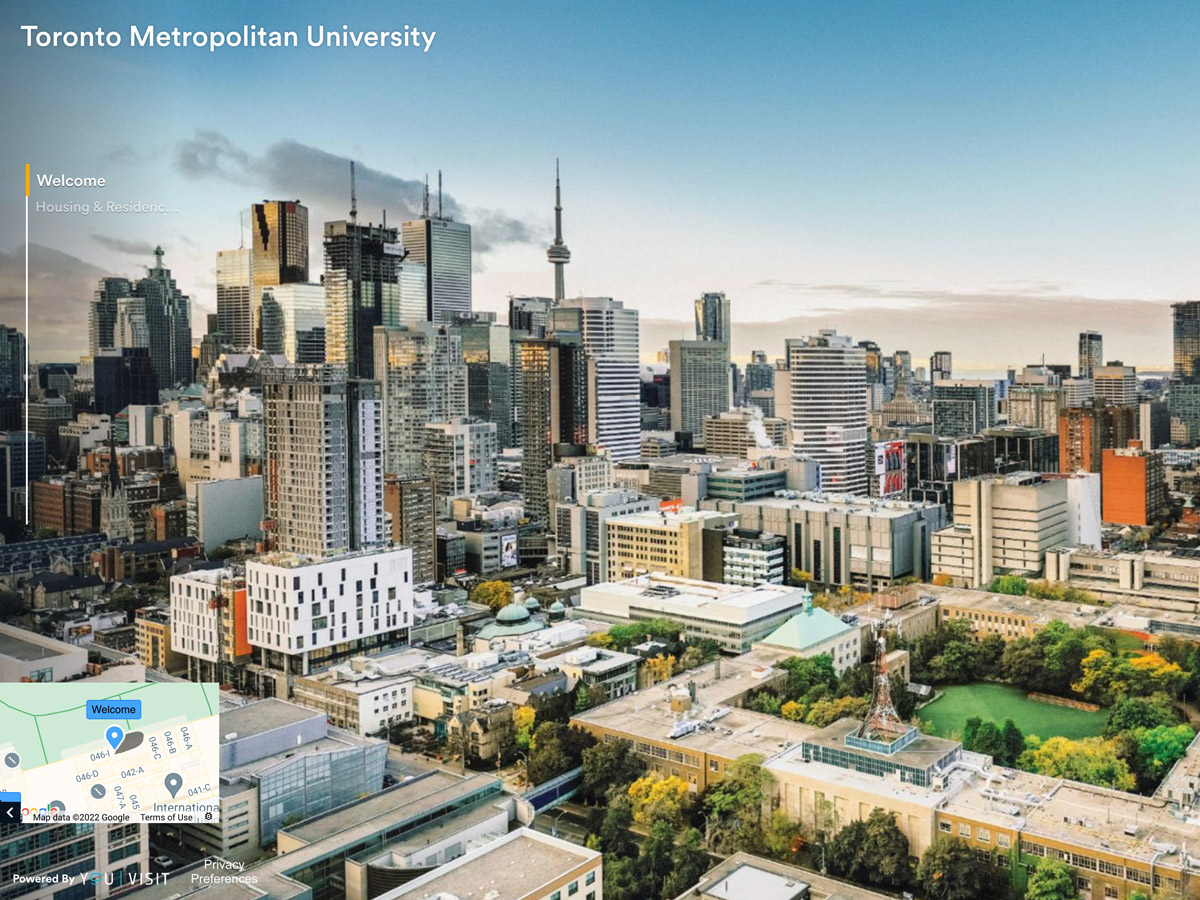 Looking to virtually explore campus any time? Watch the virtual tour and choose the locations and information that matter most to you.
Land Acknowledgement
Toronto is in the 'Dish With One Spoon Territory'. The Dish With One Spoon is a treaty between the Anishinaabe, Mississaugas and Haudenosaunee that bound them to share the territory and protect the land. Subsequent Indigenous Nations and peoples, Europeans and all newcomers have been invited into this treaty in the spirit of peace, friendship and respect.