You are now in the main content area
In April 2022, Ryerson University changed its name to Toronto Metropolitan University, which will be implemented in a phased approach. You will see the Ryerson name across campus, online and in our official communications for a period of time. Learn more about our next chapter.
Tuition and Fees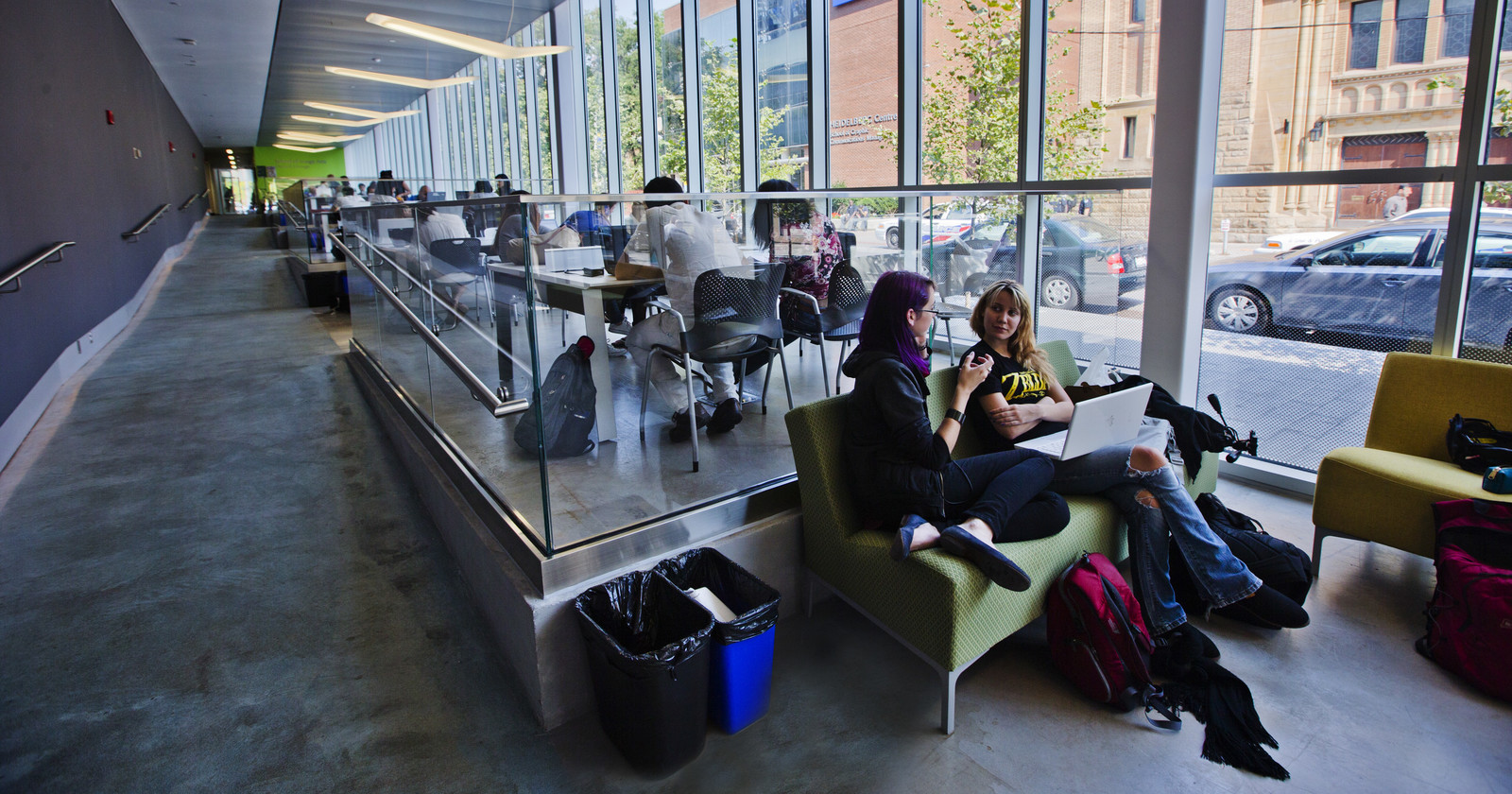 The cost of attending university varies by Canadian citizenship or residency, Ontario residency, by program and whether you live in residence.
Ontario residents who are Canadian citizens or permanent residents can expect fees for full-time programs for the 2022/2023 academic year to range from $7,050 to $11,986.
Please note that under the current Ontario Government Tuition Fee Framework, Canadian citizens or permanent residents who reside outside of Ontario at the time of their admission may be charged a tuition fee that is up to 3% higher in 2021/2022, and up to 5% higher in 2022/2023 than students applying from Ontario in equivalent programs; these effects are cumulative. Students are encouraged to look at their chosen program of study's specific fee for guidance.
Fees for international undergraduate students range from $31,749 to $38,472 in 2022/23.
Fees are due and payable by the start of classes and various payment methods are available.
Fee Ranges Per Faculty for Full-time Undergraduate Programs
Canadian Citizens and Permanent Residents (2022/2023)
| Faculty | Ontario Students Fee Range | Out-of-Province Students Fee Range |
| --- | --- | --- |
| Arts | $7,050 - $7,118 | $7,547 - $7,616 |
| Community Services | $7,095 - $7,587 | $7,601 - $8,133 |
| Engineering and Architectural Science | $10,343 - $11,156 | $11,104 - $11,986 |
| Science | $7,048 - $9,578 | $7,544 - $10,276 |
| Ted Rogers School of Management | $9,185 - $9,627 | $10,056 - $10,311 |
| The Creative School | $7,103 - $7,821 | $7,600 - $8,328 |
International Students (2022/2023)
| | |
| --- | --- |
| Faculty | Fee Range |
| Arts | $31,814 - $31,864 |
| Community Services | $31,749 - $33,068 |
| Engineering and Architectural Science | $36,487 - $38,472 |
| Science | $31,811 - $31,871 |
| Ted Rogers School of Management | $36,453 - $36,710 |
| The Creative School | $31,841 - $32,453 |
English Language Pathway Program Fees
| Program Name | Program Cost |
| --- | --- |
| Pre-ESL Foundation + ESL Foundation Program | The cost of the Pre-ESL Foundation + ESL Foundation Program is $37,499 CDN (2022/2023) for all students (international and domestic). The cost includes eight weeks + two semesters of full-time study and up to three university-level degree credit courses. ESL instruction classes, ESL textbooks, course materials, ancillary fees and health insurance are included; textbooks and course materials for the degree-credit courses, accommodations and meal plans are not included. |
| ESL Foundation Program | The cost of the ESL Foundation Program ranges from $16,900 - $32,900 CDN (2022/2023) for all students (international and domestic). The cost includes one to two semesters of full-time study and up to three university-level degree credit courses. ESL instruction classes, ESL textbooks, course materials, ancillary fees and health insurance are included; textbooks and course materials for the degree-credit courses, accommodations and meal plans are not included. |
| Pre-English Boost + English Boost Program | The cost of the Pre-English Boost + English Boost program is $13,594 CDN (2022/2023) for all students (international and domestic). The cost includes one semester of full-time study. ESL instruction classes, ESL textbooks,course materials, ancillary fees and Emergency healthcare coverage through PDF fileguard.me Canada and Mental Wellness Student Support Program through keep.meSAFE are included. |
| English Boost | The cost of the English Boost program is $8,995 CDN (2022/2023) for all students (international and domestic). The cost includes eight weeks of full-time study. ESL instruction classes, ESL textbooks, course materials, ancillary fees and Emergency healthcare coverage through PDF fileguard.me Canada and Mental Wellness Student Support Program through keep.meSAFE are included. |
Costs to Expect (2022/2023)
Visit Fees for details about the cost of attending Toronto Metropolitan University (TMU) (fees vary by program/faculty and whether you live in residence)
Visit Student Financial Assistance for guidance, information, tools and services to help you meet your financial needs during your time at TMU
Expense
Fee
Tuition Fees
Ontario Student Fees: $7,050 to $11,156

Out-of-Province Student Fees: $7,544 to $11,986

International Student Fees: $31,749 to $38,472

Accommodation
On campus: From $9,551.06 to $13,316.06 plus meal plan

Off campus: $12,000 - $21,600 for 12 months' rent (or $1,000 to $1,800 per month) depending on shared or single accommodations
Transportation
$128 within Toronto for a monthly public transit pass
Books and Supplies
$1,400 - $9,400 depending on program of study
Food

From $4,619 to $6,262 (five- and seven-day unlimited access meal plan options) depending on living arrangements
Personal Expenses
$3,200 - $5,600 (approximately $400 to $700 per month)