You are now in the main content area
Co-op Program
The co-operative education program bridges the gap between academic theory and relevant work experience to prepare students to stand out in a competitive job market. Enrich your educational experience and gain real-world work experience in a variety of sectors and industries.
Co-op students are monitored and counselled throughout their academic and employment terms to ensure that employers receive high quality work and that students will gain meaningful employment that will augment their academics.
By alternating between academic terms and work terms, co-op students have the opportunity to gain valuable hands-on experience in their chosen field of study, earn an income to offset the cost of education, build a network of contacts for future employment and enhance their overall academic experience.
To qualify for co-op, you must:
be a full-time degree student
have completed all 10 first year courses.
have a cumulative GPA of at least 2.80
not be a Direct Entry student.
Read the Frequently Asked Questions (FAQ's) for more information about the application process.
More often referred to as an investment in your future, the Co-op fee of $3,500.00, is paid in installments over multiple years.
The fee covers the costs of maintaining and operating the Co-op program, including:
access to employers and jobs;
an efficient co-op hiring process;
job search resources, career advice;
coaching and monitoring during co-op terms;
industry- leading Co-op Prep Program providing you the opportunity to enhance your technical and behavioural skill-sets.
16+ months
of work experience
Earn up to $23 per hour
as a co-op student
2,500
average hours of employment
$36,000
average co-op income
Application Timeline
Application Deadline: June 1, 2022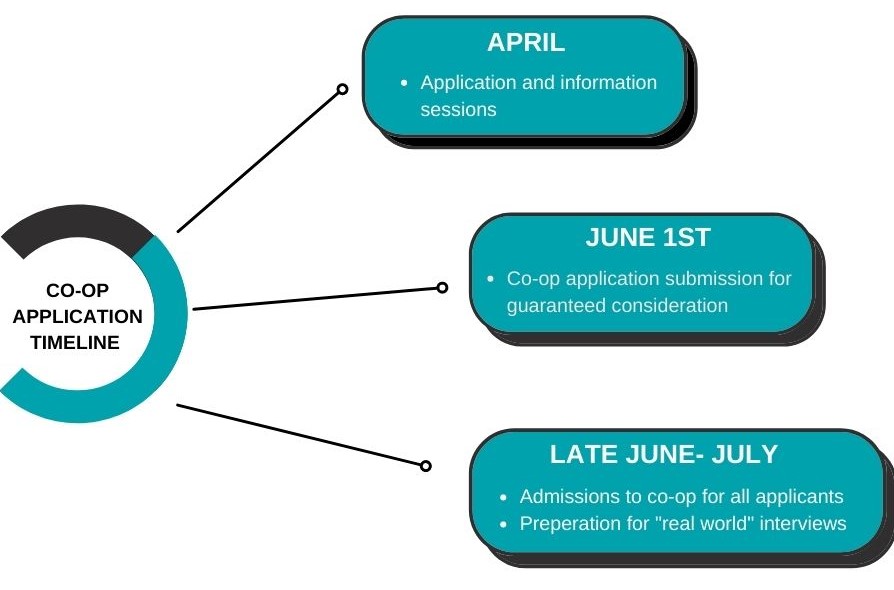 Co-op Student Stories
"Their curriculum is what the market's looking for."