You are now in the main content area
Which third party apps have access to your TMU Google account?
Third party apps are websites, standalone applications, operating systems, web browser plugins or mobile apps not created by Google. Some of these third-party apps use "Oauth authentication", meaning they allow you to sign up with your TMU credentials. However, doing so creates a security risk for your private information since "Oauth" lets the app access your data on TMU Gmail, Drive, Calendar or Contacts. Apps that use "Oauth" and are published are vetted by Google in a multi-step review process (external link) . In addition, TMU compiled a list of allowed third party apps that include 500 of the most commonly used apps. Note that while these apps are currently allowed, they are not recommended by TMU as no privacy or security assessments have been done on them. These third party apps should not be used to hold university records without a prior privacy and security assessment.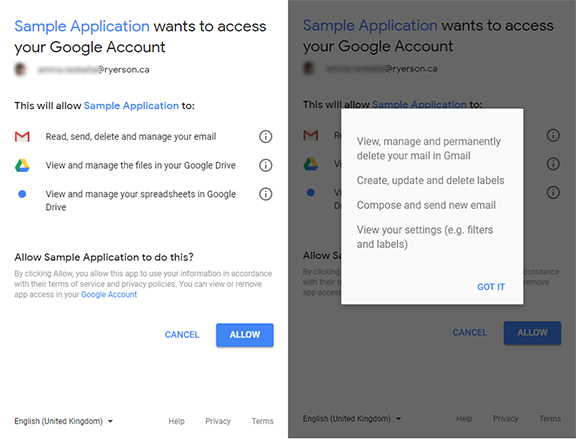 Check what access you have granted to third party apps