You are now in the main content area
Interactive Lectures with Google Slides

How to Start a Q&A Session in Google Slides
Open a presentation in Google Slides.
At the top, next to "Present," click the Down arrow located to the right.
Click Presenter View.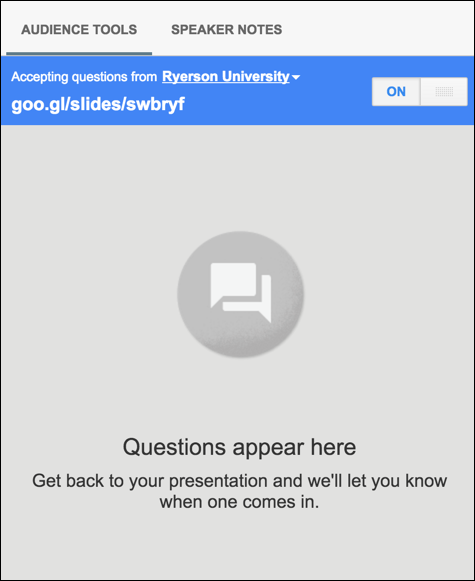 Tips for Using Q&A Session in Google Slides
The Slides Q&A feature will work on desktop computers

(external link)

, including the podium computers in TMU classrooms. The feature will also work on Android mobile devices

(external link)

, and iOS mobile devices

(external link)

.
Instructors can only use the Google Slides Q&A feature if they have edit or comment access to the Google presentation file. This means if another instructor created and then shared a Google Slides presentation, the instructor would need to have shared their presentation with "can edit" or "can comment" permission for the other instructors to be able to use the Q&A feature in their own class.
By default, any user with a TMU username can submit a question if they have the link. There's a setting to allow external users (non-TMU users) to submit questions by changing the default "Accepting questions from Toronto Metropolitan University" to "Anyone". In your Google Slides setting use the drop down arrow to change this setting:




Students can choose to submit a question anonymously. External (non-TMU) users will appear as anonymous by default. Unfortunately, the option to disable anonymous questions cannot be turned off. If this presents a problem for you, we do not recommend use of the Q&A feature at this time.