You are now in the main content area
Narrative of Migration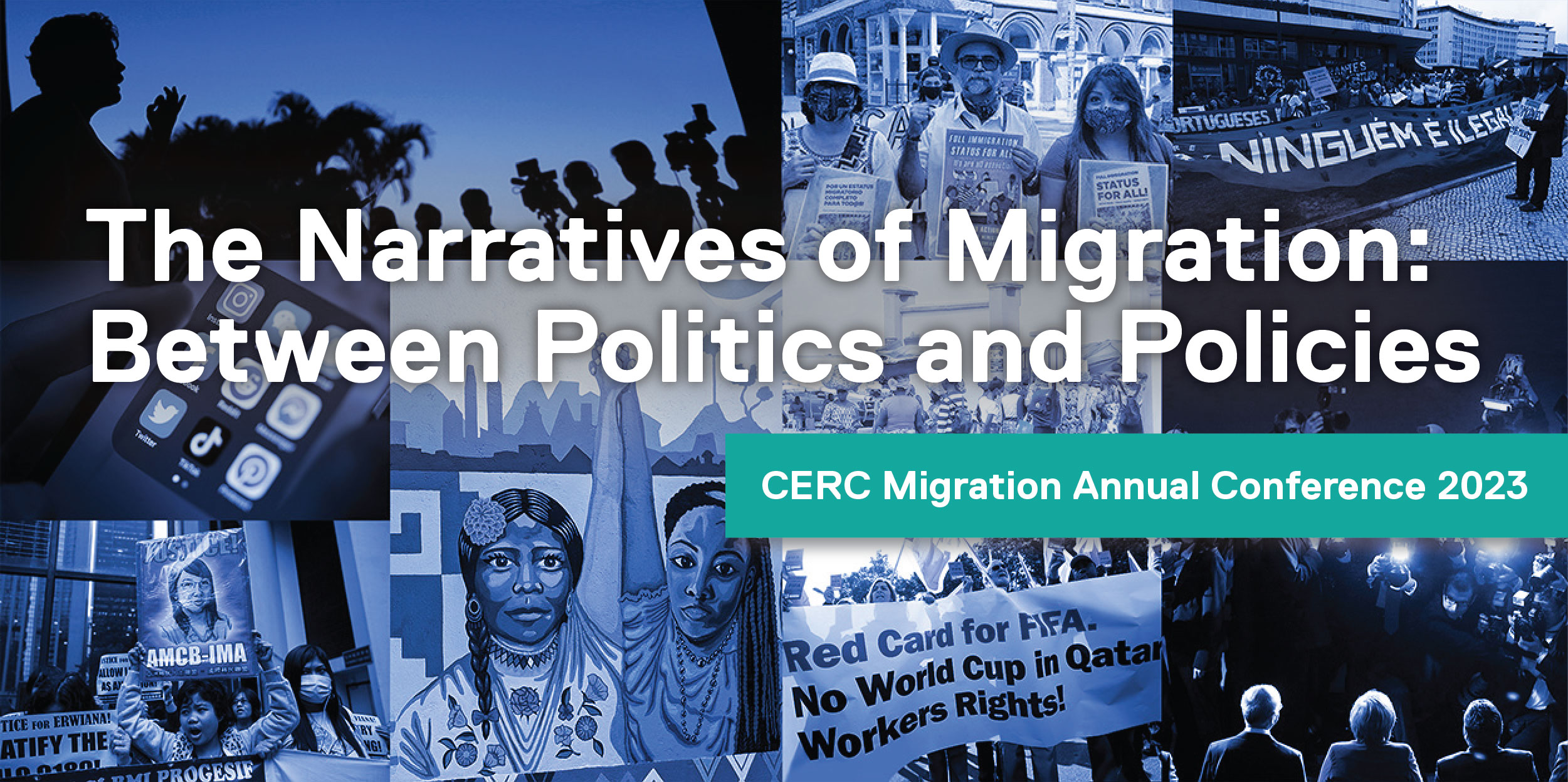 May 10-11, 2023 at Toronto Metropolitan University
"We had two full days, touching on many issues from settler colonialism to thinking about the impact of social media to exploring our subject through arts as methodology. The conference reminded me of the importance of comparative perspectives, and also that we need to pay attention to the absent narratives – the silences that may say more than what we hear." - Anna Triandafyllidou, Canada Excellence Research Chair in Migration and Integration
"There is no doubt, migration is one of the defining issues of our time…The focus on the narratives of migration is powerful. Through stories of migrants, we learn how the system works and how it can work better for everyone concerned. This gathering will help ensure that we have a roadmap to build an equitable and inclusive future for all of us." - Mohamed Lachemi, President and Vice-chancellor, Toronto Metropolitan University
"I especially appreciated the international focus. Also, the size - that there were no overlapping panels and plenty of time to talk with other attendees." - Anonymous attendee
Program Abstracts, PowerPoint Presentations & Video Recordings
Wednesday, May 10
Thursday, May 11
May 11, 9 - 10:30 AM EDT
Session 4: Narratives of migration in city-states

Chair: Richa Shivakoti, CERC Migration, Toronto Metropolitan University

Migration narratives in Singapore: From economic imperatives to counter-perspectives on ethnicity and age | Elaine Lynn-Ee Ho, National University of Singapore (PDF file) Abstract (PDF file) Presentation

Narrative of governing emigration: A case study in Hong Kong | Eric Fong, University of Hong Kong (PDF file) Abstract (PDF file) Presentation
Migration has been an essential feature of many small city-states that have had to rely on migrants to build and sustain their fast-paced development agendas. However, the integration of migrants in city-states can be unequal and restrictive depending on their status and skill levels. Several small city-states have relied on forms of circular labour migration to fill jobs in sectors such as construction and domestic labour while only allowing pathways to permanent residency and citizenship to select groups. These policy choices influence migrants' narratives and lived experiences related to temporariness, mobility, sense of belonging and access to rights. Challenges and complexities related to such policy choices were especially evident during the COVID-19 pandemic and its various lockdowns. This session will highlight the narratives of migration in small city-states in the Persian Gulf region and in Southeast and East Asia. It discusses how narratives influence migration polices in powerful ways by shaping how challenges and solutions are decided in city-states and how migration influences narratives in return.
May 11, 11 AM - 12:30 PM EDT
Session 5: Regional migration narratives: The cases of West and East Africa

Chair: Oreva Olakpe, CERC Migration, Toronto Metropolitan University

Confronting migration narratives with aspirations and the ability to move in Ghana | Melissa Mouthaan, Organisation for Economic Co-operation and Development and University of Cambridge (PDF file) Abstract (PDF file) Presentation

Unpacked narratives on migration governance and gender in West Africa | Mary Boatemaa Setrana, University of Ghana (PDF file) Abstract (PDF file) Presentation

Narratives on the free movement of people in West Africa | Amanda Bisong, European Centre for Development Policy Management (PDF file) Abstract (PDF file) Presentation

Regional migration narratives: The case of East Africa | Girmachew Adugna, Center for Forced Displacement and Migration Studies, Addis Ababa University (PDF file) Abstract (PDF file) Presentation
Historically, migration has been fundamental to the subsistence and livelihoods of people all over Africa. However, there are differing perspectives on what the root causes and consequences of migration are in regional contexts. Additionally, migration governance objectives and goals from the Global North – particularly from the European Union − have dominated and overshadowed regional migration narratives and shaped how migrants and migration in these contexts are perceived as well as the related policy, legal and political approaches. A large amount of research focuses on migration narratives from these regions to the Global North, greatly limiting our understanding of the complexity of regional migrations in Africa. To decentre the knowledge of migration narratives, this session looks at West and East Africa to unpack and examine migration narratives from above and below for a better understanding of the key narratives shaping debate and policy, the actors and shapers of different narratives and the consequences of narratives that shape migration governance within these regional contexts.

Past conferences