You are now in the main content area
Ehsan Rezazadeh
Azar
Assistant Professor
BSc, MSc, PhD, PEng
Areas of Specialization
Automated data collection in construction
Artificial intelligence applications in built environment
Data-driven infrastructure asset management
Education
| Year | University | Degree |
| --- | --- | --- |
| 2003 | K. N. Toosi University of Technology | BSc |
| 2006 | University of Tehran | MSc |
| 2012 | University of Toronto | PhD |
Selected Courses
| Course Code | Course Title |
| --- | --- |
| PMT 820 | Project Management Studio in Procurement |
Spotlight
While other kids asked to go to playgrounds, Ehsan Azar begged his dad to take him to construction sites so he could watch the trucks, loaders and bulldozers in operation. "Everything about construction was exciting to me," said Azar. Pursuing education and employment in civil engineering and construction project management, including working on two massive earth-fill dam projects, allowed Azar to follow his passion and satisfy his desire to make positive changes within the construction industry.
"My background experience has enabled me to identify many areas within construction projects that need improvement," said Azar, "including lags in developing and implementing technology." Azar's research strives to address these issues by testing and developing new machine learning systems that help make the construction industry more productive, sustainable and safe. His focus is on Building Information Modeling (BIM) and applications of computer vision methods in the construction site. In particular, he conducts research projects to extract useful data from on-site cameras and drones automatically.
"Good quality data helps project managers make informed decisions. Information technology and Artificial Intelligence methods in the built environment offer possibilities for improving both the construction process as well as the operation of existing infrastructure."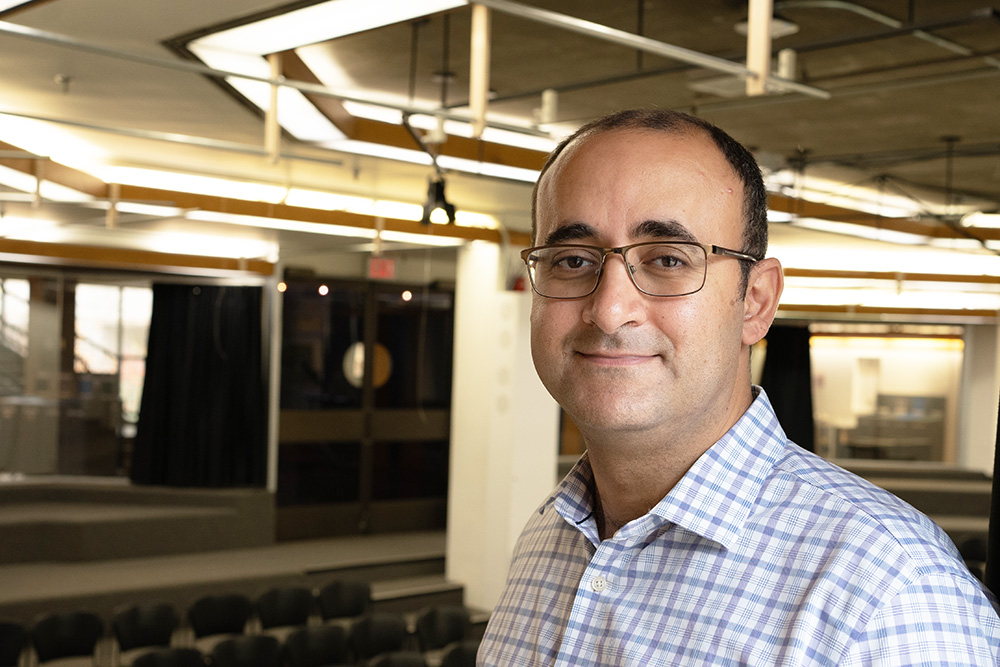 To support project-based learning and equip students with skills in cutting-edge technologies, I hope to bring many real-world experiences into the classroom.
Khilji, T. N., Lopes Amaral Loures, L., and Rezazadeh Azar, E. (2021). "Distress recognition in unpaved roads using unmanned aerial systems and deep learning segmentation." Journal of Computing in Civil Engineering, ASCE, 35(2), 04020061.
Pozzer, S., Rezazadeh Azar, E., Dalla Rosa, F., and Pravia Chamberlain, Z. M. (2021). "Semantic Segmentation of Defects in Infrared Thermographic Images of Highly Damaged Concrete Structures." Journal of Performance of Constructed Facilities, ASCE, 35(1), 04020131.
Torkanfar, N., and Rezazadeh Azar, E. (2020). "Quantitative similarity assessment of construction projects using WBS-based metrics." Advanced Engineering Informatics, 46, 101179.
Wang, Z., and Rezazadeh Azar, E. (2019). "BIM-based draft schedule generation in reinforced concrete-framed buildings." Construction Innovation, 19(2), 280 – 294.
Zhou, H., and Rezazadeh Azar, E. (2019). "BIM-based energy consumption assessment of the on-site construction of building structural systems." Journal of Built Environment Project and Asset Management, 9(1), 2-14.
Construction and Infrastructure Data Analytics (CIDA)
PEng, Professional Engineers Ontario, 2015
A.M.ASCE, Associate Member, American Society of Civil Engineers, 2015
M.CSCE, Member, Canadian Society for Civil Engineering, 2012
Senior project planner/controller, Culham Construction Co., 2003-2008